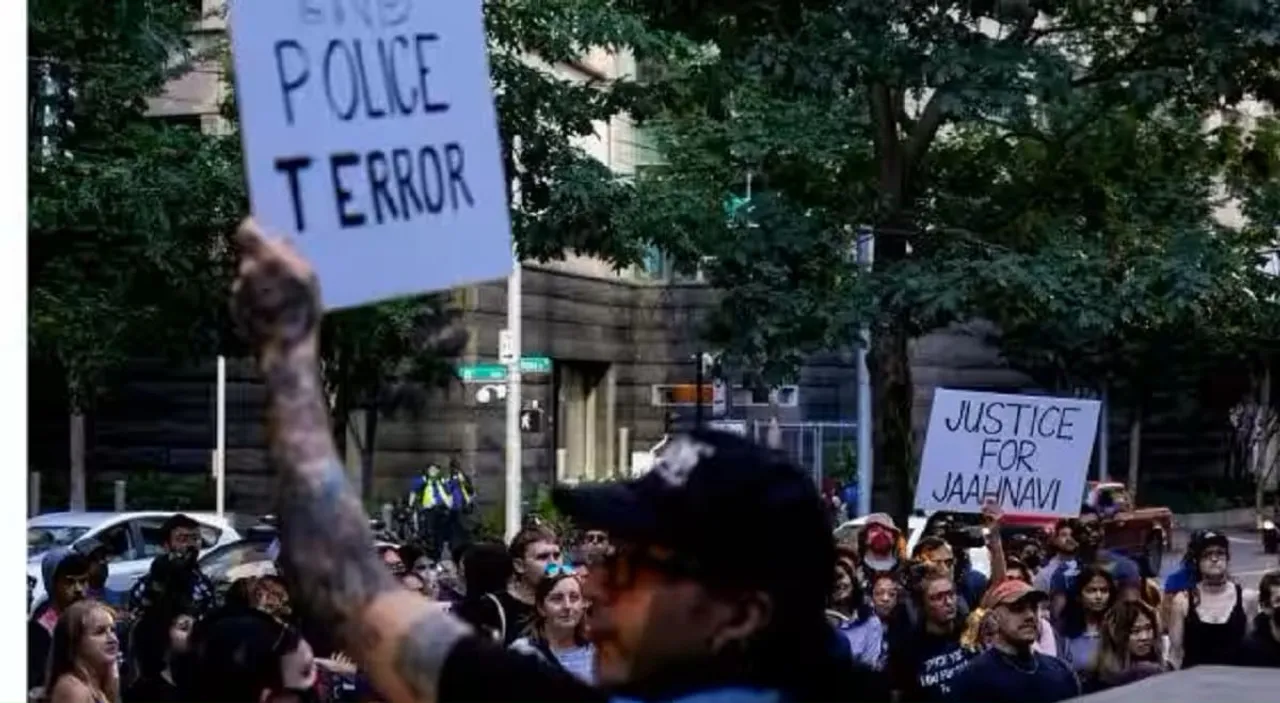 Seattle Mayor Bruce Harrell has apologised for the tragic death of Jaahnavi Kandula, an Indian student fatally struck by a speeding police patrol car.  The incident triggered widespread outrage after a video depicting a US police officer making callous jokes and laughter following the death of Kandula. This prompted calls for a thorough investigation and accountability.
Harrell's apology came during a closed meeting with leaders from the Seattle area's South Asian immigrant community on Saturday.
"The mayor took full responsibility and apologised for the incident, the release of the video, the words that came out, and completely acknowledged that it was not acceptable at all, that human life has to be respected," Preeti Shridhar, an Indian-American community advocate who attended the meeting, told the Seattle Times.
On Saturday, more than 100 members of the South Asian community held a rally demanding sensitivity and respect on the site where she was struck and killed by a speeding police patrol car. Between lanes at the intersection, marchers lit tea lights spelling out "Jaahnavi" and laid bouquets underneath a sign, reports Press Trust Of India.
Who was Jaahnavi Kandula?
Jaahnavi Kandula, a 23-year-old graduate student from Andhra Pradesh, India, was pursuing a master's degree at Northeastern University in South Lake Union, Seattle. She arrived in the United States in 2021 as part of a student exchange programme and was set to graduate later this year. Her mother, a dedicated elementary school teacher, reportedly took on a significant financial burden to support Kandula's educational pursuits in the US.
On January 23, tragedy struck when Kandula was fatally struck by a police patrol car driven by Officer Kevin Dave in Seattle. The police vehicle was reportedly travelling at a speed of 74 mph (119 kmph) while responding to a call about a potential overdose. Kandula was hit at the intersection of Dexter Avenue North and Thomas Street, and her body was thrown over 100 feet (30 metres) from the impact. She succumbed to her injuries despite immediate medical attention at Harborview Medical Centre.
Shocking Body Cam Footage Emerges
The uproar escalated when the Seattle Police Department released footage from the body camera of accused officer Daniel Auderer, who serves as the vice president of the Seattle Police Officers Guild. In the video, Auderer can be heard joking and laughing about the tragic incident during a call with the guild's president, Mike Solan. Auderer's laughter was particularly disturbing as he callously remarked, "She is dead." Towards the end of the clip, he added, "Yeah, just write a check. Eleven thousand dollars She was 26 anyway. She had limited value."
Demand for Investigation
The incident has not only sparked outrage within the United States but has also prompted international concern. India, in particular, has called for a "thorough investigation" into the matter. The Consulate General of India in San Francisco expressed deep concern and wrote on social media.
Recent reports including in media of the handling of Ms Jaahnavi Kandula's death in a road accident in Seattle in January are deeply troubling. We have taken up the matter strongly with local authorities in Seattle & Washington State as well as senior officials in Washington DC

— India in SF (@CGISFO) September 13, 2023
As the video continues circulating online, the demand for justice and accountability in Jaahnavi Kandula's tragic death remains at the forefront, serving as a stark reminder of the importance of responsible conduct within law enforcement.
---
Suggested Reading:'Troubling': India Seeks Probe In US Cop Joking Over Student's Death