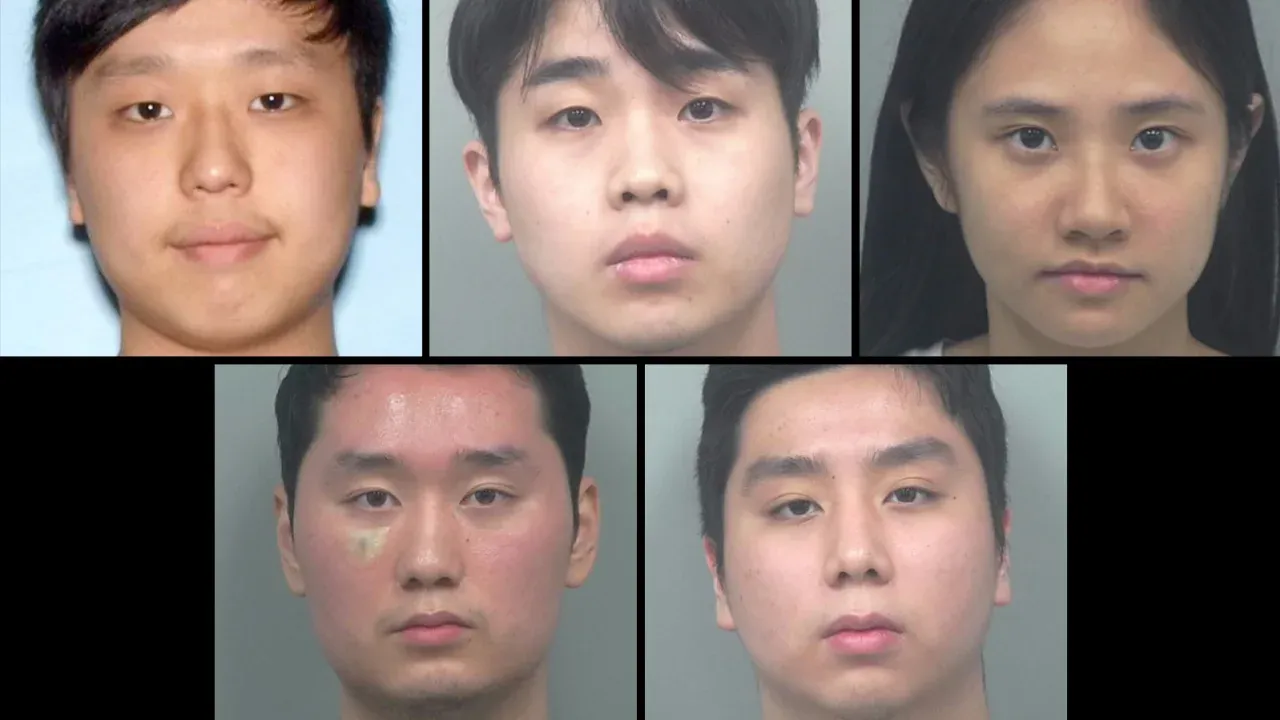 A woman who was severely beaten, malnourished, and discovered in the trunk of a car in Georgia this week had also been subjected to burns and subsequently wrapped in a blanket by individuals who identified themselves as Soldiers of Christ, according to court documents disclosed on September 15.
Further Details
Five adults are facing a range of charges, including felony murder, false imprisonment, tampering with evidence, and concealing another person's death. In addition to these charges, newly released arrest warrant records from the Gwinnett County Police Department reveal that they are now also facing multiple felony street gang charges.
A 15-year-old individual has also been charged in connection with the case.
The suspects, Eric Hyun (26) from Suwanee, Georgia, and Gawom Lee (26), Joonho Lee (26), Juoonhyum Lee (22), and Hyunji Lee (25), all from Lawrenceville, Georgia, have claimed affiliation with the Soldiers of Christ.
Several of the suspects are siblings, as confirmed by the police.

A few of the suspects appeared in court on Friday for their initial court appearance, as reported by the county clerk's office. All of them are being held without bail, as per authorities.
Kenneth Sheppard, an attorney representing Hyunji Lee, stated on Friday that his client intends to request a preliminary hearing, and if the case is not indicted before the preliminary hearing, we will move forward with that event.
It remains unclear whether other suspects have secured legal representation.
About The Victim
The victim, a South Korean woman in her 20s or 30s, arrived in the United States this summer to join a religious group, as stated by the police. She was discovered in the trunk of a car on Tuesday night in front of a Korean spa in Duluth.
According to the arrest warrants filed by the Police, the victim had endured weeks of starvation and physical abuse. The authorities believe the torture began in early August, though it is not clear when she ultimately succumbed to her injuries.
They further state that the crime took place in the basement of a residence in unincorporated Lawrenceville linked to Hyun. A neighbour who asked to be identified only as Kevin described the residents of the home as standoffish.
Kevin mentioned that around 10 detectives and numerous police officers swarmed the neighbor's home earlier on September 13, staying from approximately 7:30 am to 5 pm.
"It's unsettling. Nobody can ever tell what happened in anyone's garages," Kevin said. "I'm glad they didn't interact back."
---
Suggested Reading: Bihar: Father Rapes Daughters "To Have A Son" On Advice Of Tantrik