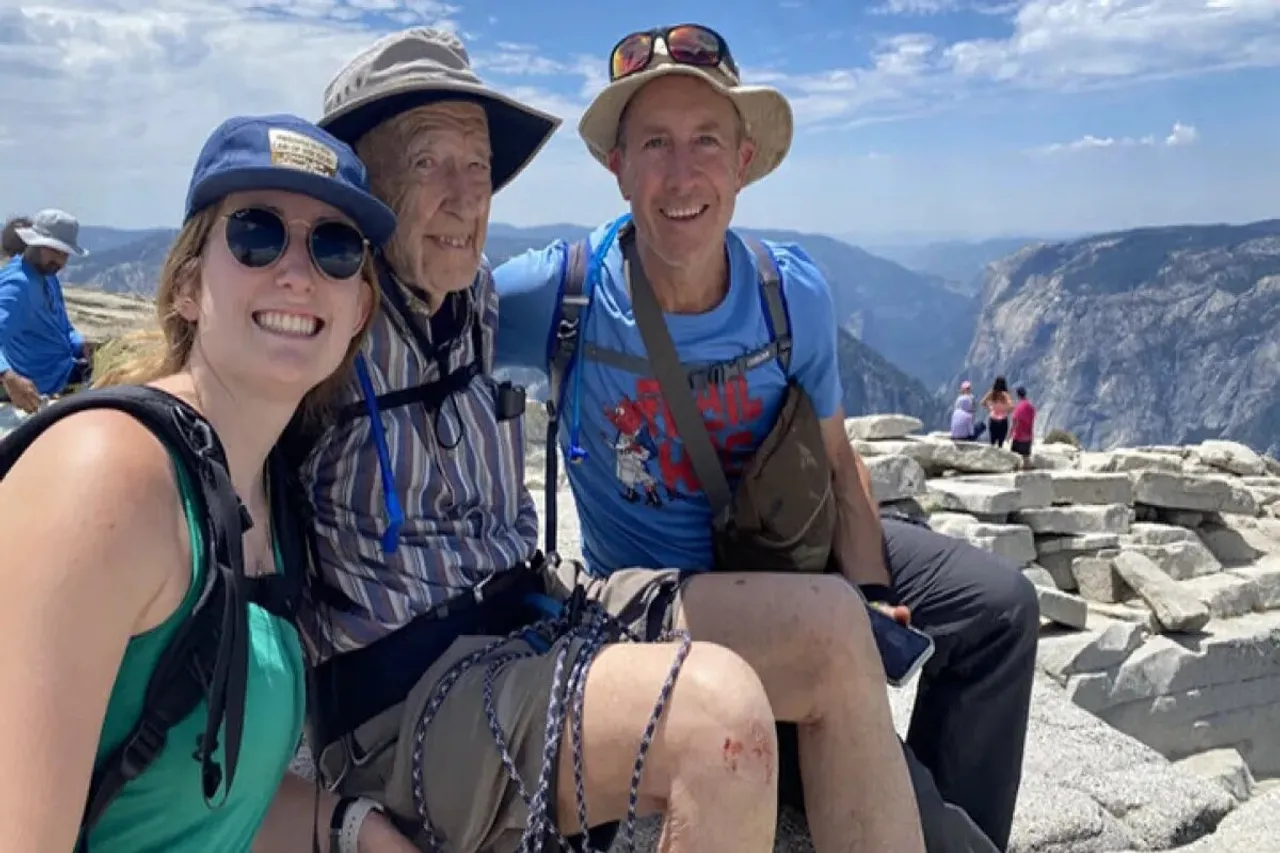 In a remarkable display of determination, 93-year-old Everett Kalin from Oakland, along with his son Jon and granddaughter Sidney, conquered Yosemite's daunting Half Dome. 
Scaling the iconic Half Dome in Yosemite  National Park is a daunting challenge, even for the fittest and youngest among us. But envision yourself in your 90s, defying the odds and ascending to the summit of this majestic peak. 
Everett Kalin's journey to the summit was more than a personal triumph; it was a testament to the power of the human spirit. 
Age Knows No Bounds
The idea germinated in Kalin's mind after he dared to skydive at the age of 91, demonstrating his zest for life knows no bounds. 
Regular walks around Lake Merritt kept him in good shape, but he also diligently prepared for the arduous hike by ascending and descending the stairs of his 16-story apartment building.
Accompanied by Jon and Sidney, both passionate runners and hikers, the trio embarked on their adventure. The multi-day expedition commenced with a 6-mile hike on August 7, setting the tone for the challenge ahead. 
The pinnacle of their endeavour, however, awaited them on August 8: the ascent of Half Dome, a staggering 13-hour endeavour that would test their physical and mental endurance.
Jon shared the heartwarming moments of camaraderie and admiration they experienced along the way to NBC Bay Area. "Everyone was kind of looking at my dad in awe, saying, 'Wow, amazing you're doing this. You're such an inspiration. Can I take a photo with you? You're making me think of my dad.' Pretty neat we had the support of everyone up and down the mountain," he said.
The unpredictability of the weather threatened to thwart their expedition. At a permit checkpoint, a park ranger cautioned them about a 20% chance of thunderstorms, underscoring the necessity to be prepared to turn back even if the summit remained out of reach. In a stroke of luck, the weather played in their favour, allowing them to continue their ascent.
Everett's recount of the final moments of their ascent echoed the emotions of triumph and disbelief. "And slowly but surely we got closer to the top," he shared. 
"Finally, I saw where the cable was locked into the rock, solid as possible, and I thought, 'My gosh we're here,' and that was just super."
Sidney, Everett's granddaughter, vividly recalled the culmination of their arduous journey. "It was incredible," she enthused. "It was certainly a long time coming. We had a long hike to get to the top, and we put in a lot of hours of preparation for this. So, to see it all come to fruition and make it to the top: We were all emotional; we were all crying. Everyone was filming us, cheering. It was a really special moment I'll remember forever."
With this remarkable achievement etched into his legacy, Everett now ponders what new adventure lies on the horizon. 
---
Suggested Reading: Age Can't Limit Me: At 90, Swarn Kanwar Weaves Magic With Crochet
---