Speaking with Swarn Kanwar felt like a blessing mid-week in more ways than one. At a time when a lot of us in our late twenties are already harbouring mid-life crises, meeting people like Kanwar works as a push to work hard, try harder, and not give up, no matter what. 
The 90-year-old Ambala resident has always had an active life but it's her age, she says, that doesn't permit her to run around as much. "That doesn't mean I will just sit and do nothing, no?" It's Kanwar's drive to stay active that led her to crochet art and, to some extent, she believes it also has to do with dealing with grief.  
In conversation with SheThePeople, Swarn Kanwar opens up about her inspiration behind making crochet jewellery, coping with her husband's loss, how creativity drives her to try something new every day, what she plans to do with her designs, and why carrying a purpose going after it is what keeps going.
Inspiration Behind Crochet
At a time when crochet art is seeing a revival, Kanwar picking up the activity seems like the next best thing on her list, but that's not why she chose to do it. "It's been only about four months since I started. My husband passed away a few months back and I did feel alone without him, but I also didn't want to sit all day and do nothing. I'm not used to not doing anything," she recalls.
Kanwar, who lives in Ambala with her family, was grieving her husband's passing when she realised she wanted to do more with the life she had. "I am aware of my age, what I am capable of and what I'm not, and I needed to find something that I could practically work at and be happy with it at the same time. I came across a crochet piece of art my sister was gifted, and that made me think, 'Why can't I make something like that?'" Kanwar, who held experience in knitting from a few years back, decided to pick up crochet. But did she want to make clothing? "Not at all, I wanted to do something different that not many were doing around me, and jewellery-making felt like an exclusive option."
The reality is that I'm 90 and I cannot walk much, but that doesn't mean I can't have a purpose. It's all about perspective.
Kanwar headed to Lucknow for some time to her parental home after her husband's death to spend time with her siblings. She recalls in joy, "Thank god I carried all my crochet material with me because that's where it all began. I started making jewellery designs, and it, of course, took me a few days to think about how I wanted to do it. I made some earrings and neckpieces and then gifted them to people around me."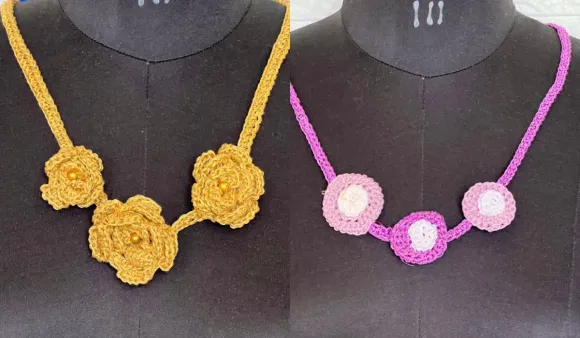 Creative instincts 
People in India are taking a huge liking to crochet. Mind you, it's not easy. The work that goes behind creating a piece with yarns and hooks is labour-intensive and requires an eye for detail. So what motivates Kanwar to stay creative while creating pieces every day? "I have never liked a monotonous way of working, and that reflects in my crochet activity too. I try and make designs completely different from each other, so it still feels fresh and pleasing."
Kanwar shares that she recently realised the potential of crochet after she received tremendous feedback from youngsters. "Apart from artistic value, crochet work also boosts upcycling. I have noticed how people are becoming more aware when it comes to using certain materials. Crochet jewellery I make is washable and easygoing for summers."
"Making this made me realise, why can't I sell this and use the money to further help underprivileged children?"
Kanwar is part of a club in Ambala that works towards the area's development, especially focussing on empowering women around. She now plans to use her crochet jewellery and raise money for young girls. "We donate for young kids and help growing girls find a path through education and multiple other courses. I have come to realise that we can definitely donate money, but to make something with your own hands and then help someone will give me even more happiness." Kanwar hasn't sold any yet, but she has made and collected enough pieces to start trying. 
What gives her immense joy is to gift people something she makes with her own hands. "I remember when I used to knit earlier, I would make sweaters and gift them to doctors I would visit for treatment. I would make sweet little sweaters and caps for their kids in town."
How does her family feel about her new passion project? "My family is very happy to see me occupied and not just for the sake of it, they genuinely support my ideas and encourage me. I love making my granddaughter try jewellery pieces that I make and we have fun while doing that."
Kanwar is one of many women we have seen in the past decade who do not see age as a barrier to anything they put their minds to. I was intrigued before I spoke to her, I'm now inspired for the rest of my life. I ask her what is she thinking of next, and she responds, "The usual, sit in my room, out a musical prayer on television and make a jewellery design I have never made before. I have to challenge myself every day, what's the point otherwise?"
Don't be afraid to start, whatever age group you're in. Liking what you do is reason enough for you to show up for it everyday.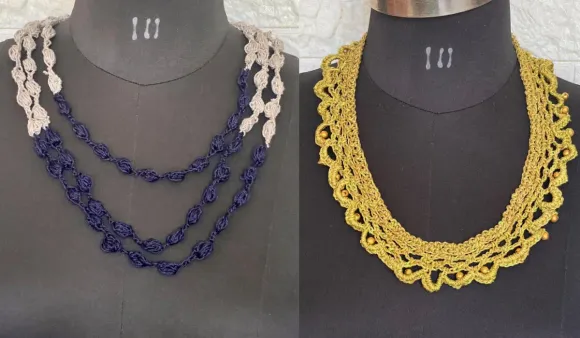 ---
Suggested reading: Bringing Bags To Life: How Shirin Watwani Is Popularising Marquage Art Scene In India