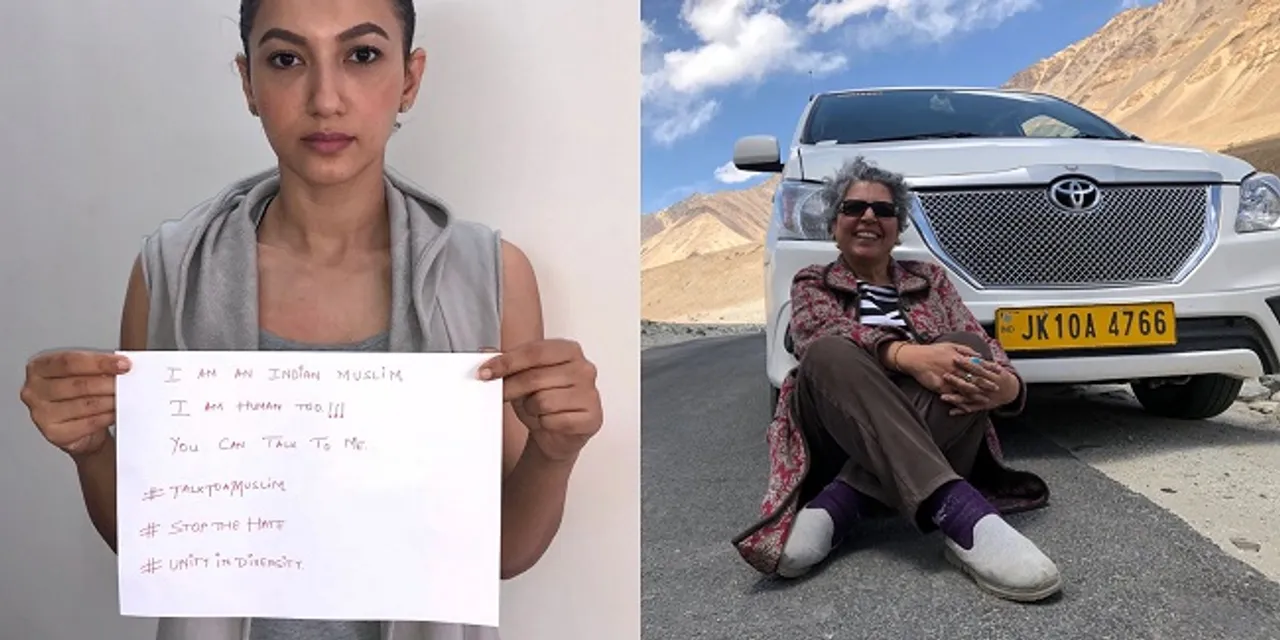 This could be a new low in the world of 'social media politics'. In the backdrop of communal political conversations, the hashtag #TalkToAMuslim has been trending. This has been as an outcome of people from all faiths tweeting to change prejudices about the Muslim community. Several people are posting their picture with #TalkToAMuslim, including actors, influencers, leaders, journalists and public in general. There are two blocs of thoughts on social media: Some find it patronising while others have built it as a trend to dispel communal stereotypes.
Sabbah Haji, Director of Haji Public School in Breswana, Kashmir - "Has it come to this? Wow!"
That the situation has come to this is in itself telling of how communal politics is worsening with every passing day. Both BJP and Congress have taken to social media debating which party is for Muslims and which for Hindus. What they have not debated is India's looming job crisis and women's safety. So even as #TalkToAMuslim Trends, Muslim Women Speak Out On Communal Stereotypes.
Islamic scholar and Muslim activist Rana Safvi  spoke to SheThePeople.TV. She said the discourse against Muslims and bigotry is much more prevalent on social media while the real life is 'still better.' She said it was important for all to join the trend and use the hashtag to dispel communal behaviour. "A lot of things happen because of miscommunication and then constant narrative of us versus them, if you have a problem of a confusion then talk to a Muslim and find out and this is why I picked up on the hashtag."
"But in real life what is there currently has been like that always. There is always a sense of curiosity around another religion but the negativity increased on social media a lot more. People need to open up to others regardless of their gender, faith, etc and have communication going."
I'm a Hindu. I talk to Muslims. Guess they are humans too. #TalkToAMuslim pic.twitter.com/tnzcEF4nkd

— ektaa malik (@ektaa_malik) July 17, 2018
Safvi shared a picture of herself on Twitter along with the hashtag where she is sitting on the road somewhere on the way to Ladakh. "People think a certain way because there are many misconceptions about Muslim women. People in real life keep asking me if I am a Muslim because I don't look like one? So what am I supposed to look like?"
I'm an Indian Muslim
I have fun,
I enjoy life
I can talk to you on Shakespeare, Ghalib, Meerabai, the Mughals and the First war of Indian independence
Of Muslim contribution to freedom struggle
Come talk to me#TalkToAMuslim #TalktoaMuslim pic.twitter.com/4qE6gP7nAQ

— Rana Safvi رعنا राना (@iamrana) July 17, 2018
ALSO READ: Modern Muslim Women Are Born With Wings: Daisy Khan
Entrepreneur and author Nazia Erum also agrees with Safvi and says that a lot of stereotypes around the society needs to be done away with and it can only happen with communication and when people #TalkToAMuslim. She recollected that during one of her inter-faith Iftaar parties, she asked people to write about one stereotype that they have heard about Muslims.
For those who believe the hashtag #TalkToAMuslim is unnecessary... You need to tune in to the conversations happening in your house, in your kid's classrooms and playgrounds. Otherization of Muslims is already complete. Demonization is what we are fighting.

— Nazia Erum (@nazia_e) July 17, 2018
"I couldn't believe my eyes when people wrote horrid things like 'Muslims wash the body of the dead and drink that water' etc. There are so many misconceptions out there on how the community works," she told SheThePeople.TV.
#TalkToAMuslim we are all humans first #StopDividing #StartUniting pic.twitter.com/uZqa6oKmNC

— Rani (@reliablerani) July 17, 2018
Erum also feels that things have changed in the past few years for Muslims and there is a sense of insecurity and fear. "We have not got back biryani to our house in last couple of years because we cross Dadri, Hapur on our way and we have heard of lynchings there. Today anybody can ask you what are you carrying in a packet and you will have to show it otherwise you might be killed. There are all sorts of possibilities that Muslims fear and people need to talk to Muslims to hear about our fears and challenges," said Nazia, who recently wrote a book 'Mothering a Muslim' in which she wrote about children from the Muslim faith growing up in India and the prejudices they have to face in schools and the society.
I couldn't believe my eyes when people wrote horrid things like 'Muslims wash the body of the dead and drink that water' etc. There are so many misconceptions out there on how the community works
Educationist Atiya Zaidi says growing up and while raising her children, they never thought of people as Hindu or Muslim. "We didn't know Mahavir Chacha was Jain. Dr Alhence was Christian or Farida Khala was Muslim. They were family. Nor were we conscious muslims." She shares an incident where it was 'made apparent' to her child that he was from a specific community. This was when he was just seven and it happened in 1992 the year Babri Masjid was demolished. Zaidi narrates:
Soon after one day back from school he asks me: Ma, am I a Muslim?
Me: Err why beta?
He: my friend asked. I said I didn't know. Another friend said, yes his. His name is..."
I hugged him, moved to another room and broke down.
Ammi asked: kya hua beti?
Me: aaj hamare bete ko maloom ho gaya ki vo Muslim hai. Ammi hum uski pehle insan banana chahte thhe
Zaidi insists all hashtags that must trend should be #TalkToAHindu #TalkToPeople and not just #TalkToAMuslim.
Sabbah Haji, Director of Haji Public School in Breswana, Kashmir when told that #TalkToAMuslim was trending, she was shocked. ""Has it come to this? Wow!" was her comment.
The internet is buzzing with #TalkToAMuslim. Actors Swara Bhaskar, Gauahar Khan have also supported the trending hashtag. Do we need more of these hashtags so we can dismiss and eliminate misconceptions and open dialogue for communal harmony? Twitter trend aims to defeat hate and spread love. In that spirit we hope more such campaigns built out. But there are those who find the idea of such a trend condescending, and believe it attaches a stigma to being muslim. What do you think? Share in comment.
#TalkToAMuslim seriously didn't think a day would come where talking to a muslim leader or a commoner would question ur patriotism or ur belief in ur own faith!!by land I am a Hindu ,by faith I am a Muslim and by heart n soul INDIAN is my identity !!! #killThehate #spreadlove pic.twitter.com/kiXaHNmplA

— Gauahar Khan (@GAUAHAR_KHAN) July 17, 2018