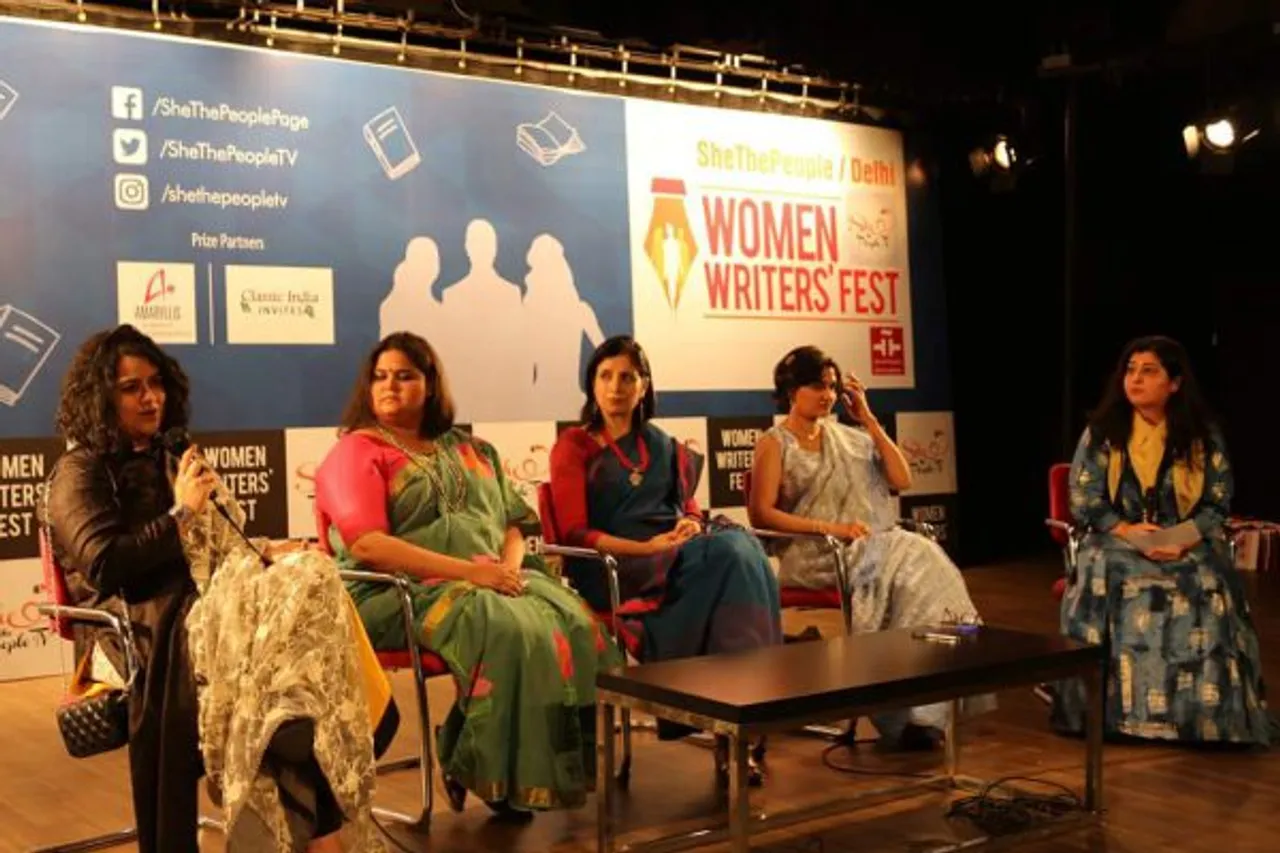 "Motherhood is the most ridiculous human experience," says Amee Misra, author of Stop Licking My Arm. She was speaking at a panel on "Motherhood as the definitive female experience in women's writing" at the Women Writers' Fest in Delhi on 10th March. Aekta Kapoor moderated the event.
Misra went on to explain how humour comes naturally with motherhood. She further regaled the audience with some hilarious anecdotes of her own personal experiences accompanying motherhood.
Also: Mother's Day 2017: These Women Talk About Their Tryst With Motherhood
Every time, the baby cried, my husband looked at me and then the baby. It was like I came with a manual on how to handle a child. I was learning too. And what worked for me is that, I could see humour in it. And yes, I am still married to him. @ameemisra #WomanWritersFest pic.twitter.com/jEZWvy1bTm

— SheThePeople (@SheThePeopleTV) March 10, 2018
Natasha Badhwar, author of My Daughter's Mum, talked about her blog that she used to write before she went ahead with the idea of penning down this book.
She mentioned how through the blog she used to write, she would let go of one fear in every column. There is so much baggage that you carry, she shares.
When it came to conflicted stories about my family, I would refrain from using my name. I got an anonymous blog and a @Twitter account.

But my audiences made me realise - those stories resonated more with the them. @natashabadhwar on writing about #motherhood #womenwritersfest pic.twitter.com/bkQDBKvo7g

— SheThePeople (@SheThePeopleTV) March 10, 2018
On writing
Natasha emphasised why one should write with honesty because it you gives a lot of courage.
On parenting
Dr Shelja Sen, child and adolescent psychologist and family therapist, elaborated on how adults tend to operate in the world wearing masks, but children rip it off. "Parenting is about understanding yourself. If I understand worthiness, inadequacies, that teaches you mindfulness."
Talking about children, she said, "Children are not passive. They are changemakers. Our children have fresh perspective towards life. They have amazing wisdom."
You can be in the world with a mask but, children just rip off this mask. Parenting is about understanding yourself. If I understand my worthiness, inadequacies and that teaches you to mindfulness. @sheljasen on #motherhood #WomanWritersFest pic.twitter.com/vZy6mR0yJZ

— SheThePeople (@SheThePeopleTV) March 10, 2018
Nazia Erum, author of Mothering a Muslim, explained that Muslim motherhood isn't different from any other motherhood.
"My book is not about Muslim children, but children in general." - Nazia Erum
She also talked about how the community imposes pressure on you to make your child more Muslim.
When I started to write this book I was convinced that a muslim mother was no different than any other mother - that was a book that was not going to be @nazia_e #womenwritersfest #motheringamuslim pic.twitter.com/Plal7x8d75

— SheThePeople (@SheThePeopleTV) March 10, 2018
The panel culminated with a consensus among all the panellists that no one can really be a "good mother" and motherhood is an ongoing process.
Read Also: Motherhood isn't new, but smartphone motherhood is