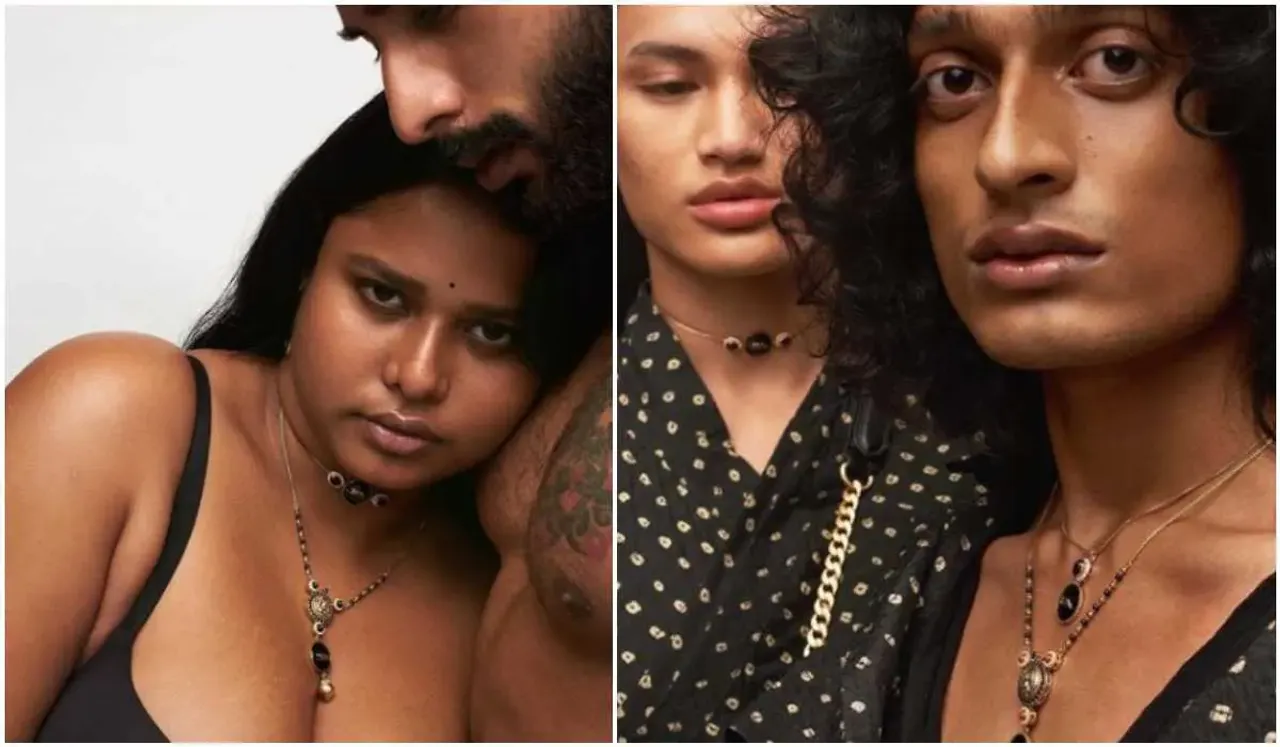 Sabyasachi Mangalsutra Controversy: Designer Sabyasachi Mukherjee's luxury jewellery brand recently unveiled its new line up of "intimate fine jewellery" which has outraged the sensibilities of right-wing Twitter. The left-wing and centrist Twitter has let out a long sigh, on the other hand, being tired of putting up a defence for ad campaigns that now seem like a deliberate measure to kick the hornet's nest. Are marketing gurus taking us all for a ride, while we tear each other's hair off to support or slander campaigns, to rake in free publicity with bare minimum effort?
This is something that I have been thinking, ever since I came across the new Sabyasachi campaign which irked a faction of social media, especially their creatives promoting something called Royal Bengal Mangalsutra 1.2. I assume that 1.2 here hints at the cost of the product, in lakhs, since it is made up of 18k gold with VVS diamonds, black onyx and black enamel. Or maybe it is just my middle-class mindset that is incapable of looking at a product sans its price tag.
This new ad campaign features same-sex couples and women in lingerie posing with their heterosexual partners intimately while donning the Sabyasachi mangalsutra. Obviously, sentiments have been hurt, culture has been degraded, but even looking from a neutral perspective, one can't help but wonder - what do advertisers intend to achieve with this campaign? And above all, why are brands trying to revamp the mangalsutra? Especially when women and men are themselves conflicted about its relevance in this day and age?
But it is not just Sabyasachi's latest campaign, Fab India's Jashne-E-Riwaaz, which irked people by promoting a Hindu festival with an Urdu catchphrase, among other things, and last week's Fem campaign depicting a same-sex couple observing Karwa Chauth, thus promoting inclusivity, seem like a well-calculated move to cause mayhem. It appears as if a bunch of ad gurus scratched their chin thinking, what can we do that'll raise a Twitter storm, give us free news coverage and can be later salvaged with an apology or quite rebranding of the campaign?
Festivals like Karwa Chauth, ornaments like mangalsutra have polarised views among their users - women. While some women believe in balancing traditional values with their modern identity, others feel we need to stop romanticising patriarchal practices that put women beneath men, in name of tradition and auspiciousness. Then there are others who believe that every woman must be free to observe these traditions or reject them, based on her sensibilities. Women must support other women, instead of debating over practices and rituals with each other.
But when ads like these tend to make Karwa Chauth romantic and mangalsutra fancy, it gives an unnecessary turn to the conversation that our sisterhood is neck-deep in.
Ad makers need to get off our backs, because it is clear that their agenda isn't empowerment, but to trend and encash in on the conversation around feminism and equality, that too with an understanding of the subject that is all over the place. Feminist/ progressive/ empowering or what ad-makers believe to be "bold" advertising can't be just a trend, it should intend to create a deeper influence on the society, rather than just aim to up sales and trend hashtags.
But alas, one can't be confident that ad makers want to go beyond the trend and engage in more delicate conversations around issues that impact our everyday lives. Clearly, their strategy of outrage and sell is working, so why fix what ain't broke?
Views expressed are the author's own.
---
Suggested Reading:
Another Day, Another Brand: Netizens Outrage Over Sabyasachi's Jewellery Ads
Sabyasachi Mangalsutra Under Fire From Netizens: Here's All You Need To Know
Rajasthan Teacher, Accused Of Cheering Pakistan's Win In T20 Match, Arrested
---
&t=4s