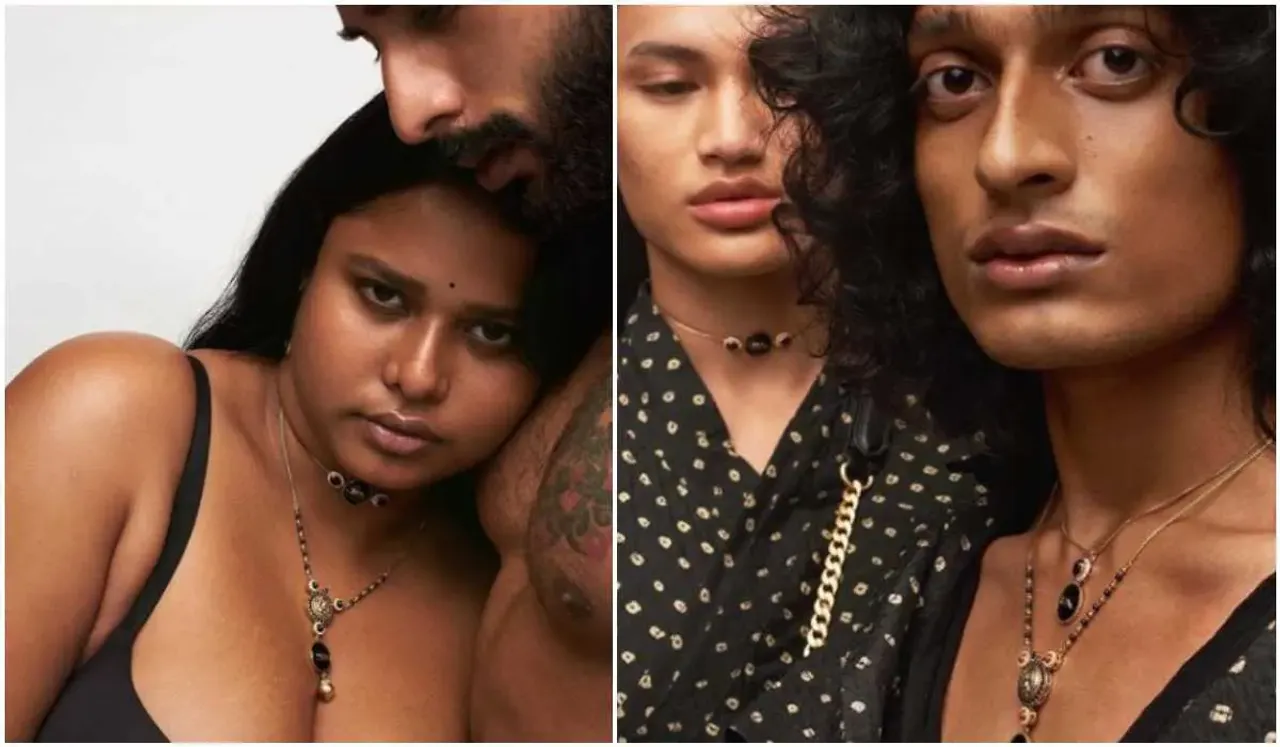 A series of ads, led by promotion for the Sabyasachi mangalsutra, is the latest in a line of brand controversies to hit the Indian market. On Twitter, a section of users erupted in outrage Wednesday over the luxury label's advertisements for its 'Intimate Fine Jewellery' collection, claiming it was an attack on Hindu culture and hurtful to religious sentiments.
The ads, launched on Sabyasachi's official Instagram page, feature models in a variety of solo and heterosexual or same-sex couple poses. Variations of the ads also include models showing skin, while flaunting the brand's jewellery, which many are deeming "&t=6s">obscene."
Part of the intimate collection is a product named The Royal Bengal Mangalsutra 1.2. "Create your love stack with Sabyasachi Jewellery's range of everyday luxury," the brand says promoting it.
Netizens outraging over the brand have taken particular offence to its use and placement of the mangalsutra - a sacred thread many Hindu women wear around their necks as a mark of marriage - on models' bare skins. They are demanding the brand take down its ads.
See some reactions below: 
Really sabyasachi??
What's wrong with u these days,
Who sell Mangalsutra like this.
If u have guts sell burkha, tabij in this manners??
Stop Hindu discremation #Sabyasachi pic.twitter.com/KL2DiqDIAI

— Kanan Shah (@KananShah_) October 27, 2021
Only thing you can do about this 'ad' is to report it for 'nudity and sexual activity'. The minute you make any comment about the model, Sabyasachi flashes the platinum victim card and cries 'body shaming' 'racism', 'why Indians hate dusky skin' etc etc. Do NOT fall in the trap! pic.twitter.com/wa77Lo9m6n

— Shefali Vaidya. 🇮🇳 (@ShefVaidya) October 27, 2021
This is shameful Act @sabya_mukherjee

You are selling the Mangal sutra by promoting nudity & obscene content with a hashtag #intimatefinejewellerybysabyasachi

This is intentional hurting of Hindu sentiments

Delete this post ASAP.

Link of insta post :- https://t.co/oQkhulxKmS pic.twitter.com/u0jlSoaFhT

— Yukti Rathi (@AdvYuktiRathi) October 27, 2021
We understand what "intimate jewellery" means.

Mangalsutra can also be worn over a saree, showcasing a bra was unnecessary. 🙄#Sabyasachi pic.twitter.com/8mijqmC8tB

— बोलणारी मुलगी 🇮🇳 (@apy_fiz) October 27, 2021
On October 28, Ashutosh Dubey, a legal advisor for the Bharatiya Janata Party (BJP) in Maharashtra, issued a legal notice to label owner Sabyasachi Mukherjee for the use of "semi-naked models" in a mangalsutra ad. "In one picture, a female model is seen wearing a black brassiere and Sabyasachi's mangalsutra as her head rests on a shirtless male model is totally outrageous to the entire Hindu community as well as Hindu Marriage," his notice reads.
I have issued a Legal notice to Sabyasachi Mukherjee Indian fashion designer regarding using "semi-naked models for a Mangalsutra collection advertisement as "Mangalsutra" is part of Holy Hindu Marriage.

He outraged the holy Hindu Marriage (Mangalsutra). pic.twitter.com/QPojQtiOKH

— ADV. ASHUTOSH J. DUBEY 🇮🇳 (@AdvAshutoshBJP) October 28, 2021
Sabyasachi Mangalsutra Under Fire: Similar Instances Of Brand Outrage
This is not the first time an ad for the mangalsutra or other jewellery have sparked controversy. Earlier this year, Italian luxury brand BVLGARI faced heat from many Indians for a mangalsutra priced at Rs 3,49,000. Actor Priyanka Chopra, an ambassador for the brand, promoted the item as one for the "modern Indian woman." Shock, disbelief and accusations of cultural appropriation had flooded the internet after social media users came to hear of the 'luxuriation' of the simple marriage thread.
More recently, brands like Fabindia and Manyavar came under fire from a section of internet users alleging offences caused to their religious beliefs. While Manyavar's Alia Bhatt-starrer was trolled for raising questions on the Hindu practice of kanyadaan in marriages, Fabindia was attacked for showing models without bindis for a festive wear collection.
Last week, Dabur withdrew a face bleach ad that showed a same-sex couple celebrating Karwa Chauth after a minister threatened action. In 2020, jewellery brand Tanishq infamously pulled down two ads, within a short span, after their messages of interfaith love and cracker-free Diwali did not sit well with affronted audiences.
---
Trending now:
&t=7s