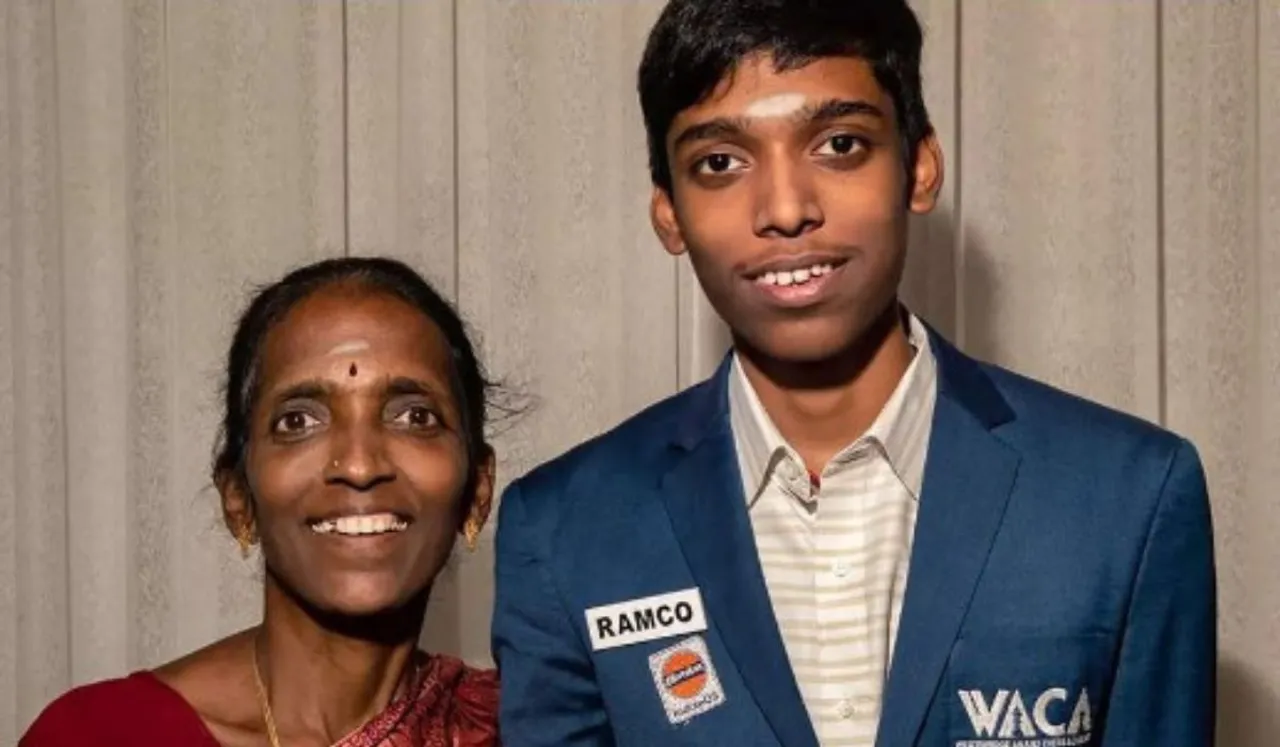 While the entire world is in awe of Rameshbabu Praggnanandhaa for winning the silver at the FIDE Chess World Cup in 2023, it's his mother who stood behind him and made this history happen. R. Nagalakshmi accompanied Praggnanandhaa through all his matches. Heartwarming pictures of her wearing a proud smile as her son reached great heights went viral on the internet.
Praggnanandhaa, who began his journey with chess at the age of five, had strong backing from his family—father Ramesh Babu, mother Nagalakshmi, and sister Vaishali, who is also an adept chess player. His family, especially his mother, Nagalakshmi, has played a pivotal role in shaping his career path.
Who Is Nagalakshmi Praggnanandhaa Mother
Nagalakshmi was a homemaker. Her routine comprised of taking care of the family, accompanying her son to international chess tournaments, and offering encouragement and moral support. Her presence in every single match he played was a sign of love, motivation, and fortitude.
Although initially Praggnanandhaa's family was against him pursuing chess as a career, they eventually turned into his biggest support system. The initial hesitancy was especially because his elder sister Vaishali was already involved in the game and the family had to face several financial constraints to support two chess players.
Nagalakshmi stood with her eyes gleaming with pride and her lips curving into a warm smile. She stood on the sidelines as she watched her son play against the infamous Magnus Carlsen in the finals.
Nagalakshmi wasn't even aware that she was being photographed. The mother, whom the entire nation is hailing for being a steadfast supporter of the world's best chess player, said that she was so engrossed in watching her son navigate through the 64 squares that she had no idea that she was being photographed until her pictures went viral on social media.
Nagalakshmi has also been accompanying her daughter Vaishali to all the chess matches. Vaishali is a two-time youth chess champion and a grandmaster. Her husband credits the victory to his wife (Nagalakshmi) for accompanying the children to tournaments and being their steadfast support system.
Reportedly, Praggnanandhaa was brought up in a very traditional lifestyle and prayed before making his first move in all the matches. Nagalakshmi ensures that both her children have healthy, homemade food and not junk food.
True to the saying that there's always a woman behind a man's victory, Praggnanandhaa's mother has been his backbone and one of the main reasons for him reaching great heights today. It's undoubtedly the dream of every child to receive that kind of trust and support from their parents. Nagalakshmi is truly an inspiration to mothers to raise their kids right despite financial and social constraints.
---
Suggested Reading: Carlsen Wins Chess World Cup; R Praggnanandhaa Wins Hearts