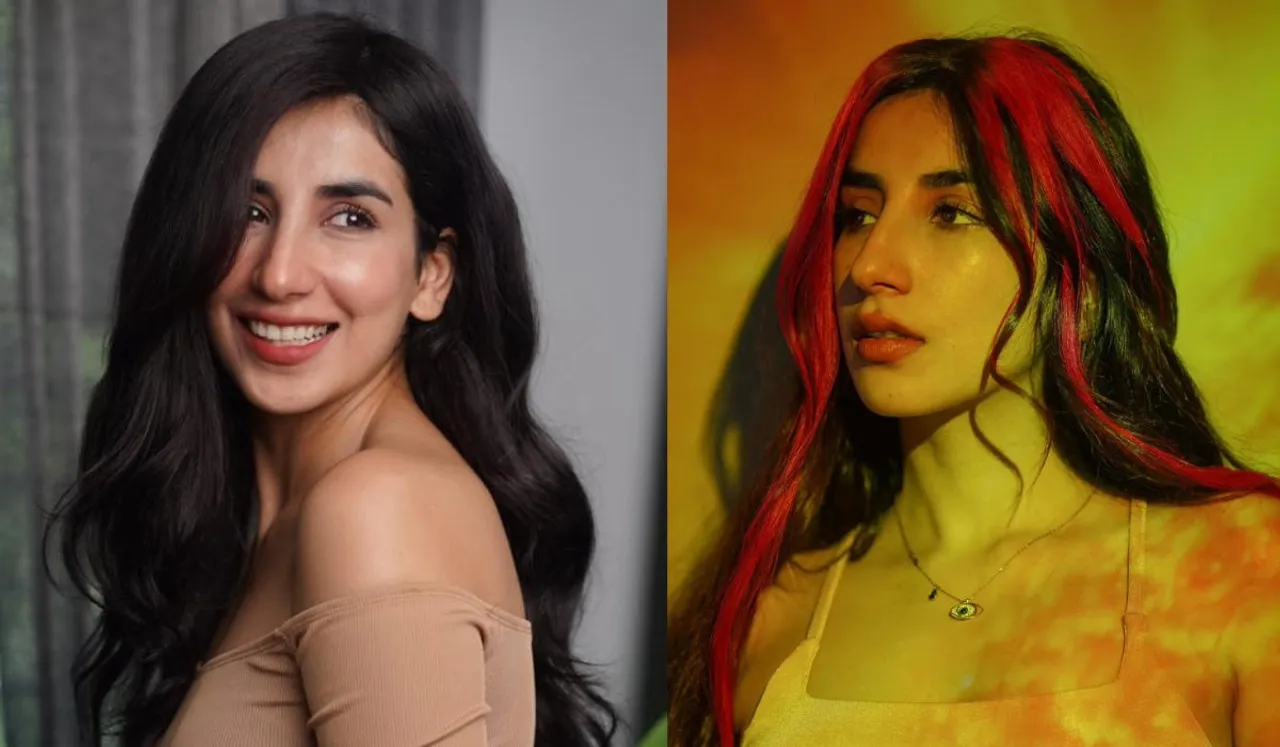 Parul Gulati started her career with television, making her way to OTT. She went on to perform several notable roles, with one being different from another. As a little girl, Gulati dreamt of attaining fame and success and this dream laid the foundation for her to work hard not just in one profession but many.
She was in school when she came across a casting opportunity for a television show on Facebook; she went for it and the rest is history. Gulati, who is popular for her performance in ALTBalaji's web series Haq Se, did not just limit herself to a career in acting, she pursued entrepreneurship and is now also known for her self-built label Nish Hair, a real hair extensions brand. Recently seen at Shark Tank India, Gulati is set to expand her horizons as an entrepreneur and do more in pursuit of a dream she once saw as a little girl.
In an interview with SheThePeople, Parul Gulati looks back at her acting career, her brand, her journey as an entrepreneur, and how she pushes boundaries for herself.
Parul Gulati Interview
How did entrepreneurship happen? What's the story behind Nish Hair?
I think as actors, we are always so enterprising. We sell the idea of who we are, something that you cannot see until we are on screen. Even when we are auditioning, I think of it as a business proposal. It's about convincing the people that I am the business and they should invest in me.
Coming to Nish hair, I did not know what exactly I wanted to do, but I always wanted to see my name on something that stayed even after I am gone. The idea came to me one day, and I started working towards it. Not knowing what and where it will take me. I am so grateful that I took the call to start or I would never know all that I am capable of.
What were the challenges you faced while starting a brand which sought its own uniqueness?
There have been many challenges over the years, but one of the most challenging tasks was making people aware of hair extensions and how it is different from traditional wigs. I remember attending flea markets trying to convince people to try out hair extensions, but the general response was "We do not want to wear a wig".
The first challenge was to start educating people about hair extensions as it actually has the potential to solve many more problems than just being a wig. It took a while, lots of content, and in-person convincing, but I take pride in the fact that I was able to break the norm and I'd like to believe that with Nish Hair we have made hair loss look cool rather than something to be ashamed of.
How was the Shark Tank experience considering you had never pitched your business before?
Initially, I didn't think I needed to seek outside investment for my business. However, participating in Shark Tank was a unique opportunity. The experienced entrepreneurs offered invaluable advice that I wouldn't have found elsewhere. I aimed to attract investors interested in supporting startups like Nish Hair. The experience of pitching my brand on the show was truly one of the top three moments of my life.
Drawing from your journey, do you feel like the dynamics of people being limited to only one career prospect are shattering and evolving given the massive boom in digitalisation?
I can't say it's just from my journey, but it's not surprising that women and men can do more than one thing. We've been doing it forever. Women, especially, are raised to handle everything and more. From household chores to their studies and caring for siblings, women can do all. As a 90s kid, I have done all of this while my brother simply played outside. We're all capable of multitasking; We just need to acknowledge it as normal and start talking about it more.
How do you push boundaries for yourself?
I always tell myself that I have not come this far to just come this far. I have a long way ahead and I cannot let myself down because my dreams are too big to ever stop.
What has had the most significant impact on your growth as an artist and then as an entrepreneur?
I think it's my will to do something and to keep on growing that has played the most important role in my growth. However, I still feel I have so much more to grow, as a person, as an artist, and as an entrepreneur.
Is there a project/performance closest to your heart?
As an actor, you have some projects that fill you with pride and others that make you wonder why you took them. For me, the character of Jannat Mirza from Haq Se holds a special place in my heart. Jannat is a journalist fighting for women's rights in Kashmir against all odds. Playing her allowed me to shine as an actor, with more screen time than ever before.
I had the luxury of giving myself an entire year to bring Jannat to life, and I enjoyed every moment of it. It was an incredibly rewarding experience, and I am grateful that I could dedicate myself fully to the role.
Coming back to your journey as an artist, from when you started to now, what are the kind of changes you've come across if we talk about the stronger representation of women compared to earlier, especially with how the OTT is now giving an equal platform? What's your take on that?
I respectfully disagree with that opinion. In the early 80s and 90s, we were already aware of the importance of well-rounded female characters, even on TV. However, there was a period when Western culture heavily influenced our content and we lost sight of what we wanted to create. Nowadays, we are finally starting to regain our footing, and women are speaking up more than ever before. To sum it up, I enjoyed the TV shows of the early 90s, and now, I am loving them once again.
Although the roles of the past were better, pay equality was nonexistent. But today, things have changed dramatically, and there are far better roles available for women.
What is your advice to aspiring entrepreneurs?
Believe in yourself, believe in your dreams, and work extra hard to achieve them. Nothing is possible till you take the first step. Remember, that hard work trumps many things, so give yourself your hundred percent and be open to learning and growing as you go.
Things are not always easy, and the advantage isn't always fair, but everyone has a right to dream.
---
Suggested reading: Relevance Is A Challenge For Every Artist: How Asees Kaur Sang Her Way To Bollywood