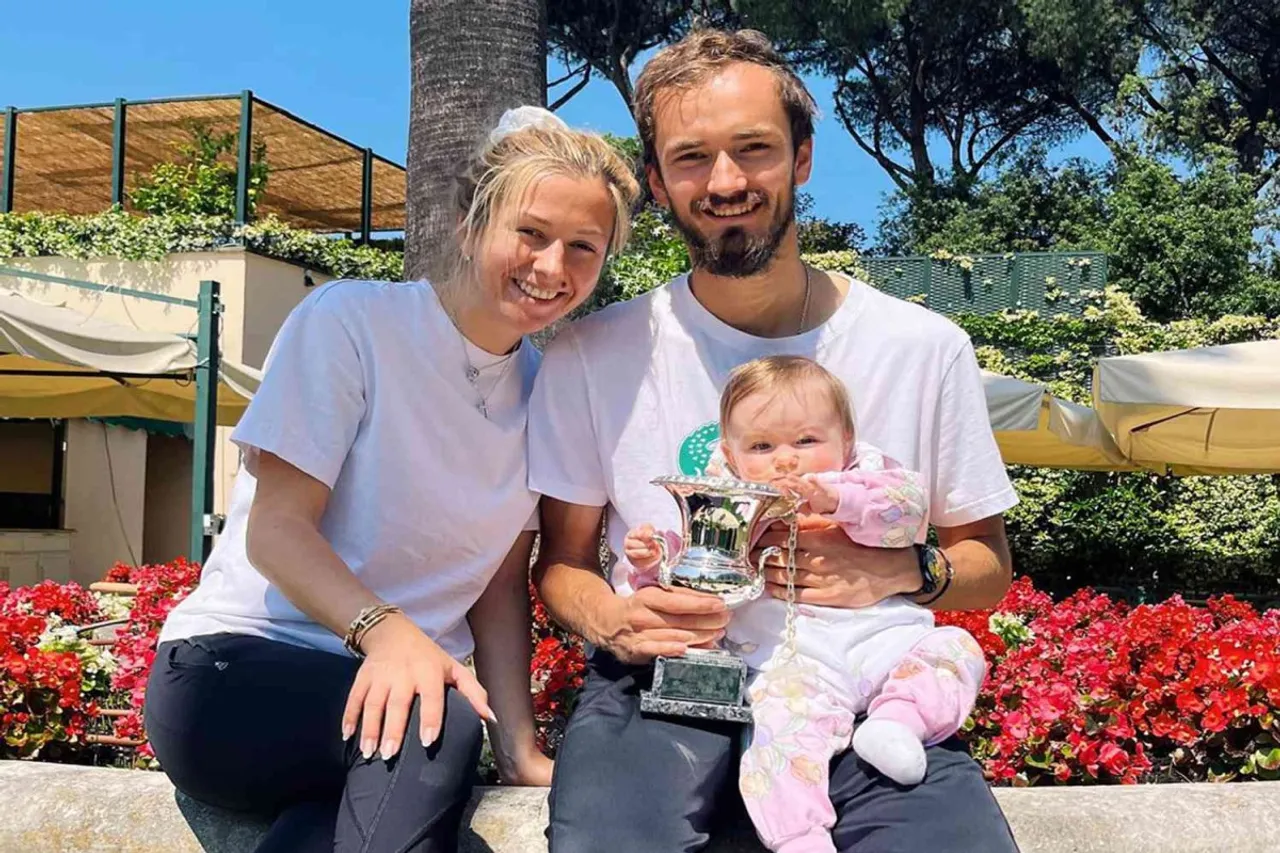 In the world of professional tennis, success often hinges on the dedication, hard work, and resilience of the players. Daniil Medvedev, a name synonymous with excellence in the sport, has indeed left an indelible mark on the tennis world with his US Open performance. Medvedeva became the 2023 US Open runner-up after he lost to Novak Djokovic 3-6, 6-7, 3-6.
However, behind every triumphant athlete, there is often a steadfast support system, and for Daniil, that steadfast pillar is none other than his wife, Daria Medvedeva.
The Bond That Fueled Success
Daria's significance in Daniil Medvedev's career cannot be overstated. 
As the former World No. 1 player once revealed to reporters in 2019, "She's one of the most important members of my team." 
Their journey together began in 2014 when they were both budding tennis talents, training alongside each other as teenagers and even sharing a house in Norway at the age of 14. 
Their paths diverged as Daria had to leave the sport due to multiple injuries. 
Yet, fate had other plans, and in 2014, Daniil rekindled their connection through Instagram messages, reigniting their shared love for tennis.
The Reunion and Matrimony
Their story took a romantic turn when Daniil, living in Antibes at the time, met with Daria in Nice, France. 
This meeting rekindled their connection, leading to their marriage on September 12, 2018, in an intimate ceremony surrounded by their closest loved ones. 
As Daniil continued to rise in the tennis ranks, he never forgot the unwavering support of his beloved wife. 
He expressed his love and gratitude on their third anniversary in 2021 after winning the US Open, stating, "I love you, Dasha."
In October 2022, their love story blossomed into a new chapter as they welcomed their daughter, Alisa. 
Daniil proudly introduced their daughter to the world through a heartwarming Instagram post, capturing the essence of their growing family.
Daria's Tennis Legacy
Although injuries led Daria to retire from professional tennis at the age of 18, her passion for the sport remains unshakeable. 
She transitioned to a career in journalism, enrolling at the Moscow State Institute of International Relations. 
Her deep understanding of the pressures and nuances of tennis has allowed her to be more than just a supportive partner; she can also provide valuable insights into the game.
Daniil Medvedev attributes a significant portion of his success to the unwavering support of his wife, Daria. 
He acknowledges that her presence has boosted his confidence and allowed him to focus entirely on his tennis career. 
In his own words, "I always say that it's the moment I made the proposal to her, that's when I started to go up." 
Daria's attention to the finer details of life has freed Daniil to concentrate on his matches, and, as he puts it, "I just have to play tennis and win some matches."
The story of Daniil Medvedev's rise to tennis stardom is not just a tale of individual brilliance but also a testament to the power of unwavering support and love. 
Daria Medvedeva, once a fellow tennis hopeful, now plays a pivotal role in Daniil's life and career. 
As they continue their journey together, their love story remains a source of inspiration, demonstrating that behind every successful athlete, there's often an equally dedicated and supportive partner.
---
Suggested Reading: In Yet Another Divorce Story, We Jump To Call The Woman 'Bad Mom'
---