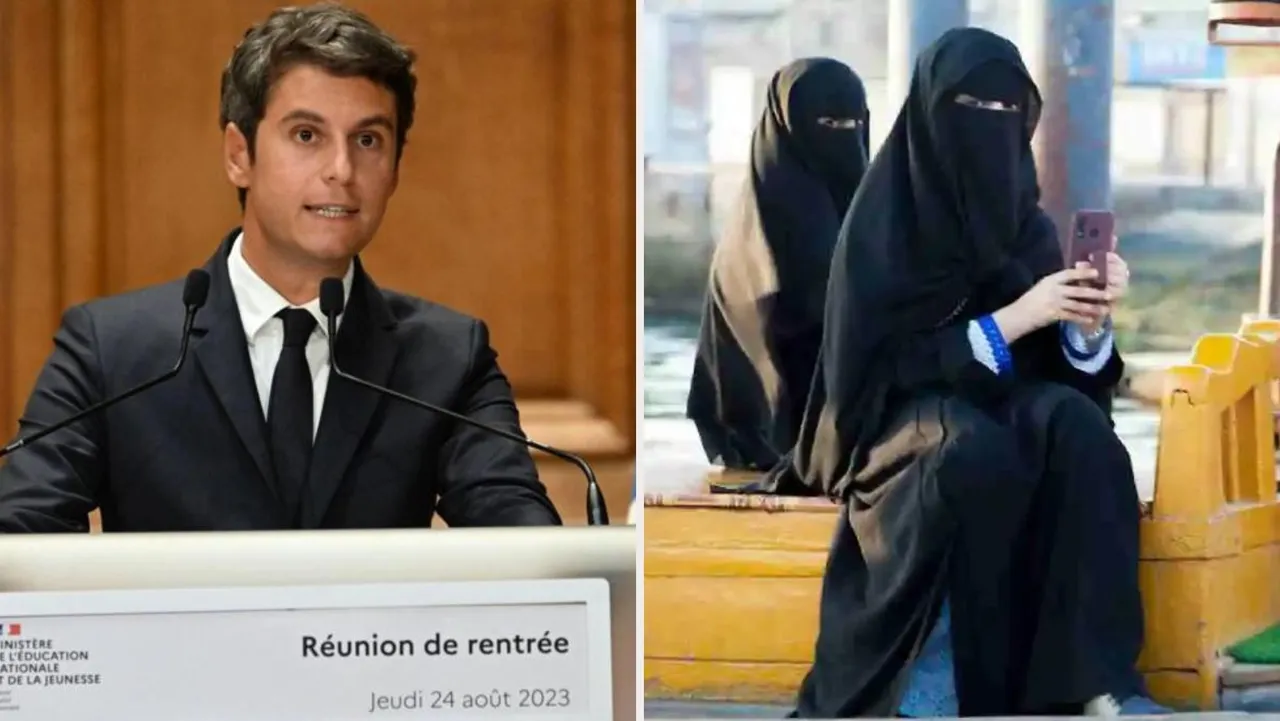 A month after President Emmanuel Macron's government announced a ban on abaya in schools as it was against the rules of secularism in education, the top administrative court of France upheld the government ban on Thursday. It rejected the complaints, alleging that it was discriminatory and could incite hatred.
An association representing Muslims filed a motion with the state council to remove the ban on abaya and qamis as it would account for racial profiling. However, the court upheld the ban, stating that the decision was based on French law, which didn't allow anyone to wear any visible signs of any religious affiliation in schools.
French Education Minister Gabriel Attal had made an announcement on Sunday, August 27, regarding the ban on abayas in the country's public schools. The prohibition prevented children from wearing the abaya, a type of loose-fitting, full-length robe worn by specific Muslim women.
French public schools have regulations that disallow the wearing of prominent crosses, Jewish kippahs, or Islamic headscarves. Moreover, earlier, in 2004, France implemented a prohibition on headscarves within educational institutions, and in 2010, it enacted a ban on full-face veils in public, which stirred discontent among a significant portion of its Muslim population, totaling five million.
The Announcement
Minister Attal, during an interview with TF1, said, "I have reached the conclusion that the abaya should no longer be permitted within schools." Attal further said, "When stepping into a classroom, it should be impossible to determine the students' religious beliefs solely based on their appearance."
This decision follows extensive months of deliberation concerning the presence of abayas in French schools, an environment where the wearing of hijabs by women has long been prohibited.
A law passed in March 2004 prohibits the wearing of symbols or attire that overtly display religious affiliation within schools.
Months-Long Debate
The regulation will take effect as of the commencement of the upcoming school year on September 4. Attal conveyed his intention to provide definitive guidelines on a national scale before the reopening of schools following the summer recess.
This decision follows extended deliberations surrounding the presence of abayas in French educational institutions. The attire has gained momentum within schools, resulting in a political schism. Right-wing parties have advocated for a prohibition, while those on the left have expressed reservations regarding the rights of Muslim women and girls.
The discussion surrounding Islamic symbols has grown more intense following the tragic incident involving the beheading of teacher Samuel Paty by a Chechen refugee. Paty had presented his students with caricatures of the Prophet Mohammed, and the incident occurred near his school in a suburb of Paris in 2020.
---
Suggested Reading: Probe Against Saudi Women Reporter For Wearing "Indecent Clothes"