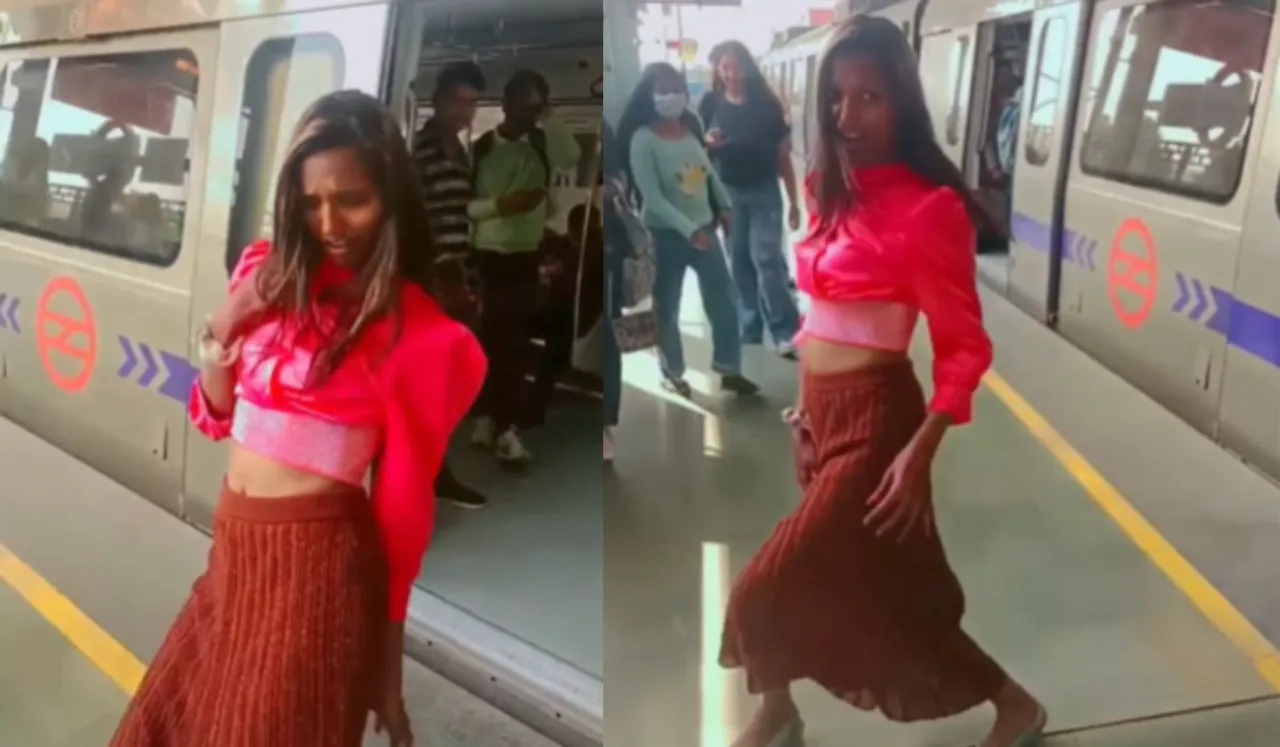 In recent times, we've been coming across several incidents where women are filming dancing videos from Metro rails. Despite the Delhi Metro Rail Corporation (DMRC) issuing a warning against the same, many people are continuing to defy the rule and share such videos on social media platforms.
Recently, a video of an influencer dancing inside the compartment of a metro rail coach went viral on the internet. The video was shared by vlogger Seema Kanojiya.
Delhi Metro Dancing Reels
She can be seen wearing a blown-pleated skirt and pink crop top and dancing to 'Andekhi Anjaani' inside the coach of a metro train. She is also seen coming out of the coach after the train stops and continuing to perform on the platform of the Delhi metro station. Kanijiya also posted another video of herself vibing to 'Tu Yaad Na Aaye Aisa Koi Din Nahi' by Himesh Reshammiya.
While the videos are garnering wide attention and likes, some people are also criticising them, considering them to be public nuisances. People who are supportive of making such videos claim that dancing in public requires real confidence and courage. However, people who are uncomfortable with these videos asked the DMRC to take action.
SheThePeople spoke to a few women about their perspective towards people making reels and filming videos inside the metro, and here's what they said.
Women Opine On Filming Inside Metro
Kiruthiga Elumalai, an IT professional, shared that she feels it's a public hindrance because it's possible for people to get distracted, which might open up a space for theft. "I'm usually conscious of my belongings when I travel, and when there are people filming reels or something, I get distracted, and either there would be a robber that takes advantage of the situation or criminals could use this as a tactic to rob people," she said. She added, "While it's easy to say, don't see if you don't like it, we aren't trained militants to control our brains like that. We are normal people who are bound to get distracted when something like this happens."
"I would say as long as people shoot reels or dance around without really disturbing the public, it's fine," opined Subashini Sreeram, an IT professional. "However, considering that it's public transport and a certain amount of decorum needs to be maintained, there is a necessity to draw a line to such behaviour." As long as they are within their boundaries, it shouldn't be an issue," she said.
Lavanya Periyasamy, an IT professional, said that she would be uncomfortable in such scenarios. "If a person is dancing right next to where I'm sitting, I would obviously be in the frame, which I wouldn't like. It's not fair to film me without my consent, whether they mean to or not, so I would view it as a hindrance," she added. She also mentioned that sometimes miscreants could use this as a tactic to take explicit images of women and misuse them.
"I don't think women dancing inside the metro is a big deal as long as no one is feeling disturbed by it. I'm all in for dancing your heart out, but as adults, we must hold the responsibility of not being a hindrance to anyone around us, especially in public transport," shared Niveditha Sreenivasan, an MNC employee.
Deepika Angannan, an entrepreneur, pointed out that there is a need to follow certain rules and regulations in public places so that people don't end up causing a public nuisance. As long as we are having fun amongst our friends, it's okay, but when it comes to shooting videos in public, it's most likely to cause a disturbance to fellow passengers, which is not fair. Just because our bandwidth is large, we are not entitled to expect others to match it, nor can we invade other people's private space, even on public transport. So people need to be mindful that their liberation cannot come at the cost of disturbing others.
---
Suggested Reading: Video Of Woman Dancing In Delhi Metro Leaves Internet In Splits