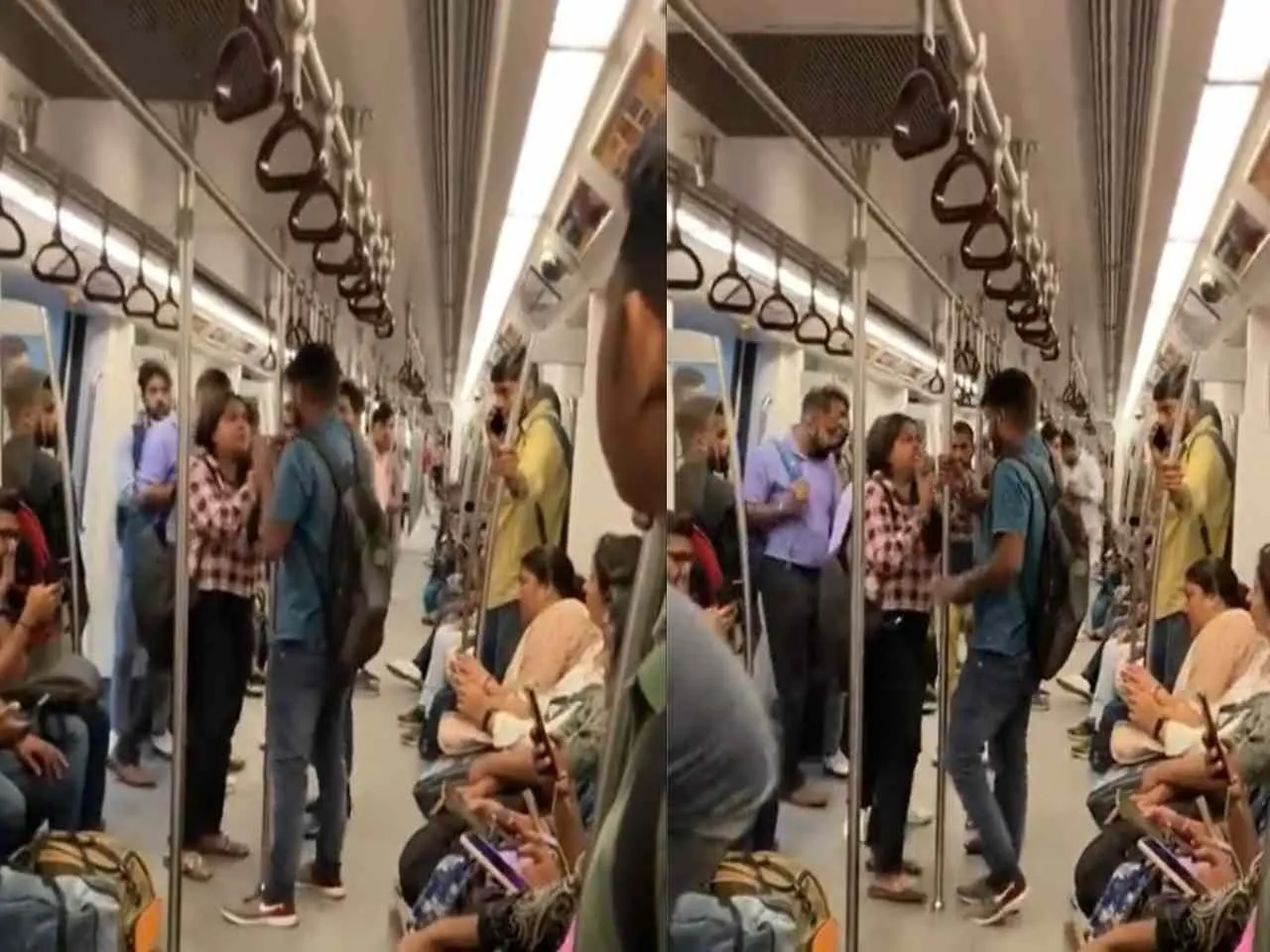 Delhi Metro in recent times has become a hub of some dramatic confrontations. 
A viral video capturing a heated altercation between a woman and a man inside the Delhi Metro has recently gone viral, sparking a wave of concern. The incident has once again highlighted the growing number of conflicts and disagreements witnessed on the Delhi Metro. 
Woman Abuses Man Inside Delhi Metro:
A viral video from Delhi Metro shows a woman shouting, confronting, and slapping a man, but the man does not react. The two youngsters can be seen in a dispute over something when the girl gets furious and slaps the boy twice. She can also be seen shouting at him. 
While the reason behind the altercation remains unknown, speculation suggests it may be a personal matter. As the girl slaps the boy, spectators chose to watch the 'show' instead of intervening in the matter to de-escalate the heated situation. 
Watch the viral video here
Kalesh b/w a guy and a Girl Inside "Delhi Metro) - Girl slaps him too hard just think if it was vice-versa😀 pic.twitter.com/Y0RiKeYWem

— Ghar Ke Kalesh (@gharkekalesh) July 3, 2023
Netizens were quick to react to the video as some found the act objectionable, while others remarked on the lack of concern by fellow passengers in the video. A user tweeted about how no one around them is caring, questioning: "What world we're living in?" 
Another user questioned, "Sko Delhi Metro kyu bolte hai, cinema ghar ghoshit kyu nahi kar dete!" (Why do they call it Delhi Metro? It should be declared a cinema hall!). This comment humorously suggests that the Metro has transformed into an arena for dramatic incidents, akin to a movie theatre.
While some users highlighted that if roles would have been reversed and a girl was being slapped, spectators would have raised the objection.
There have been no reports of any action taken in the case. 
---
Suggested Reading: Watch: Women Slams Couple For Standing Too Closely In Delhi Metro