A group of 12 women came together in Delhi to paint a wall at the Dwarka Sector-14 Metro Station. The theme is "City of Women" and the wall mural at the metro station highlights the role the city's lifeline plays in women's safety.
The project is helmed by Vedica Foundation, a Delhi-based non-profit organisation in association with the Delhi Metro Rail Corporation. The wall mural promotes women's inclusivity ahead of International Women's Day.
The all-woman design team called Nori Narrative painted the mural.
---
Suggested Reading: 30 Women Artists Paint Bihar Train In Madhubani Art
---
Women Paint Wall Mural
The painter and designer Shruti Maheshwari was part of the team and took to social media to share videos of the ongoing project. She said the aim of the wall mural was to promote women's mobility in the city.
Maheshwari added that the Delhi Metro played a huge role in women's mobility and was a mode of safe travelling for women in the city.
The mural on the wall at gate one of the Metro station represents the public activities a woman can partake in, during the day and night.
Women from all over the country with varying occupations come to Delhi to paint the mural.
Similar Cases
In 2018, 30 women local artists painted a train with traditional Mithila artwork using their fingers, matchsticks, and twigs. The enormous task only took the women four days and the Bihar Sampark Kranti Express became the first train to get a makeover which showcased traditional artwork.
The Bihar women painted the train to promote local art and culture and showcase traditional artwork to the public.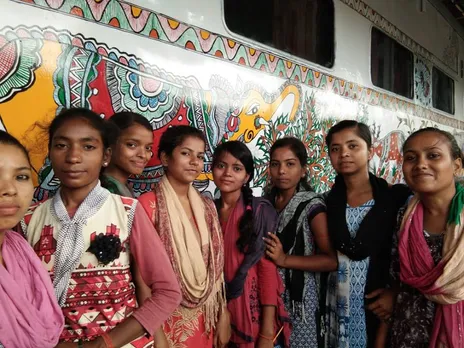 The theme was mainly based on village life, transportation system, flora and fauna, dowry eradication etc.
One of India's first female graffiti artists, Kajal Singh, who also goes by her moniker Dizy, spoke with SheThepeople and talked about how her interest in hip-hop drew her to street art.
Singh added that she always takes permission before putting graffiti art on walls regardless of the location.