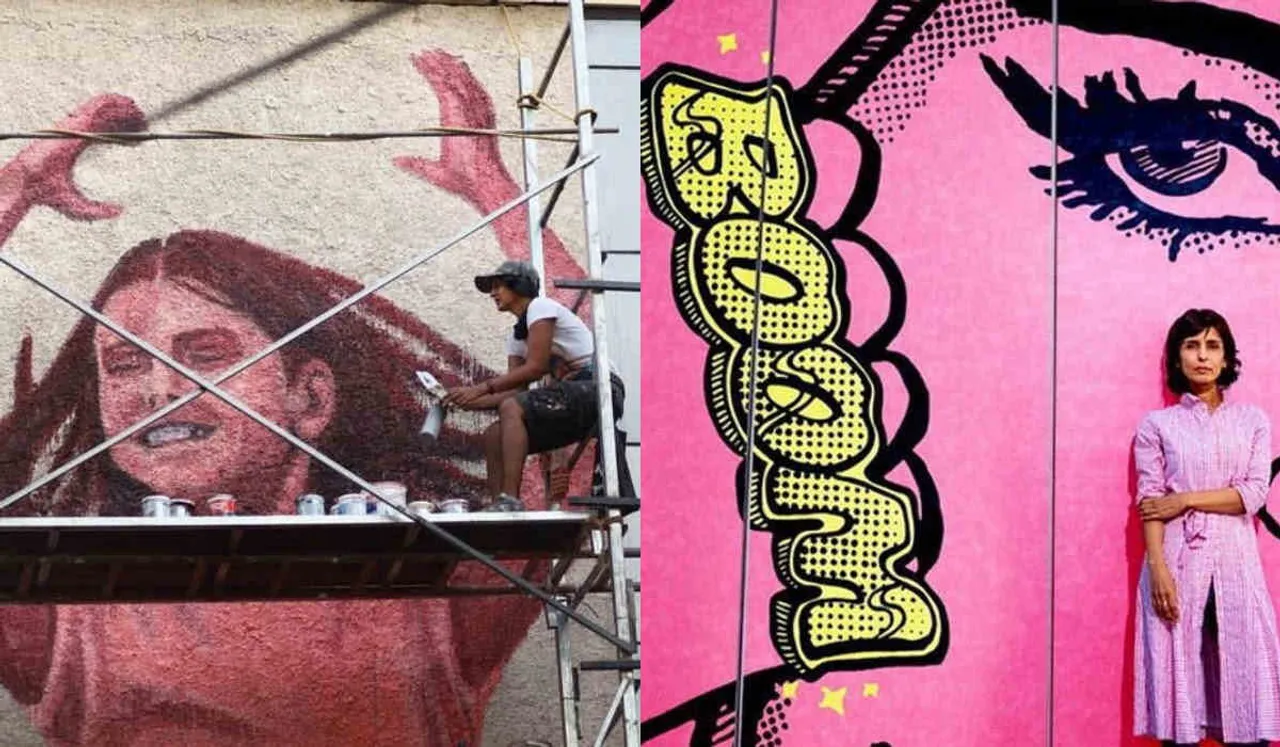 Our country has witnessed an evolved sense of display of introspections, ideas and opinions in the form of art, and street-art culture going up a notch in the past few years shows how we're accepting this unprecedented change. In a world where women are often asked to stay within limits, some female graffiti artists are doing everything in their power to shatter boundaries and go beyond limitations, and they're doing that through art.
India's street-art scene is currently booming with some dynamic female artists helming in projects that are not just true to who they are but also speak essentially of collective emotions. Looking back at how street art has prospered in the past few years, we bring to you nine Indian women artists who have reinvented India's street art in more ways than one. 
---
Suggested Reading: Kajal Singh On How It Feels To Be One Of India's First Woman Graffiti Artists
---
Women Graffiti Artists In India
Kajal Singh
Going by her moniker Dizy, artist Kajal Singh became one of India's first female graffiti artists. Singh dons several hats and has her interest spread in painting, fitness, and beauty vlogging. Holding a significant interest in hip-hop from an early age in life is what drew Singh to the street art scene. For years now, Singh has curated art forms that have brightened up public spaces in India and worldwide. As someone who is well-travelled, Singh's work can be seen on the walls of Delhi, Varanasi, Kolkata, Berin, and the United States among other places.
In an interview with SheThePeople, Singh revealed how she always takes permission before putting out graffiti art on walls regardless of the site. Her purpose is to showcase unique narratives and identify with her personality. Having collaborated with brands like Nike to help spread awareness about young girls in sports, Singh has worked globally by being associated with effective campaigns. Her art includes the usage of chunky letters, vivid colours, tiny caricatures and so much more. Her Indo-German Urban Hip-Hop Art, the Each One Teach One art in Auroville, the 25 years of Fall of the Berlin Wall in Taj, Kolkata and Mumbai on German National Day are some of the several pieces of work she has to her name.
Jas Charanjiva
Jas Charanjiva is a self-taught artist who became one of India's most celebrated and inspiring street artists owing to the brilliance she put into her artwork that spans years, and places. Almost a decade back, Mumbai-based Charanjiva also co-founded the Kulture Shop, a platform and an online art gallery featuring the country's digital and graphic artists. While they're drawing curtains to the commercial activity of the platform, the online gallery holds memorabilia of a plethora of artwork by several artists that are not only spectacular but also significant.
As an artist who uses her voice for the significant issues around her, Charanjiva, in her way, has been an important figure in showcasing work that rallies for the safety of women in the country and their inclusivity. She created the commonly known The Pink Lady art piece post the tragic 2012 Delhi rape case. Her substantial piece of art became a symbol for the expression of anguish and a mark for change in the terrible situations still prevalent for Indian women.  This became a symbol for women to express their anguish. The mural she created on a building in the Mahim area of Mumbai is something you cannot miss.
Anpu Varkey
If you cross the New Delhi Police Headquarters building and witness a Mahatma Gandhi mural on its wall side, it's impossible that you won't admire it. The magnificent piece of art is created by Bengaluru-based Anpu Varkey in collaboration with German artist Hendrik Beikirch. Varkey, who has worked her way up as a Graffiti artist by working in distinctive places like Delhi, Goa, Bengaluru, Kochi, Abu Dhabi, and Hamburg among others, was first introduced to the art form in Germany.
Varkey, a prolific art student from the Byam Shaw School of Art, London, has some exceptional graffiti art to her name including the giant harvest moon near the Halasuru Metro Station in Bengaluru. One of Varkey's most humbling works has been painting a little girl on the boding of a dental implant centre. Her work around cat-themed murals is greatly recognisable in the cities of Rishikesh and Chennai. Varkey's painting of a woman walking in a saree and chappals in a wall space in Malleshwaram is one of the most calming pieces in her artwork. As a brilliant painter, Varkey has used her power as an artist to highlight several issues prevailing around the world and has created a significant voice of her own through her work.
Shilo Shiv Suleman
Bengaluru-based Shilo Shiv Suleman's work speaks for itself. As an artist, she has created her own brand of artwork that ranges across themes like social change and technology. In 2012, she started her significant project, The Fearless Collective, a platform that encourages women to move on from fear and instead embrace the love for themselves by representing their bodies on their terms. Her work around the murals representing the Syrian refugees in Syria, transgender women in Pakistan and the LGBTQIA+ community has been highly appreciated across countries. Shilo Shiv Suleman uses her voice as an artist to fight against the practice of sexual violence and gender inequality.
Jheel Goradia
Jheel Goradia's artwork forays into covering and representing several crucial issues in the country. Her famous creation 'Breaking The Silence' project was rooted to shed the light on the negative aftermath of popular culture, Bollywood themes and objectification that is normalised across the cinema. Her striking work against the stereotypes usually celebrated in Bollywood and among the masses shows her impeccable effort towards bridging the gender gap and addressing issues that often depict women in a subversive light. Eve-teasing, inequality and stereotypes, and LGBTQIA+ themes are often covered in her line of work.
Rush
Going by the name Rush, this artist who is a native of the beautiful land of Manipur often collaborates with fellow artists Daku and Treble whenever she works on Delhi walls. For more than a decade, Rush's work has spread through the IIT campus, ISBT Flyover, Hauz Khas, and Chanakyapuri if we talk about the Capital. Her work involves painting a lot of prominent cartoon characters apart from slogans and her solid signature, Rush with the use of bold and vibrant colours.