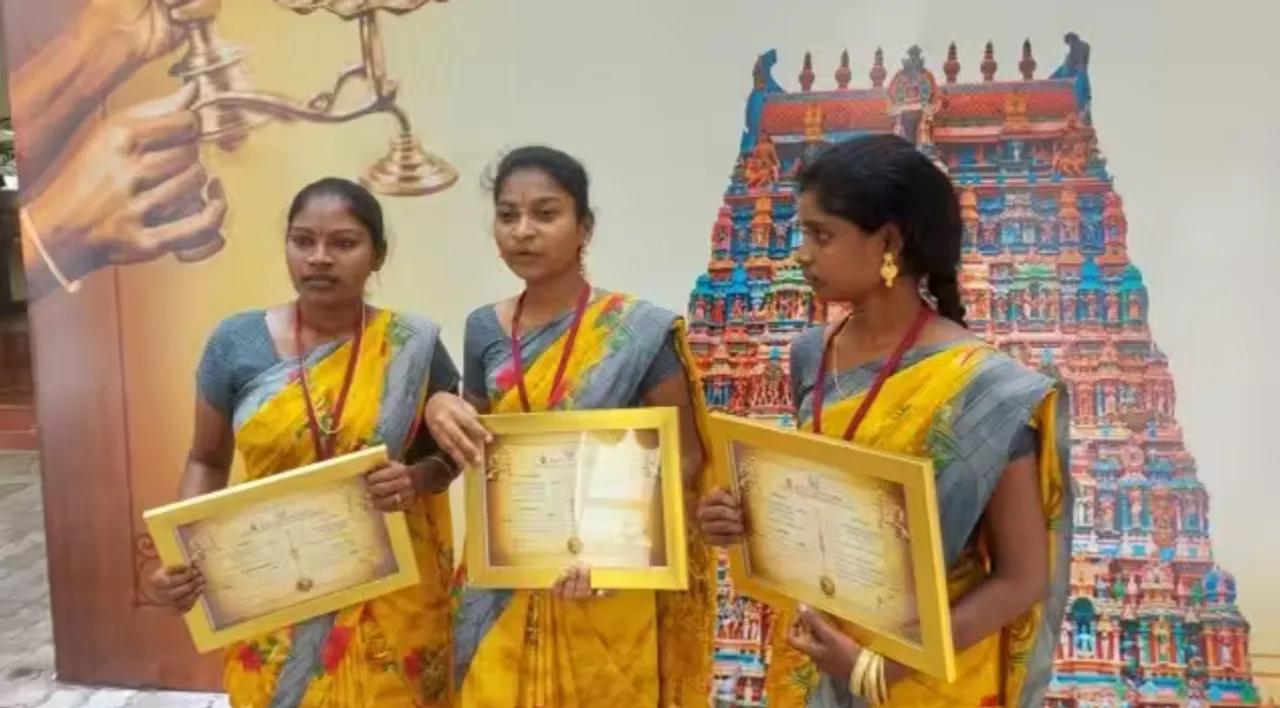 In a groundbreaking development, three young women from Tamil Nadu have made history by successfully completing their training to become priests.
Krishnaveni, S Ramya, and N Ranjitha are set to break a long-standing tradition of male-only priests by soon assuming roles as assistant priests at temples in the state. 
Defying Patriarchal Tradition
The appointments of the women will be made at temples under the supervision of the Hindu Religious and Charitable Endowments Department, which operates under the state government.
Tamil Nadu Minister Sekar Babu recently presented certificates to these three women, along with male trainees who completed the same course at the Archakar Training School, which is run by the Sri Ranganathar Temple in Srirangam.
During their training, the women learned the intricacies of performing poojas, chanting mantras, and conducting various religious rituals as required by the role of a priest.
This historic moment comes as a result of the Dravida Munetra Kazhagam (DMK) government's initiative that began in 2021. The government announced its commitment to providing priest training to individuals from all castes and extended the opportunity to women who expressed interest. Krishnaveni, S. Ramya, and N. Ranjitha decided to participate in the program following this announcement.
Women Preiest Express Their Elation
The pioneering women believe that their step will open doors for many others aspiring to become priests. Ramya, who holds an MSc degree from Cuddalore, expressed her initial challenges during the training and gratitude for their teacher, Sundar Bhattar, who provided excellent guidance.
She told Indian Express, "Though it was difficult, we didn't want to give up. We want to thank everyone for their support."
Krishnaveni hopes to work as a permanent priest in temples upon completing the practical training period. She emphasized her desire to serve both God and the people, stating, "That's the reason why I chose to do this."
'Change Is Finally Here'
Chief Minister MK Stalin hailed this as a Dravidian model of governance ushering in a new era of inclusivity and equality. He remarked, "Change is finally here!" Stalin further highlighted the historical exclusion of women from the role of temple priests, even in temples dedicated to female deities, and celebrated the transformation brought about by the government's inclusive approach.
பெண்கள் விமானத்தை இயக்கினாலும், விண்வெளிக்கே சென்று வந்தாலும் அவர்கள் நுழைய முடியாத இடங்களாகக் கோயில் கருவறைகள் இருந்தன. பெண் கடவுளர்களுக்கான கோயில்களிலும் இதுவே நிலையாக இருந்தது.

ஆனால், அந்நிலை இனி இல்லை! அனைத்துச் சாதியினரும் அர்ச்சகர் ஆகலாம் எனப் பெரியாரின் நெஞ்சில் தைத்த… https://t.co/U1JgDIoSxb

— M.K.Stalin (@mkstalin) September 14, 2023
The DMK government views this initiative as a means of upholding social justice and ensuring inclusivity by allowing individuals from all castes to become temple priests in the state after completing the necessary training.
Describing this as a revolutionary step forward, Manickam Tagore, the Congress MP from Virudhunagar, called upon the central government to introduce a similar scheme nationwide during the upcoming special session of Parliament commemorating Azadi Ka Amrit Kaal.
---
Suggested Reading: Engineers Day: Damyanti Hingorani Gupta, First Female Engineer At Ford