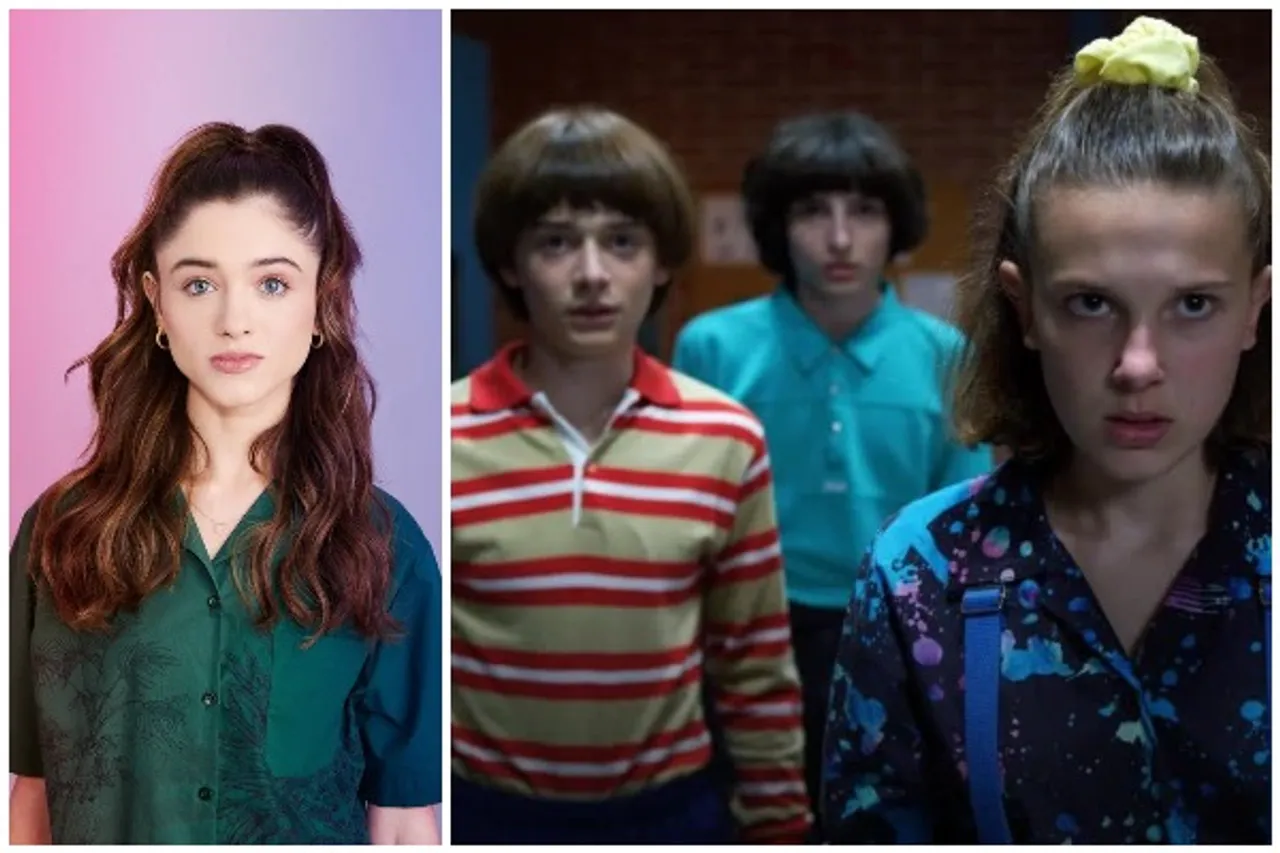 Does the entertainment industry and media oversexualise coming-of-age teen shows and their co-stars? Natalia Dyer, who plays Nancy Wheeler on Netflix's sci-fi thriller Stranger Things, thinks so. Natalia Dyer feels "protective" over her co-stars.
The 25-year-old actress has expressed concerns about her younger co-stars being "oversexualised in the media". "I feel protective over the younger kids," explained Natalia. "There are so many layers going on here," she told The Independent about how her younger co-stars are treated by both the media and by fans. "I generally feel like, to me, it's oversexualizing them."
She also pointed out that "no one had any idea how successful the show would be."  Natalia believes it is "a cultural issue, there must be a bigger concept behind it as to why." The show also has Millie Bobby Brown, Finn Wolfhard, Gaten Matarazzo, Caleb McLaughlin and more.
What You Should Know
Natalia Dyer criticises the media for oversexualising Stranger Things actors.
The actress calls the oversexualisation of young actors "a cultural issue" that extends far beyond her teenage co-stars.
She claims the media and fans treat its teenage actors inappropriately.
'Leave people alone'
"They're all great people and all having to grow up in very crazy circumstances. As a private person, I just feel like, leave people alone–unless you're talking about their work or what they want to talk about. It's a very tricky and complex issue," said the actress who is currently promoting her new film, Yes God Yes.
She concluded saying, "I feel like my work is what I did. I don't owe somebody a photo. I gave them my work."
Millie weighed in
Talking about the same topic, teenage star Brown, who plays Eleven on the show, also has opened up about the issue in an Instagram post on her 16th birthday. "16 has felt like a long time coming. I feel like a change needs to happen for not only this generation but the next. our world needs kindness and support in order for us children to grow and succeed (sic)," she wrote in February.
"The last few years haven't been easy, I'll admit that. there are moments I get frustrated from the inaccuracy, inappropriate comments, sexualization, and unnecessary insults that ultimately have resulted in pain and insecurity for me. but not ever will I be defeated. I'll continue doing what I love and spreading the message in order to make a change (sic)," Brown captioned.
When she turned 13, Emmy-nominated Brown was listed as one of the reasons TV is "sexier than ever" by W magazine. 
Meanwhile, another actor in the show, Finn Wolfhard, 17 (who plays Mike Wheeler), revealed he had received inappropriate messages from fans on social media when he was just 14. The actors on the show are always in the limelight after its smashing success. Brown, Finn, Gaten Matarazzo (who plays Dustin Henderson) and Caleb McLaughlin (who plays Lucas Sinclair) became overnight stars when the show debuted just over four years ago, but they are all just teenagers.
Also Read: Lockdown Horror: Cases of fathers raping daughters across India
Feature Image Credit: BuzzFeed News