Football "transcends race, religion, language and gender to bring about a change in the lives of street dwellers". This is how Vidarbha-based Slum Soccer defines the impact of the game on its home page. When a non-profit organisation like Slum Soccer saw interest among girls in playing football, it launched Shakti Girls.
Slum Soccer's CEO Abhijeet Barse spoke to SheThePeople.TV about their girls' football initiative and how it's encouraging girls to take up the sport. "Most girls -- when they hit puberty -- they stop playing games for various reasons. However, the most important reason is that their bodies change and they suddenly become aware about themselves. Also, the lack of changing rooms and toilets are a few reasons for girls dropping out of any sport," said Barse about how girls are conditioned to quit sports because of logistical reasons.
However, Shakti Girls has tried to create some space where girls can engage playtime with football and become a team. "We stress on the idea that this team doesn't just support each other on the football ground but also off the field on issues that concern them. So, in a sense, we are trying to create a team of girls which remains a team even after going out of the football field.
Girls Kick Off- Shakti Girls
Open spaces not enough for girl footballers
Shakti Girls has its own football team but the girls registered with Slum Soccer under this programme play with their school teams. Barse says that currently it is best way for girls to have access to the game. "There are open spaces also for children to play football but they don't have separate toilets and changing rooms for girls.  We are talking to the local government bodies to help us construct toilets especially for girls but it is still a work in progress," he says.
The initiative provides the basic amenities girls require to get ahead in the sport. They have also succeeded in gaining access to already existing places having changing rooms and toilets for girls. So Slum Soccer convinced academies in and around Nagpur to allow girls also to play football, stated Barse.
Many challenges
He also stressed upon how difficult it is for girls to play football. "When a girl has to play, she already has to first overcome the gender challenge. If she has to show up for practice, she has to leave her house. If her parents agree with it, great! otherwise she has to stand up for herself. In our case, many girls work as house help so that is also a bigger challenge in terms of sacrificing an income to commit to a sport," expressed Barse.
Also read: Here's How Rashmi Tiwari Is Helping Tribal Girls Turn Footballers
Shakti Girls mainly works in the slum areas of Vidarbha, including Chandrapur, Nagpur and Wardha districts. The organisation has registered close to 500 girls. Initially, Shakti Girls started taking in girls from the slum areas of Koradi in Nagpur. Now, they have started registering girls from schools as well.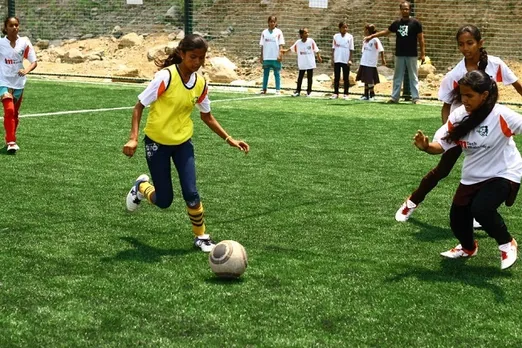 How it began
Slum Soccer was set up in 2002, said Barse. "We made the first girls' football team in 2007. The reason we ventured into girls' sport is because girls in the slums were not getting any playing opportunity. We chose football because it is an easy game. There aren't many techniques involved. And we removed the one major rule of 'off-side' to make it even simpler."
"At the initial stage of Slum Soccer, we only focused on boys. But we realized that there are a couple of girls interested in playing. But they had no idea where to begin because of the stereotype that it is a boys' game," reminisced Barse
ALSO READ: Coach Thockchom's Endeavour is to turn Andro into Soccer Village
Including girls into a football programme wasn't an easy task. "Football is a very strenuous game and the girls we deal with in the slums were also suffering from deficiency of haemoglobin."
So Shakti Girls took a few steps back, saw how they could tackle this problem and still encourage girls to play football. This way, they also started physical health programmes focusing on girls.
"To begin with, we got a set group of 12 girls who loved the game. But the parents were a struggle to convince. They didn't want their girls to play simply because nobody else was playing it."
While most organisations have to struggle to convince girls to start playing, with Shakti Girls, it was an opposite scenario.
"We got a set group of 12 girls who loved the game to start working with. But the parents were a struggle to convince. They didn't want their girls to play simply because nobody else was playing it. Also, it involved more of going to different cities and playing, so they also had a problem with that. Later, when we started training girls from other communities, we realized that there were more issues like clothing etc."
Barse explained how in a few cases, the girls also have to support their families by taking care of the household and younger siblings. "Sometimes they even have to take care of their older brothers, so that kind of bias still remains in slums."
But Shakti Girls grew by showing victorious results of the girls trained by them. "We haven't yet been extremely successful in addressing that issue. What we have done is that we made it very simple for people to see how success looks like. We have girls who represented India at international tournaments. When they come back, we felicitate them. Some of them also got good government jobs and that's how we package and sell to the parents."
Parents are keen on the development aspect of the sport rather than just playing it. "They feel that their girls can play football and also get a job because of it."
Join Us on https://www.facebook.com/SheThePeoplePage
Follow Us on https://twitter.com/SheThePeopleTV