Parents should encourage their daughters to take up sports and schools should have extra-curricular activities as a must, said footballer Juhi Shah who plays in national-level tournaments. The 23-year-old has played many tournaments in her career, including representing Bodyline Sports Club as captain in the I-league preliminaries. The club is a four-time winner of a local league—Bandra Women's League--from 2010-2012 and in 2015.
The Mumbai-born Shah with her team recently played the Maharashtra qualifiers against two other teams from the state. They won both the matches.
So how did football happen?
Shah started out as a young sports enthusiast playing a variety of sports with her twin brothers, cousins and friends in her colony compound.
Playing among boys had its own challenges. "I loved to play with the boys in my society and on one given day, we were playing football. Being a girl you are always forced to play as a goalkeeper, but this did not stop me from saving numerous goals and the best way was I knew how to -- by sliding," she told SheThePeople.TV. Shah thus transformed this challenge into strength to keep playing football.
Girls Kick Off- Juhi Shah
Initially, Shah studied in a co-ed school where, she said, there weren't many sports opportunities for girls. But that changed when after completing fourth grade, she shifted to a girls' school—St. Anne's High School, Fort. "It was at this school that I really started to pick up football. And become good at it."
The game somehow kept attracting Shah to itself. She said, "I started playing football because I wanted to be a part of a team in Mumbai."
ALSO READ: I Was The Only Girl Among 20 Boys Playing Football: Sanaya Anklesaria
As she remembers it, football wasn't as underrated. Many girls could play and represent their school/colleges at the Mumbai Schools Sports Association (MSSA) or District Sports Office (DSO) Games. "We managed to play an average of 10-12 games a year along with a few other tournaments from time to time. It allowed me to make friends with girls from other schools and also showcase to the other schools and media as to how good my team really was," said Shah.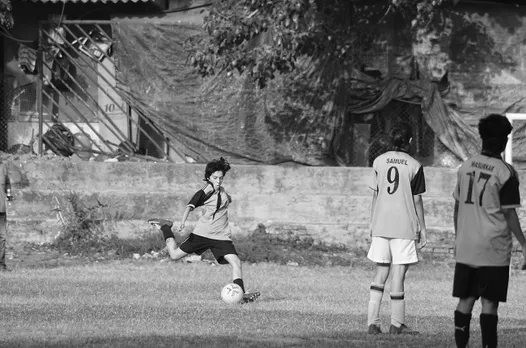 Girls Kick Off- Juhi Shah
Once she joined college, her days of playing football at a competitive level reduced. "Once I went on to play for college, I realised that the number of tournaments and games reduced. And as a sports enthusiast, I always wanted to be involved in football some way or the other," Shah said, adding that this motivated her to start refereeing in order to stay connected with the game.
"I started officiating matches on a regular basis. The 1st game I ever officiated was an U-14 Girls in the MSSA tournament. In less than 6 months, I was asked to officiate a Boys U-14 game and thus began my journey into refereeing."
ALSO READ: Meet Tanvie Hans: Indian Footballer Playing Professionally In England
The Refereeing Scene
She throws light on how refereeing works in India. "Refereeing in India does not pay you well and I never saw myself become a top referee. So I decided to do this as a hobby. I still love refereeing though I dislike the fact that many a times you do hear a few words which, at times, discourage you to give up refereeing or only officiate a women's game."
"We need heavy investment to build facilities and great world-class stadiums and grounds. Along with this, we need to ensure that schools must employ qualified coaches so that the players learn their basics well," - Juhi Shah
Apart from refereeing in her free time, Shah works in the development and management side of the game. "I love being a part of sporting events and ensuring that the competitions run smoothly. And as part of Bodyline Sports Club, we are constantly trying to increase participation of young girls. We also try to provide them with the best coaching staff and facilities we can afford."
Shah also talked about how we can improve visibility and attention towards the game, pull in a larger audience and encourage girls.
She said, "We need heavy investment to build facilities and great world-class stadiums and grounds. Along with this, we need to ensure that schools must employ qualified coaches so that the players learn their basics well."
Another important things that clubs around India can do is introduce a girls/women's team in any and every sport possible. Shah feels that the government should ensure that sports associations in India pay the Men's & Women's teams equally and not based on their performance in the past. This will boost gender equality.
Currently, Shah has registered for AIFF 'D' Licence. After qualifying in that, she plans to take up coaching for girls at the high school level.
Join Us on https://www.facebook.com/SheThePeoplePage
Follow Us on https://twitter.com/SheThePeopleTV