Tribal areas house one of the most underprivileged communities in India. And for anyone who tries to organize sports in tribal areas, it must feel like a herculean task. But not for Rashmi Tiwari, founder of Aahan Tribal Foundation. Tiwari has taken it upon herself to empower tribal girls and the community. Tiwari has established a football academy which organizes and trains tribal girls into becoming professional footballers.
Talking to SheThePeople.TV about starting the Aahan Bravehearts Academy and team, Tiwati said that when she started travelling to tribal areas of Chhattisgarh, Jharkhand, Bihar etc, she found that many girls show interest in football.
"I saw that many girls were quite talented. Some of the girls played at the district, state and even national level. However, they were unable to pursue their passion due to multiple constraints like lack of basic things like -- food and supplements, football, shoes, clothes, infrastructure, etc. These girls have little or no social or family support. They constantly struggle with traffickers and Naxalites. So they have less chance of professional success," said Tiwari who has extensively travelled to Naxal-prone areas.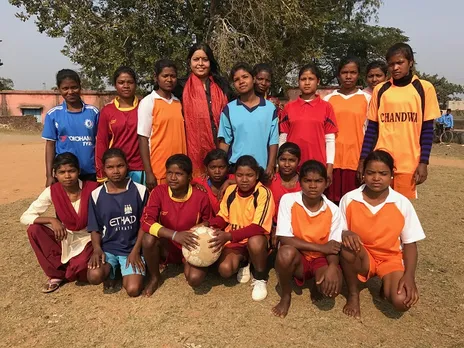 Aahan Bravehearts
"I realized that by harnessing the potential, passion and talent of these tribal girls they could take up football at a professional level. They can also bring about a fundamental change in their situation and that of other tribal girls as well. We envisage this football academy to have a multiplier effect and improve the socio-economic condition of the tribal girls," she added.
The academy enables girls to play the sport while taking the financial pressure off their heads. They provide general as well performance-linked scholarships to girls to help them sustain themselves, states Tiwari. The initiative is solving the dual issue of lack of sports and girls facing gender-based violence.
ALSO READ: Meet Tanvie Hans: Indian Footballer Playing Professionally In England
"We have been supporting girls who are either victims of gender-based violence or are threatened by it, so that they could pursue football."
Shedding more light on the popularity of football in tribal areas, Tiwari asserts, "Football enjoys a lot of significance among girls there. However, due to financial constraints, early marriage etc., the girls are unable to pursue it. Upon my interaction with parents of tribal girls, I learnt that the parents would be more favourable to their girls playing football if that brings some tangible gains for their daughters and themselves -- such as money."
Rupanti Munda playing football (Pic by Aahan Foundation)
"It is easy for girls to play football in tribal areas as it requires little investment to start with. I am glad that we have started to see improvement of the game with Rupanti Munda. She is the captain of Aahan Bravehearts Football Team representing India in Oslo," Tiwati explained.
In India, it is very tough to get through the tribal areas for even a city person. And Tiwari hasn't just made inroads into the tribal regions of the country, she has also created a team of young girls passionate about football.
ALSO READ: 'We Need World-Class Stadiums For Football To Flourish'
Convincing parents a tall task
Talking about her experience while selecting the girls for the Aahan Bravehearts, Tiwari said, "The girls were obviously very happy. We were handpicking girls who were passionate about football, and due to some reasons, were not able to pursue it. However, the parents were very apprehensive about it. The girls, in a majority of the cases, were the source of earning for the entire family. By asking their parents to allow their daughters to play, we were being perceived as snatchers of the family income. This also added to putting the girls at risk of injuring themselves. It was quite hard to convince the parents initially.
The football players are now the young role models and change leaders. They are now making the community more sensitive towards girls' issues and rights
Rashmi sees improvement in the game and the lives of tribal girls within the few years of the academy's inception.  "The girls are now able to demonstrate success stories in tangible terms to their parents. Further, by getting a clear cut career path, they are now less susceptible to the traffickers."
In terms of creating awareness about the sport, Tiwari takes help of WhatsApp groups, spreading success stories of footballers. "We organize meetings with self-help groups of women and ask them to bring their daughters along with them. We also educate both about the importance and benefits of girls entering into football and making a career in it."
Currently, Aahan Bravehearts Academy is active mainly in Jharkhand. But Tiwari wants to take football as a tool to empower tribal girls in the Red Corridor regions.
Join Us on https://www.facebook.com/SheThePeoplePage
Follow Us on https://twitter.com/SheThePeopleTV