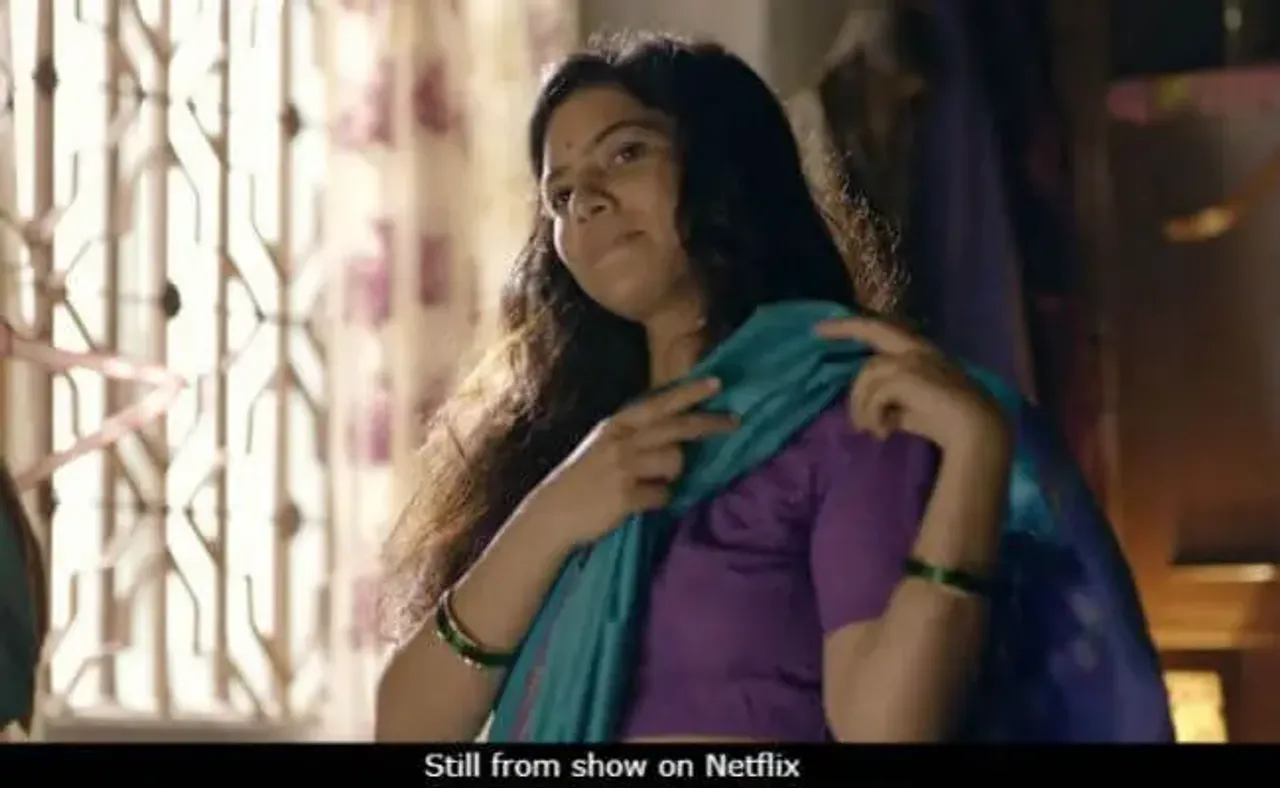 Sacred Games, India's first original Netflix series, has been making noise since its first episode. It has received a lot of love and appreciation all over. Season 2 will air soon. Shethepeople.tv spoke to Rajshri Deshpande who has been applauded for her role of Subhadra, Gangster Gaitonde's wife, in the web-series. She shares insights from her personal and professional life.
Taking Up Acting
Rajshri Deshpande has been an advertising student and has also learnt film-making. Talking about her choice to be an actor, she said, "I've been into dancing and mimicry since my childhood. Acting is something that gives me happiness and joy. I've never seen acting as a profession; it's more of a passion to me. I never thought that it can ever turn into a profession. Since your childhood, you've been told that you've to study and later take up work. It's a protocol that we've been following since years. Times are changing now, but during my time, no one actually told me that you can take up acting as a career."
"Initially, I kept my passion aside and started an advertising company. But there came a time, when I quit advertising and started following my dream. I shifted to Bombay and acting then eventually happened to me."
World of Sacred Games
Talking about how she took up Sacred Games, Rajshri said, "I auditioned for the role of Subhadra and eventually got selected by the team. They were on the lookout for someone, and maybe I suited the character that was required. I took up Sacred Games essentially because of the people that were involved. Also, I had heard about the book and its story, though I never happened to read it. I came to know about the ensemble, writers, directors, and more. Everything was perfect, and I did not have even the slightest doubt whether I should do this or not. I just gave it a big thumbs up and grabbed the opportunity with both hands."
On her character, she said, "The character goes through phases in the series. Subhadra has a subtle start, but gradually develops into a strong woman. She becomes a change maker in Gaitonde's life, who is guiding and supporting him constantly."
She further said, "All the characters that are conceptualized have been inspired from real people. We all have some connection and resemblance to either the stories or some character."
"There are many Subhadras around and some are even close to me. I've known their journey and their struggles. I've seen them fighting back various circumstances and growing into strong people. Not only Subhadra, all the characters that I've portrayed till date, have me in them."
Sharing her happiness for the recognition that she received, the actor said, "All the love and appreciation that I've been receiving so far is keeping me strong and grounded. It is overwhelming, I'm very happy about it. But that doesn't change the person who I am; I am still the same Rajshri that I was before. However, there's a long road ahead, a lot has to be still done and achieved."
Read Also: Meet The Woman Fighting Section 377: Menaka Guruswamy
Handling Unnecessary Criticism
Rajshri has been portraying bold and strong characters on-screen for some time now and she has been trolled for her choice of work by a section of society. Speaking about the same, she said, "The criticism hasn't really affected me. I love what I do, I'm proud of it and I do things willingly. People will keep speaking, you cannot please everyone. Some trolls intentionally do it. Sitting behind computer screens, they are anonymous to the world. I clearly ignore them, as for me, what I do for society is much more important. I'm working for a change, and will keep on doing what feels right."
She added, "Also, each story is different, I might play a similar kind of role, but the way I perform it has to be different. With each character, I've to look different and justify it. So, that is where my focus lies. I don't pay heed to unnecessary criticisms that I receive. You can't change their mentality and approach, you've to keep doing what you think is the best for you."
Social Work
For Rajshri, change begins at home. She runs an NGO, 'Nabhangan', and has also adopted a village. She is also closely associated with the Transgender community. Sharing her views about the recent Supreme Court hearing on Section 377, she remarked, "The law might change someday, and I'm hoping for it to change soon. But apart from the law, what actually requires to be altered is the society's mind. It is we as individuals who need to change our mindset, approach and attitude towards the community. It is our behaviour that will bring about a difference. We have to accept them as a vital part of society. It is only then that we will march towards a radical change."
Rajshri  is also a core member of Citizens For Tomorrow, an NGO standing up against plastic pollution. Talking about the recent plastic ban in Maharashtra she said, "Again the law might change, but it is the attitude of the people that requires alteration. It is our responsibility to change things. If the approach remains the same, the law will not be able to help much. It is not force and fear that should drive you to do something, but you should be willing to bring about a change, both within you and in the society.
On Being Part Of Different Platforms
Rajshri has been a theatre artiste, has done movies down South along with Bollywood, and she has also been a part of the digital space. Sharing her views about the digital medium, she said, "The digital platform definitely has an upper hand in terms of freedom of expression. All mediums are good. For me personally, the type of medium doesn't really matter. It is the content that makes a difference. As long as we have a strong story to tell the audience, things will work out the best. When it comes to the digital space, it has a wider reach and also offers immense freedom in terms of portrayal. But by and large, Content is the King."
On Feminism
"Feminism to me means Equality. We have to rise above gender, caste, status, religion and more. If you deserve something, you should have it, irrespective of any of these factors. As for me, if I'm standing by a woman, I will also stand by a man equally in times of need. I personally celebrate myself. It is all about respecting, caring and acknowledging each other as human beings."
One of Rajshri's Bollywood roles is in Manto where she plays an Urdu writer and stars alongside Nawazuddin Siddiqui. The biopic is helmed by Nandita Das.
Read Also: Five NGO Workers Gangraped In Jharkhand Village
Megha Thadani is an Intern with Shethepeople.tv