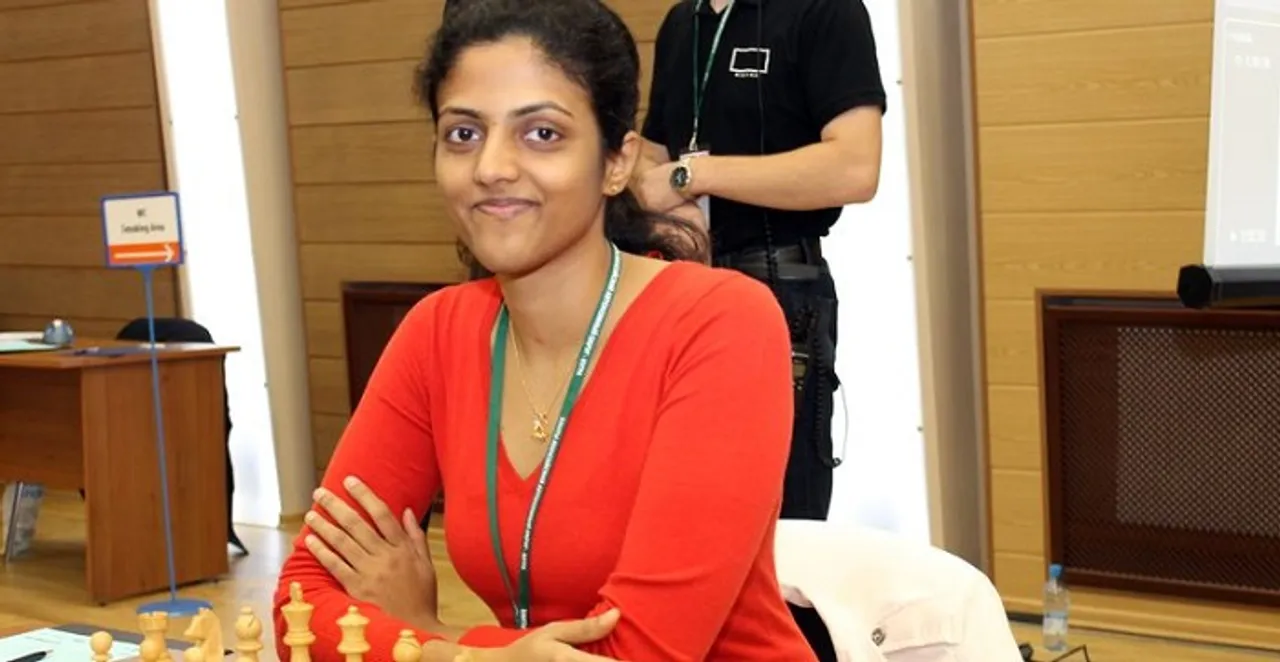 Chess Grandmaster Harika Dronavalli and team have won the silver medal in the Rapid and bronze medal in the Classical format at the Asian Team Chess Championships in Iran on August 4.
After eight days of grueling fight in Asian team championship, we #indianwomenteam🇮🇳 managed to win silver medal🥈 in Rapid and Bronze medal in Classical format🥉😀. Final showdown blitz to go💪🏻 pic.twitter.com/6Ayv20Ps6S

— Harika Dronavalli (@HarikaDronavali) August 3, 2018
The Hyderabad-based chess player was a part of the Indian women's team, that triumphed at the world stage. It was a highly competitive chess tour which started on July 24 in Iran. But now instead of praising the women for their brilliant show, a few self-proclaimed moralists have started shaming them for wearing headscarves.
Shame on you being an Indian! Bowing down to an orthodox Islamic tradition n wearing scarf compulsorily. https://t.co/7ga4jFg3fu

— Dhananjay Kumar Upadhyay 🇮🇳 (@DhananjaySpeaks) August 3, 2018
Iran made it compulsory for every player taking part in the tournament to wear a headscarf. Following this, another grandmaster, Soumya Swaminathan, also a former junior World Champion, opted out of the Asian Team Chess championship after she found out about the organisers' instruction of 'compulsory headscarf'.
Also read: Meet the memory wiz: Vyshnavi Yarlagadda
Now the team is being trolled online. However, Harika has slammed the critics for their insensitive gesture.
Impressed with your fine eye for the details and finding religion in the picture!👏🏻 I prefer giving importance to play and bring medals for India in any given situation🙏🏻 https://t.co/R0ZymDPXbK

— Harika Dronavalli (@HarikaDronavali) August 3, 2018
Harika, who recently got engaged, experts juggles her work-life balance. Before the championship, she told TOI, "It's going to be hectic for sure, because the Asian Team Chess Championships start next month and as soon as that wraps up, it will be time for my wedding. Then again, in September, I have the 43rd Chess Olympiad coming up. These two tournaments are very important, not only for me, but for other contenders too. So right now, I'm working very hard on chess."
"Well, I am composed, but I won't deny that there is double the responsibility on me right now. Earlier, I used to play for my country and my parents, who invested so much time and money on my game, so that I could reach where I am today. But now, I also have my new family on my mind who look up to me. They support me big time and are very proud of me and my game as well as make both my families proud and I'm sure I'll do it," she added.
Harika had won the best women's player award in the Eurasian Blitz chess tournament in Kazakhstan in 2016. She was a bronze medallist in the 2017 Women's World Chess Championship, held in Tehran. She had also earned a bronze at the 2012 and 2015 World championships.
What is your take on Harika 's retaliation? Do you think trolling the team because of a piece of cloth is justified? Let us know in the comments section below.
Feature Image credit: sportskeed.com