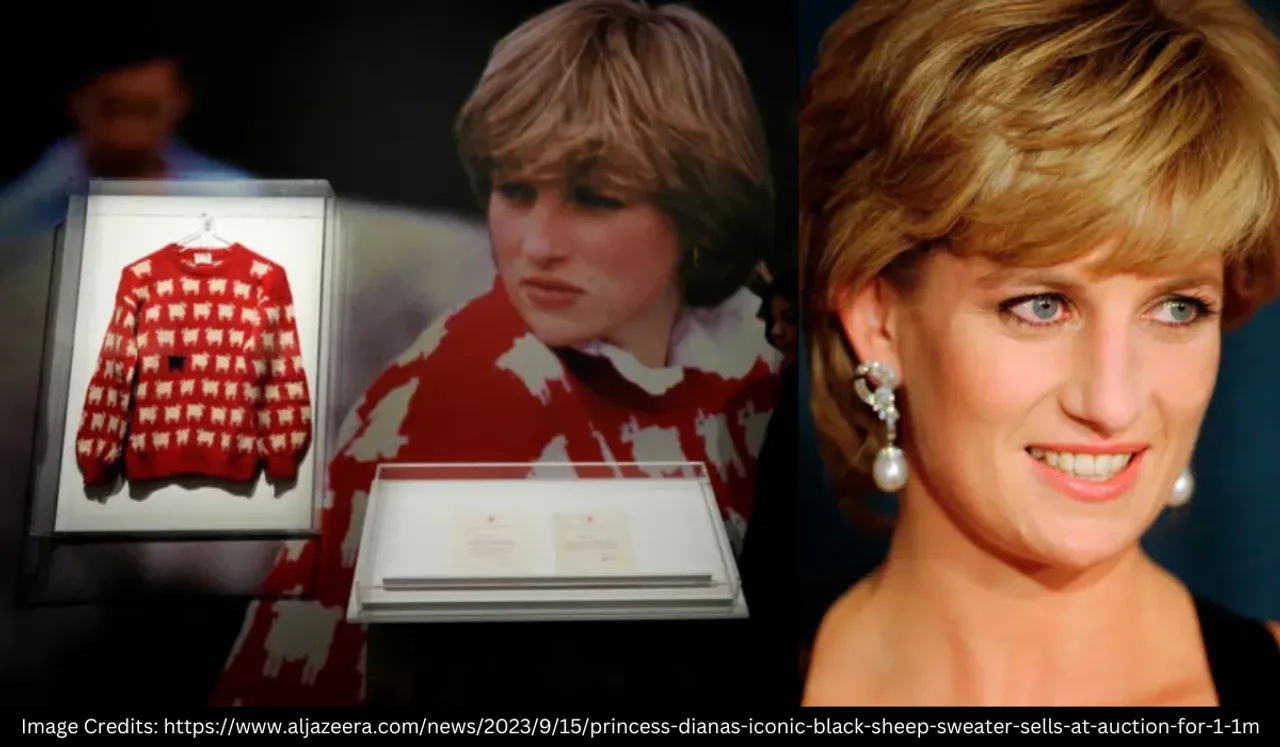 Ever the fashion icon, Princess Diana's taste in clothes remains highly valued years after her death. Her famous 'black sheep' sweater has just sold at a Sotheby's auction for $1.1 million. 
The 'black sheep' sweater was first worn by the late Princess of Wales in 1981 when then-Lady Diana Spencer was quickly becoming the subject of national attention as the new fiancee of the then-Prince Charles. 
The Black Sheep Sweater
The famous 'black sheep' sweater consists of several white sheep on a red background, with one crucial black sheep in their midst. The sweater was created by designers Sally Muir and Joanna Osborne through their knitting company Warm and Wonderful, and the company became famous instantly after Diana wore their sweater.
According to Sotheby's website, mere weeks after Diana was pictured wearing the sweater at Prince Charles' polo match in 1981, Muir and Osborne received a letter with the original sweater, stating that the original sweater was torn, after which point they sent her a new one.
It was only recently that the original sweater worn by the late princess was found in Osborne's attic. Osborne and Muir decided to auction it, partly because they couldn't believe how well it had been preserved over time in such cramped conditions in Osborne's attic. 
The sweater, worn by the then-Lady Diana Spencer when she was still dating the then-Prince Charles in 1981, was both a trendy symbol of Diana's budding status as Britain's new fashion icon and a sign of what was to come regarding her role in British Royal Family. 
Sotheby's Auction
On September 14, Sotheby's Auction House, which sold the sweater for $1.1 million (including fees and commission), said that the sweater sold for 10 times more than the initial amount they had put it on sale for, which was between $50,000 to $80,000. Due to an influx of bids by online buyers, eager to get their hands on what may be one of the most significant pieces of clothing the late princess has worn, Sotheby's extended the sale, with the price of the sweater jumping from $190,000 to $1.1. million in the last 15 minutes of the sale. 
According to Sotheby's, it's the highest price ever paid for a clothing item belonging to the late Princes of Wales, surpassing the famous gown she wore when dancing with John Travolta in the White House. It's not the first item of hers to have been sold at auction- other notable pieces she wore, the letters she wrote to friends, and her jewellery, amongst her many belongings, have been sold at auction over the last few years, giving many people a token from the admired Princess of Wales herself. 
---
Suggested Reading: Princess Diana, The Queen That Lived In People's Hearts