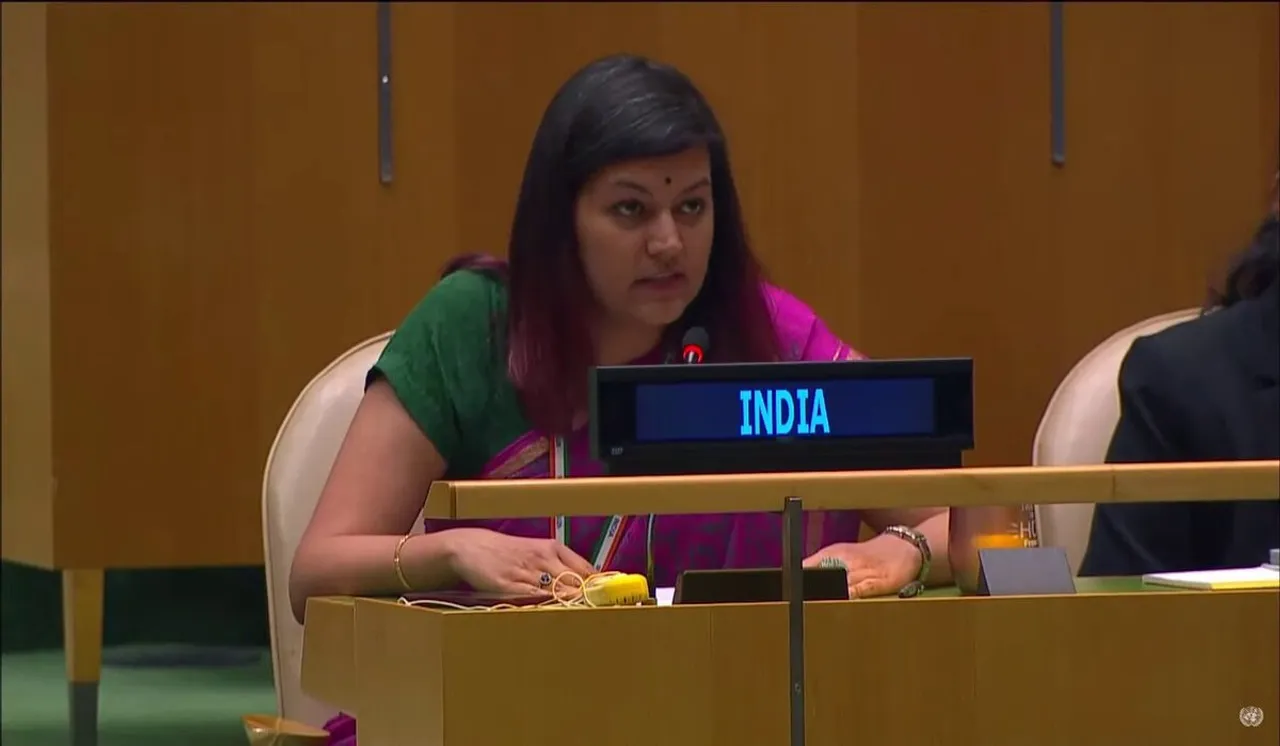 In the recent United Nations General Assembly (UNGA) session, Pakistan once again utilized the global stage to level accusations against India, particularly concerning the Kashmir issue and alleged human rights violations. However, amidst the verbal exchanges and political posturing, a young diplomat from India, Petal Gahlot, emerged as a formidable voice countering these allegations.
In this article, we delve into the life and career of Petal Gahlot, a rising star in the Indian diplomatic corps, who eloquently represented her country on the world stage.
The Diplomatic Standoff
During the recent UNGA session, Pakistan's caretaker Prime Minister, Anwarul Haq Kakar, raised the Kashmir issue and accused India of human rights violations. In his address, he conveniently omitted the atrocities committed against minorities in Pakistan. 
India's response was delivered by Petal Gahlot, a young woman diplomat, in a powerful right-to-reply statement at the UNGA. With unwavering confidence and deep knowledge of the facts, her message was clear: Pakistan must cease its support for cross-border terrorism by dismantling terror infrastructure and must vacate the areas of the union territory of Jammu and Kashmir that it currently occupies. Furthermore, India called upon Pakistan to put an end to human rights violations against minorities within its borders.  Her articulate rebuttal shattered Pakistan's attempts to project itself as a victim on the global stage.
India's stance on the regions of Jammu and Kashmir and Ladakh remains steadfast. The government has reiterated time and again that these regions are, have been, and will always remain an integral part of India. While India is open to peaceful relations with Pakistan, it has made it abundantly clear that this can only be achieved when Pakistan takes decisive action against terrorism that finds its roots in its territory. 
In the midst of international debates and confrontations at the UNGA, Petal Gahlot representing India at the UN stands out as a shining example, wanting us to know more about her life &  journey, tracing her educational background, diplomatic career, and even her lesser-known talents. 
Academic Excellence
Petal Gahlot's academic journey laid the foundation for her remarkable career in diplomacy. She pursued her undergraduate studies at St. Xavier's College in Mumbai, where she obtained a degree in Political Science. Her passion for the subject led her to Lady Shri Ram College at Delhi University, where she earned a master's degree in Political Science. This strong academic background equipped her with the knowledge and analytical skills necessary for success in the complex world of international relations.
A Journey into Diplomacy
In 2015, Petal Gahlot embarked on her diplomatic journey when she joined the Indian Foreign Service (IFS). Her dedication and commitment to her work have been evident throughout her career. Currently serving as the 1st Secretary at the Indian Mission to the United Nations in New York, she has been instrumental in representing India's interests on the global stage. 
Petal Gahlot's contributions extend beyond her current role. She has previously served as an Under Secretary in the European West Division of the Indian Ministry of External Affairs, where she worked at the Indian Mission/Consulate in Paris and San Francisco. These diverse postings have provided her with valuable experience and a broad perspective on international affairs.
Beyond Diplomacy: The Guitar Virtuoso
While Petal Gahlot's professional achievements are indeed impressive, she possesses talents that extend beyond the diplomatic realm. She is an accomplished guitar player, earning her the affectionate title of "Guitar Diplomat." Her musical prowess came to the forefront when she performed a cover of the iconic Italian song "Bella Ciao," which gained widespread recognition on Twitter. Her rendition of "Lost On You" by LP is another testament to her musical abilities.
A favourite from my time in Paris in 2016. A difficult cover and a modest attempt. "Lost On You" by @iamlp#Sunday #weekendmood pic.twitter.com/uKvtgGCPIM

— Petal Gahlot (@petal_gahlot) June 11, 2023
Petal Gahlot's emergence as a prominent diplomat and her captivating talents as a musician have not only put her in the spotlight but also reflect the diverse talents of India's youth. As she eloquently counters baseless accusations on the world stage and enchants audiences with her musical talents, Petal Gahlot embodies the  spirit of India - a nation that combines tradition with modernity, diplomacy with artistic expression, and knowledge with action. As she continues to represent India on the global stage, Petal Gahlot's contributions are sure to leave an indelible mark on the world of diplomacy.
Suggested Reading: Who Is Geetika Srivastava, First Woman To Lead India Mission In Pak