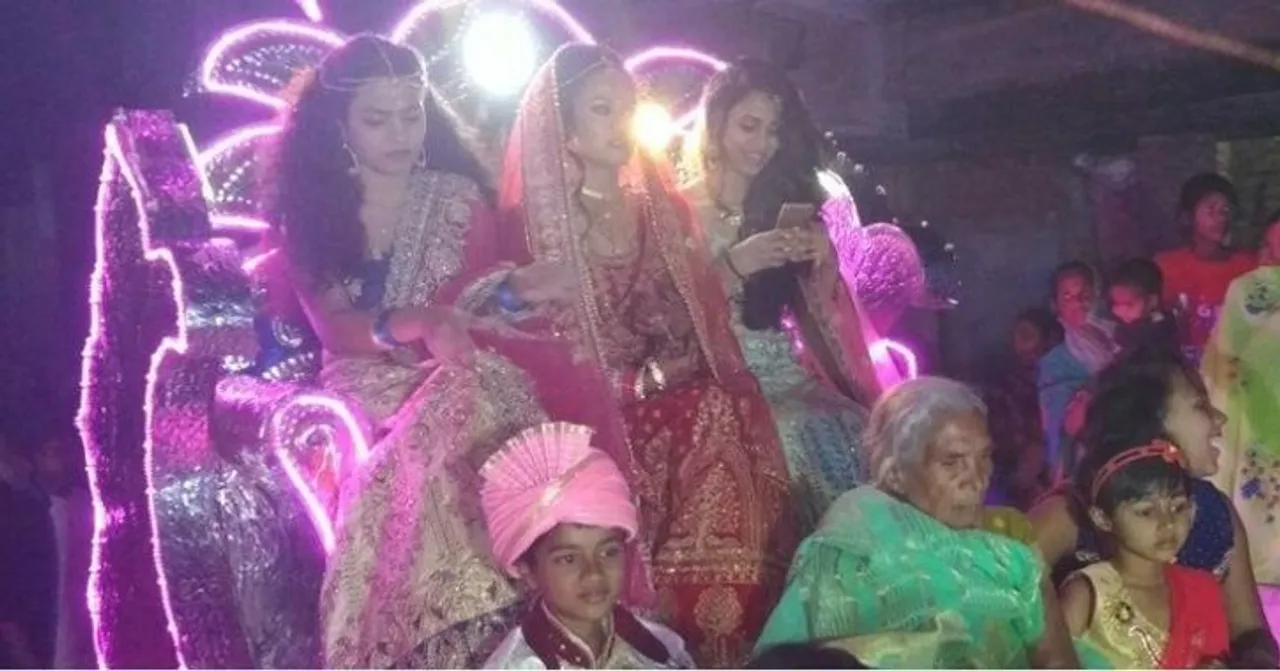 Lately, brides are smacking patriarchy right in the face. Gone are the days when brides would behave exactly the way society dictated. Now, they want to create their own rules, and why not? One such bride in Patna took her own 'baraat' (marriage procession) from her house to the venue where her groom was waiting to get married to her–the exact opposite of traditional norms.
The wedding guests were stunned to see the groom stay back and wait for the 'Baraat'.
READ: Once A Child Bride, Rupa Yadav Is Now Set To Be A Doctor
Bride Snehlata works as an assistant manager with a private bank in Mumbai. She proposed a unique wedding with a twist and her future in-laws loved the plan
A bride taking a baraat to the groom's door is a rare sight in Bihar, where gender equality is a far cry. So, as the news spread, thousands of bystanders and guests queued up on the road.
Also Read:NGO Puts Together 'Wedding Kit' For Underprivileged Girls
Both the families supported Snehlata's decision. And, the groom, Captain Anil Kumar Yadav, who works with the Indian Navy, also set an example of what a real life partner should be. He is currently posted in Vishakhapatnam
Snehlata, who wanted a memorable marriage ceremony, told News18, "Both of us are based out of Bihar and we love our motherland, which is grappling with a number of social evils, including dowry. We are against these practices and have decided to send out a message."
"I told them about the number of initiatives our Chief Minister Nitish Kumar has taken up to eradicate these evils and his reference worked. Then we told my fiancé that I will come with the baraat, and not him. Initially, he thought it was a joke, but finally everyone accepted it," Snehlata explained.
Also Read: The Grand Indian Patriarchal Wedding
Anil said, "Even the thought of marrying in a different caste is considered a sin here, but it never came in our way. However, a dulhan leading a band, 'baaja' and 'baraat' looked non-negotiable, but our parents agreed."
What started as a two batchmates falling in love and getting married, Snehlata and Anil's wedding deserves praise for their guts to break a centuries-old custom. One that would give out the message of women's empowerment.
More power to you, Snehlata!
READ: From Good Times To All Things Wedding, Meet Smeeta Chakrabarti
Feature Image Credit: News18