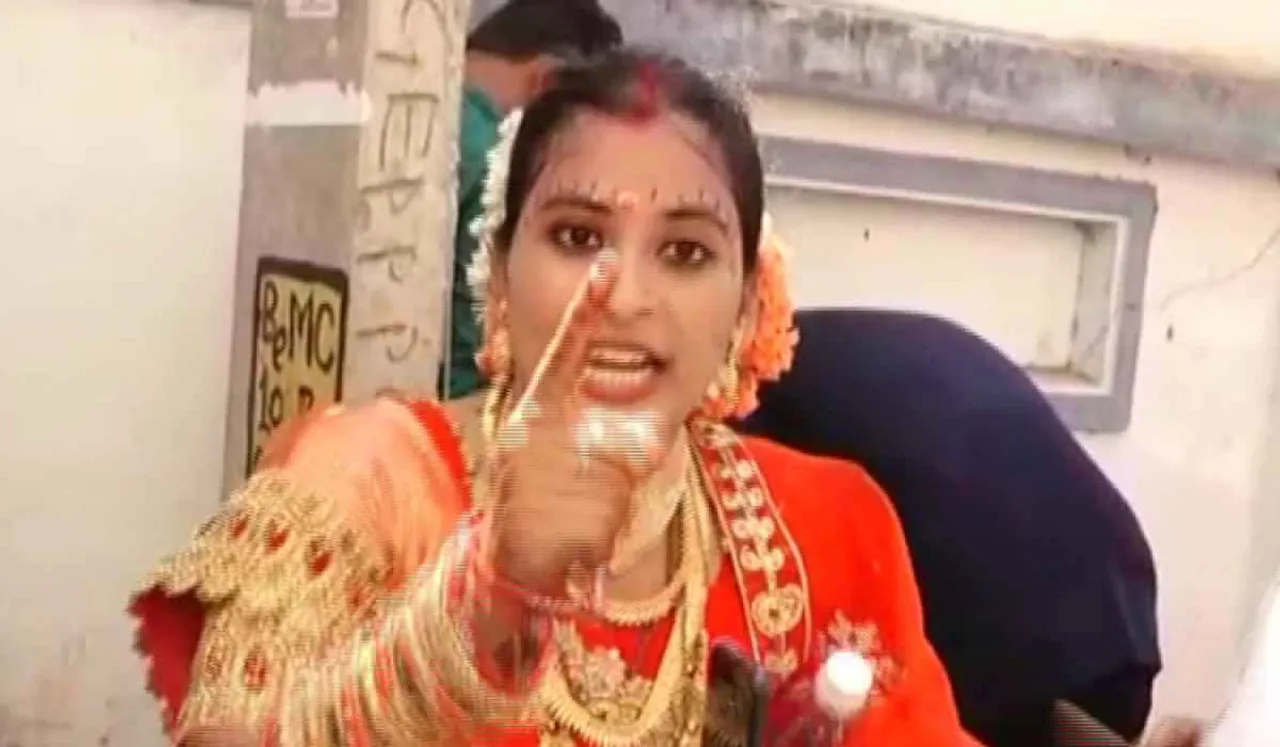 Odisha bride stages dharna: Instead of waiting at the wedding venue after the groom did not arrive, a bride and her mother decided to stage a dharna (protest) outside his house at Bramha Nagar in Berhampur in Odisha. The bride and the groom have reportedly legally married at a registrar's office and were solemnising the alliance by performing a wedding according to customary Hindu rituals on November 22.
The bride, Dimple Dash and her mother were seen standing outside the groom Sumeet Sahu's house for not showing up at the wedding mandap. They allegedly tried calling the groom and his family but when they got no response, the duo reached their house.
According to Dimple Dash, the couple registered their marriage on September 7, 2020. Since then, she alleged, the groom's family has been "torturing" her and one day even locked her in a room. The bride alleged that initially, the husband would help but as days passed, he began siding up with his family members.
This forced the bride and her family to file a first-person report (FIR) at the Mahila police station. After which the father-in-law allegedly approached her family to drop the old banter and reconcile over a Hindu marriage ceremony solemnising the couple's legal marriage.
To which, the bride and her family agreed and November 22 was fixed as the wedding date where the couple was supposed to get married in front of close family members.
The mother of the bride alleged that the groom had sexually exploited her daughter. "Is my daughter a product to be used ad thrown for this family or what?" asked the mother, while talking to India Today.
The protest attracted the attention of local police, who were later informed about the dharna. The Superintendent of Police Berhampur Pinak Mishra confirmed that a case was pending at the Mahila police station against the groom and his family. "Notices have already been served to the persons mentioned in the FIR. Later, the groom's family also filed a complaint against the bride's family and a charge sheet was filed in court over the same."
Responding to the allegation of the bride and her family that the police were in cahoots with the groom's family and had taken a bribe, the SP said that the case was sub-judice and the police's role was restricted as they can act as per the court's direction. Sub Judice means that the case has been presented to the judge and has not been decided judicially.
---
Suggested Reading:
Shraddha Arya's Bidaai Video Defies Major Stereotypes; Why Should Bidaai Be A Sad Moment?
Anjali to Preeti : How Onscreen Bollywood Brides Promote Sexism In Marriages
Why Does The Society Have To Tell Us How Punjabi Brides Should Be?
---
Also Trending: