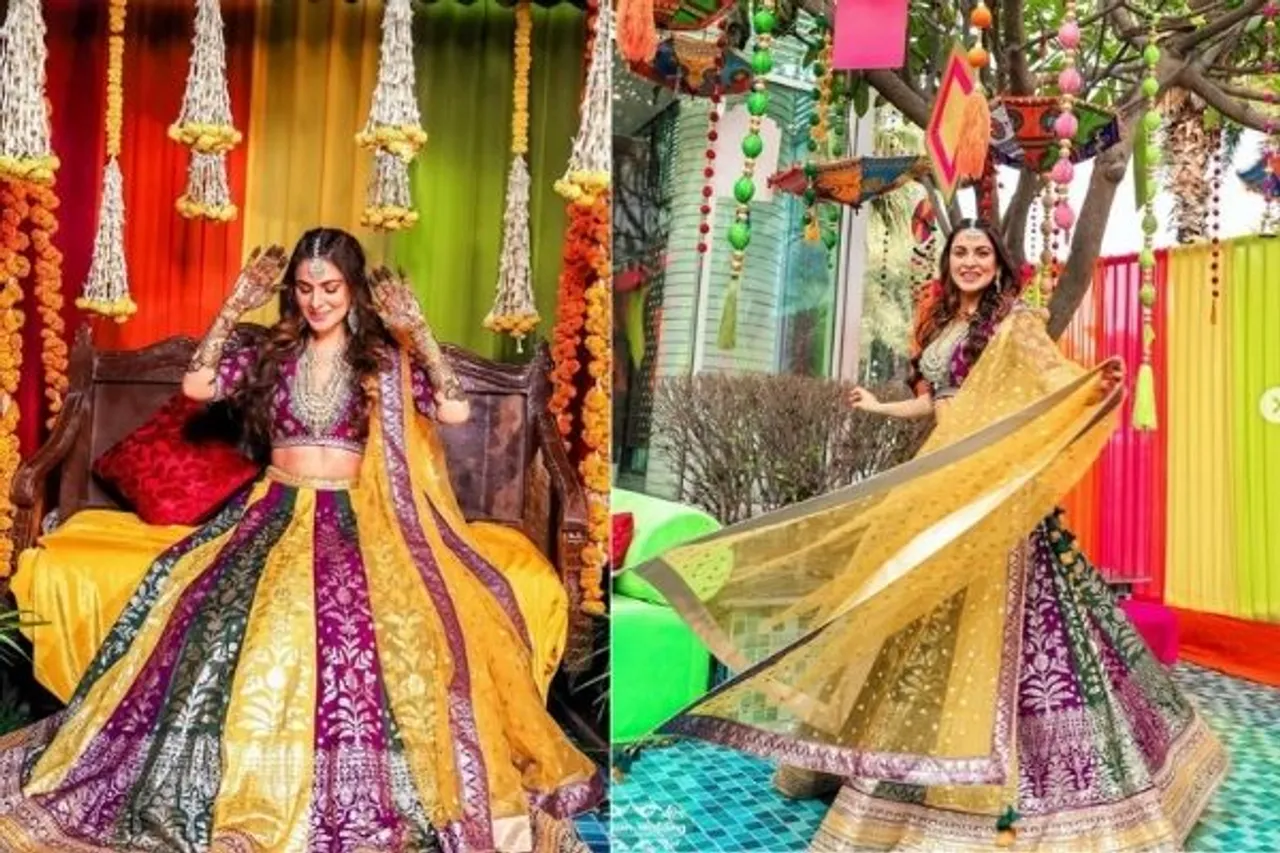 Bidaai is deemed to be the most emotional moment in a woman's life. It is the moment when she is expected to bid goodbye to her parental family and friends and start a new journey with her marital family. But must every Bidaai be followed by tears, sadness and separation? Must bidaai ever be about separation? Shouldn't it rather mean the onset of a new journey without being severed from the previous one?
In a recent viral video, Kundali Bhagya actor Shraddha Arya can be seen breaking the stereotypes of what Bidaai traditionally stands for. Rather than shedding tears of separation, Arya broke into laughter and made the Bidaai a moment of fun and exhilaration. Married to Naval officer Rahul Sharma, Shraddha Arya's Bidaai video gives us major goals to redefine the custom of Bidaai.
For viewers with a traditional mindset, Shraddha Arya's laughing face during her Bidaai might seem like defiance of customs. Traditionally, crying during Bidaai is believed to be appropriate for a bride. She must showcase her love for her family by shedding tears during Bidaai. But on the other hand, if a woman enjoys her Bidaai as Shraddha Arya did, she comes under the scrutiny of the society that judges the woman's love for the family on the basis of the tears that roll down her cheeks during her bidaai.
But my question is that is it right to make Bidaai synonymous with painful separation? Is it right to judge women who do not cry during bidaai? Is it not possible that the woman is really excited to begin a journey? That the woman doesn't believe in being separated from the parental family after marriage?
More than anything else, it is mandatory for society to normalise the idea that Bidaai doesn't mean that a woman is being separated from her parental family. It is high time we stop thinking that the marriage of a woman means breaking ties with parents and friends. Moreover, in today's world, women are already staying away from their parents for jobs or education. Gone are the days when women were not allowed to step out of the house and had to be under the surveillance of the family. Then why must Bidaai or the idea of starting a new life with a husband mean sadness or separation?
Shraddha Arya's parents and friends deserve equal credits for normalising Arya's reaction to Bidaai. Usually, parents do not allow their daughters to be changemakers. They expect them to conform to the norms just for the sake of preserving their fragile reputation. I personally witnessed a wedding in which a bride cried just because her parents wanted her to. While walking out of the wedding venue, the bride, who is a relative of mine, was laughing at the idea of shedding tears because she has always stayed away from her parents for education and job. And now, living separately with her husband did not really bring a big change in her life. But as her mother began shedding tears, the woman had to respect her mother's emotions. And that's why she cried too. I think, mothers too have the pressure of being emotional and sad during the Bidaai of their daughters. Because if they don't, they will be judged for not loving their daughters enough.
But it is high time we get rid of these stereotypes.&t=1120s"> Marriage is a beginning of an exciting journey with a new family and partner. It is not about being separated from parental family, neither for the bride nor for the groom. If we stop relating separation with marriage, Bidaai will automatically be cut off from the necessity of being a sad moment. It will only mean the onset of a new journey, filled with expectations, happiness and excitement. This will also help in changing the power relations that marriages in our society feed on. Traditionally, marriage was seen as a bond in which a woman is married off to family to serve them in return for safety and security. But if marriage will only be about two people beginning a new life together, there will be no concept of dominance or submission.
Views expressed are the author's own.