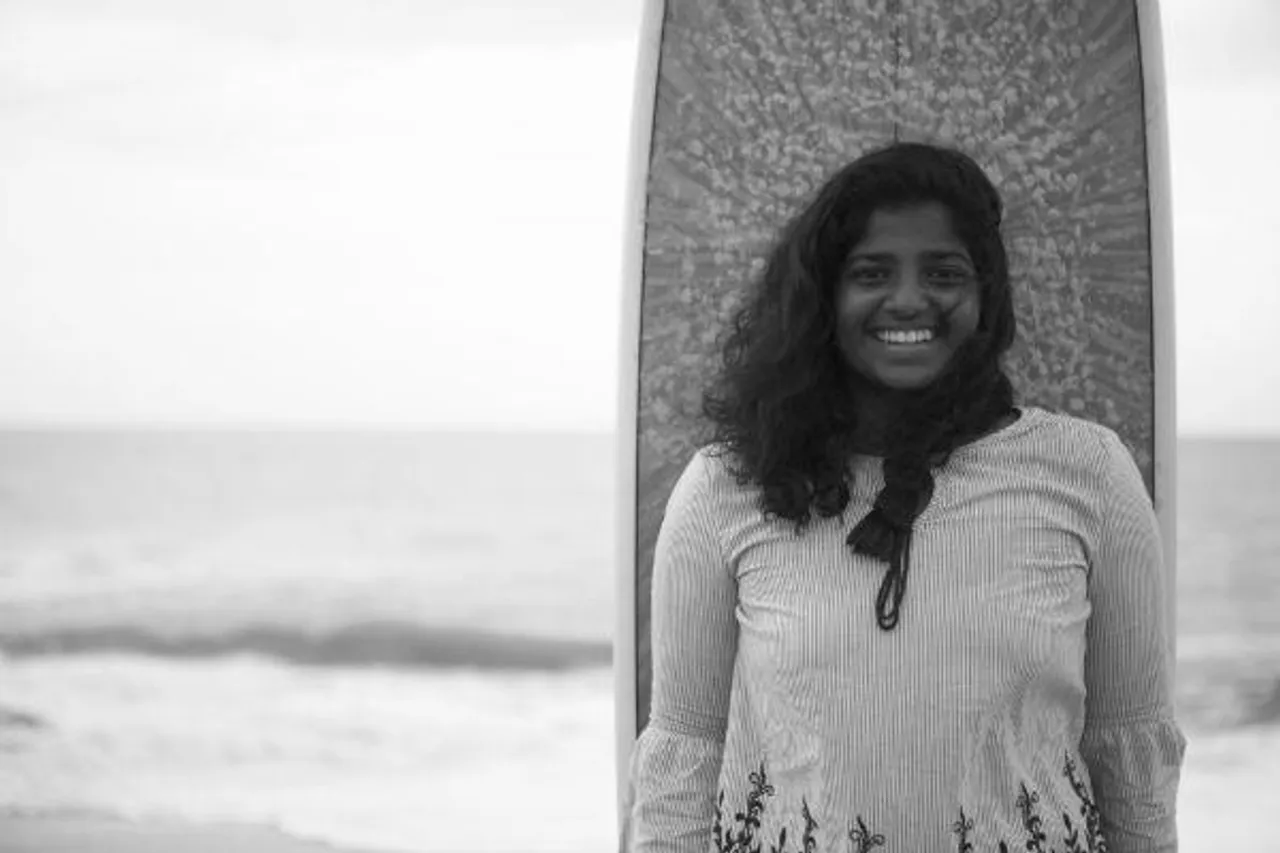 Eighteen-year-old Tanvi Jagadish is on a high. With six consecutive international medals in her kitty, the Mangaluru girl is now looking to make a mark at the Paris Stand-up Paddling Crossing, to be held in December. She is India's first female professional stand-up paddler. The surfer and stand-up paddling (SUP) champion was India's sole participant at the Singapore Ocean Cup, held in November. Tanvi speaks to SheThePeople.TV about making a life out of her passion.
Tell us about our childhood and how did your surfing journey begin.
My childhood was super crazy. I was the naughtiest in my family and the most pampered kiddo because I was the youngest of all my cousins.  And I was a big beach bum since I was a baby. My dad and I loved the beach and my mom hated it. So one summer, around 2010, my grandpa took me to Surf Ashram (Mantra Surf Club) when I was 10 years old. He took me to the place because he wanted me and my cousin brother to learn surfing. He didn't tell my mom and dad because they would unnecessarily worry. And it all began from that day. Every weekend or any holiday, I used to ask my uncle to pick me up to go surfing. But with my crazy tan and goldenish hair, my mom started having doubts. And then she found out what I was up to. But my best friend and cousin, who are both were very good swimmers, managed to convince my mother to let me surf. And that's the beginning of my journey to be India's first female professional stand-up paddler.
What did surfing feel like initially?
First love of my life!!! I felt like I got a new life. I had a slight wheezing problem since I was a kid but after few days of my surf session, I have to say I never had that feeling again.
You are also India's first professional stand-up paddle racer and have many international medals to your name. What inspires you to manage these two different sports together?
I love Stand-Up Paddling and Surfing equally. I represented India in the Stand-Up Paddling world cup and have been six times national champion till date. And I always loved going fast and racing in my SUP in the ocean. Surfing is part of my lifestyle. And I do both every day.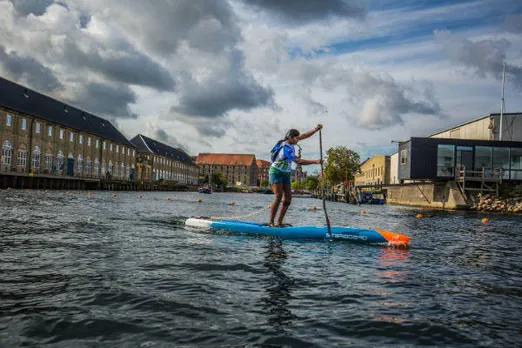 You are the very first few professional female surfers in India. What is like to be one in a billion?
It feels amazing and I wanna encourage EVERYONE, especially girls and ladies in India to enjoy the ocean like I do. And I am already taking Stand Up Paddling classes, so anyone interested to learn Stand Up Paddling can always contact me.
How did your life change with surfing?
Everything and including how I breathe. Surfing is the best thing that happened to me
Lessons you learnt from surfing?
Patience and love from Mother Ocean. Understanding her every day is such a fun and amazing apart. And yes four very important things; My four strengths - Physical, Mental, Emotional and Spiritual. 
How is the surf scene in India for women? Why isn't surfing popular among women here?
Surfing was brought to India by the Surfing Swami aka Jack Hebbnar. So I am so grateful for him for helping, supporting and encouraging us. There were a few girls surfing in India, but now I am so excited to see that more girls are learning this technique. It just feels amazing. Being the first generation of surfer girls in India, I am just doing my best to support the community. There are amazing girl surfers in India who I look up to like Suhassini Dhaimin. And all the girl surfers In India are so inspiring and everyone has an amazing story to tell.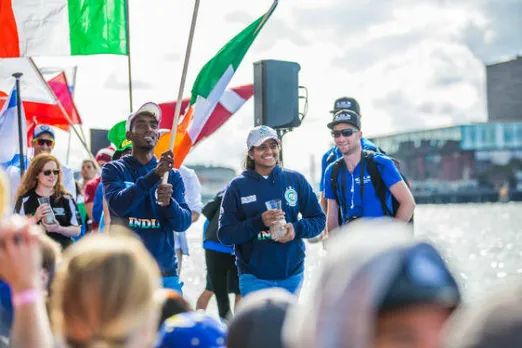 The sport has come to India a little late, but I am sure the girls will rock and many are already rocking it. In my case, my mom was worried about my complexion and hair colour, which never bothered me at all. And she was very scared that I am not strong enough to be in the ocean. But I always believed that the Ocean is for all and gender doesn't matter in surfing. Mother Ocean treats everyone the same.
Your favourite places to surf in India?

Kovalam Beach, Covelong Point, Mantra Surf Club, Mangalore.
Could you briefly tell us about your goals and upcoming tournaments?

I am planning to participate in World Cups and Asian tours series. And my biggest dream is to take Stand Up Paddling to the 2024 Paris Olympics. Stand Up Paddling is the world's fastest growing water sport.
What inspires you every day?

My dad is my biggest inspiration of my life. I train every day and one thing I always keep in my heart is India and all people who work so hard to help me and all the girls in India.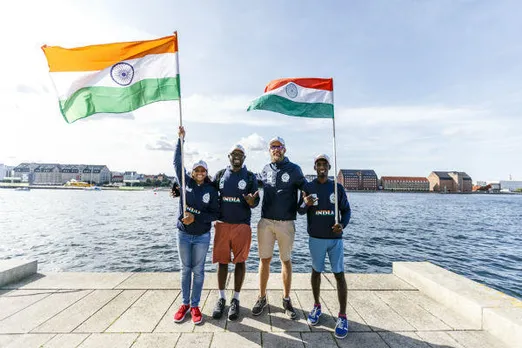 Your message to young girls who dare to be different and want to go against the tide?
Follow your heart and work hard. In the beginning, there will be so many things that will worry you but remember about your goals and keep rocking.
Girls have a unique power and our main strength is unity. It is just not enough to speak about women's empowerment. Let's begin with the first step that is by supporting and encouraging each other
What drives you towards the sport? What does it mean to you?

Everything. Ocean and this sport is everything for me. It is freedom and it will always be freedom for me and my biggest strength. 
Share your strategies for the sport and insights.

Work hard and never ever give up!!!!!!
What are your biggest challenge?

Raising sponsorship for my events. There are times when I was fighting things all alone. But I knew each and every obstacle was just making me stronger.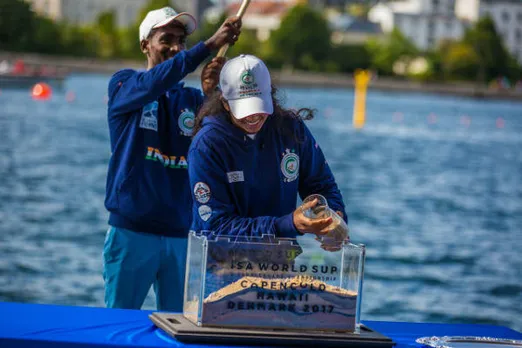 What has been your most touching or amazing moment?

When I took India for the first time to the Stand Up Paddling World Cup back in 2016. And when I finished the race, everyone was cheering for India. It was an 18 km race and I started crying. Because it just felt so good to see everyone cheer Indiaaaa!
What do you think India lacks in terms of  appreciating all kind of sports?

I think some time we underestimate sports and any other sport which is not in the limelight.  I believe every sport has it's own beauty and uniqueness. And yes, it will be great if the Government can recognise Stand up Paddling and Surfing in India. It will help us to represent India in World cups and also get scholarships. 
Do you face any struggles for sponsors to continue with your passion?

Yes, every race it is a challenge. But I have to thank everyone who supported me.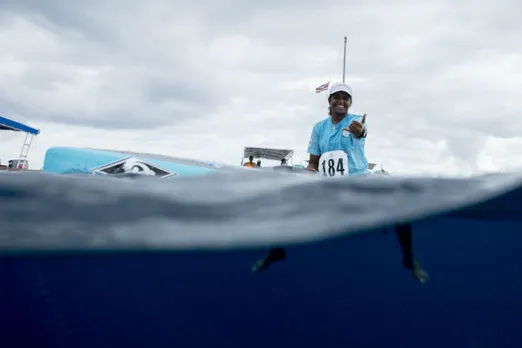 Do women now seek to take up this sport professionally?

Yes. This sport gives strength to you and makes you blessed to be in the lap of Mother Ocean. And yes it will take time, but I will always keep working hard and do everything possible from my side.  
Your take on women sportspersons and gender discrimination in our country overall.

The women are seriously rocking it. And about gender discrimination, I would say it will be so nice if we can all support each other