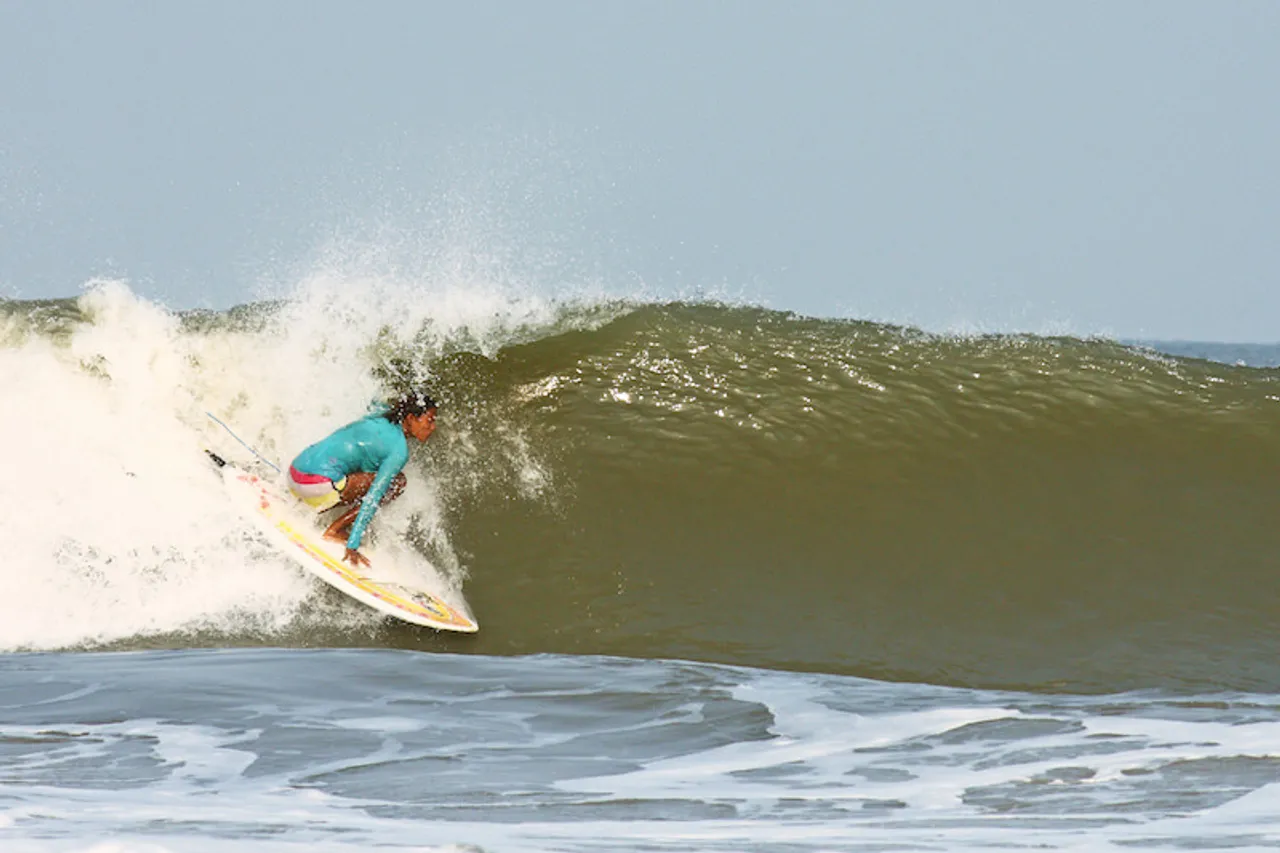 It's an unusual sight at Karnataka's Kodi Bengere beach — a wave of colourful surf boards at Camp Namaloha, a surf camp, set up by India's first and only professional woman surfer Ishita Malaviya, and her partner Tushar Pathiyan. Joint founders of 'The Shaka Surf Club', the duo are looking to encourage more people to ride the waves, but are also hoping to build a sustainable surfing community, that can be enjoyed by locals and tourists alike.
Malaviya speaks to SheThePeople.TV about making a life out of her passion, and the chance encounter at an ashram which kicked off this journey. Here's her chat with Ria Das
Ishita Malviya, tell us a bit of your journey and when did you start dreaming about surfing?
In 2007, I moved from Mumbai to the small university town of Manipal to pursue my higher studies. There Tushar and I met first time. He is a German exchange student who had come down to India with a surfboard. We exchanged the same passion and ideas. And through him, I discovered an Ashram where the devotees were surfing, just an hour away from where we lived. They were mainly from California. We both were super excited to find out about them and asked if they would be willing to teach us.
Seeing 'learning to surf' fever in Indian locals' eyes, they were first stunned a bit but since then we found out the root of our true love. I still remember the feeling of riding my first wave! I was smiling all the way to the shore and all the way back home from the beach! It was a feeling of discovering something I had never experienced before. That point was a recognition fleck for me that I would be surfing for the rest of my life. We couldn't afford to stay at the ashram and the lessons were too much for us. We made a deal with them to bring groups of students from the university in exchange for a group discount.
That was the invention wheel for the Shaka Surf Club to come into existence. Our parents disagreed with us and refused to buy us a board. They even asked questions like 'what is surfing?' and 'You just went to college, so why do you want to surf?
So in the summer of 2007, Tushar and I sold every unwanted stuff and saved up enough money to buy our very first surfboard which we shared between the two of us for the first two years of our surf lives. The mission we always dreamed about was there right in front of our eyes and life became an unexpected journey since then.
You're India's first, and only, professional female surfer. What is like to be a star?
Growing up, I never in my wildest dreams imagined that I would one day become the first professional female surfer in India! It feels strange and unreal but I'm so feeling free and blissfully happy that this is the path my life has taken me to. I can't help but think that I must have done something good in my past life to deserve this.
How did your life change with surfing?
Surfing changed our perspective on life and helped us get our priorities right. It made us realize the importance of living our lives now rather than later. By the time my boyfriend Tushar and I graduated from college, we couldn't imagine moving back to the city, doing a nine-to-five job and being unable to surf every day. We wanted to live the surfer's dream and decided to start our own surf school. Though so many issues were there to have it on Board but the universe kept sending us signs, showing us we were on the right path and that motivated us to keep following our passion.
Can you please tell us something about The Shaka Surf Club? What are your goals to take this team ahead?
The minute Tushar and I started surfing, we wanted to share our experiences with others and so The Shaka Surf Club was originated. The Club is primarily a surf school which aims to get more people in the water and introduce them to the joy of surfing. But we also double up as a surf club for the local kids in the fishing village we surf in. While we provide surf lessons and water safety education to travellers and locals, the camp also offers a place for visitors to stay in the otherwise remote location.
I want people to have a healthy and wavy relationship with the water. Because once you start spending time in the water you develop a respect for it – you want to keep your beach clean.
We also came up with a place for our students to stay, right at our surf spot in the small fishing village of Kodi Bengre. Our surf camp, Camp Namaloha (Namaste + Aloha) is the first of its kind in India.
Where do you see yourself standing today as an Indian surfer?
It's such an exciting time to be a surfer in India; literally everybody knows everybody! We're a tribe of just over a hundred surfers. From a simple surf beginners to becoming a unique storyteller about how we first started surfing is the best triumph one can achieve in whole life.
My friends and I have actually made a short film called 'A Rising Tide' documenting the stories of India pioneering surfers.
">A Rising Tide- The India Surf Story from The Shaka Surf Club on Vimeo.
'A Rising Tide' is a short documentary surf film, created by Indian surfer/filmmaker trio Tushar Pathiyan, Krish Makhija and I, in association with Quiksilver India. Ever since we started surfing, filming documentary was in our 'to-do' list. In a country with a population of 1.2 billion and just over a hundred surfers, the film sets out to explore the journey of some of India's pioneer surfers, their humble surf beginnings and their deep connection with the ocean.
Dark skin is not considered beautiful. Hence, most women are afraid of getting tanned.
We wanted the new generation's surfers to know a little bit more about our surf culture and the simple beginnings of surfing in India. With surfing becoming more mainstream, we did not want any of these stories to be lost.
Why are women in India not so keen to learn surfing?
Surfing is pretty much unheard of in India and like every other sport, it will too take some time to become popular here. Being an Indian woman meant there are obstacles and cultural barriers that always stand between her and surfing.
As most people don't know how to swim and have a fear of the ocean. Besides these factors, a lot of social pressure on women to look and dress in a certain way, dark skin is not considered beautiful. Hence, most women are afraid of getting tanned.
most of the parents have issues allowing their daughters into the water after a certain age because they are concerned about their attire in the water
I've noticed, especially in the rural areas, that most of the parents have issues allowing their daughters into the water after a certain age because they are concerned about their attire in the water and want to limit their interaction with other boys in the community. With that being said, I think this scenario is little different in cities. I have a lot of hope for the future of women's surfing in India. Soon they will realize and become more open-minded. They will take to surfing and inspire the next generation of women surfers in the country.