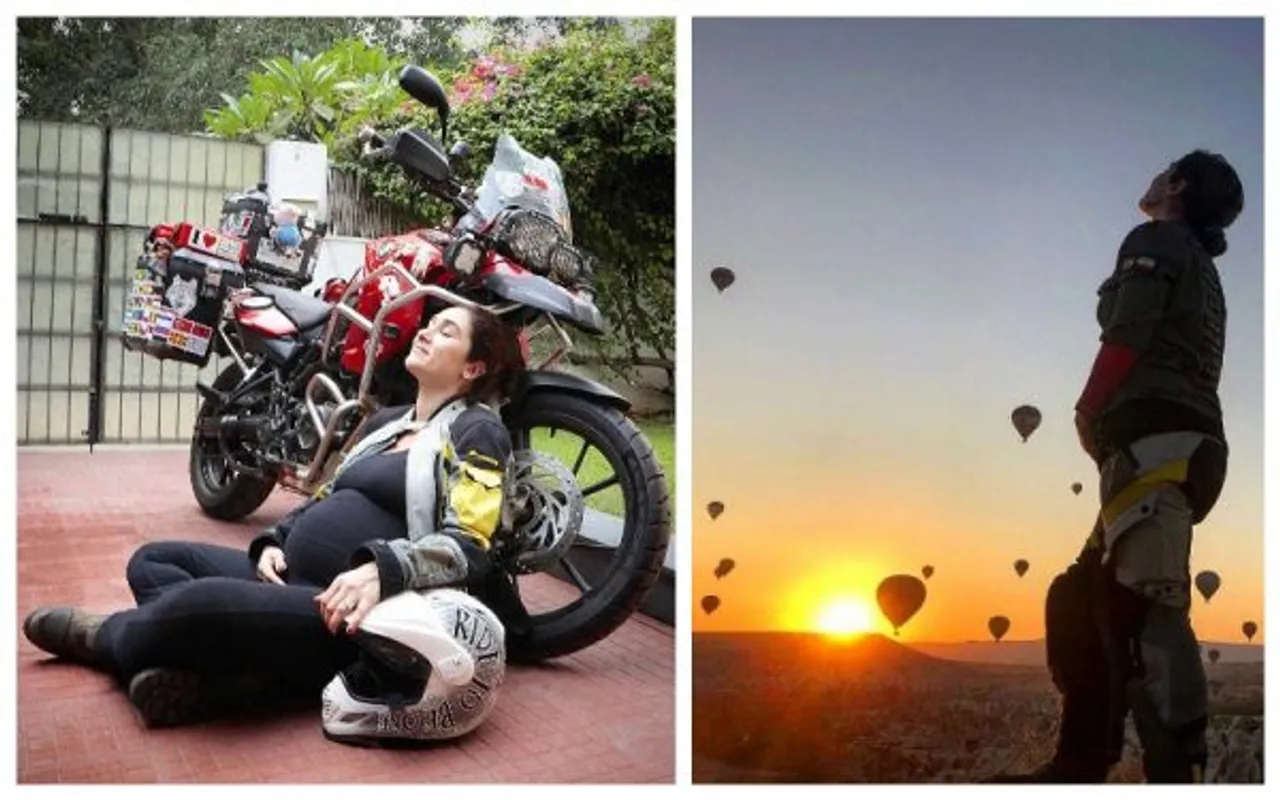 Ever thought of quitting your job and leaving all the luxury for that one dream you always wanted to chase? Maral Yazarloo made it happen just when she had risen to the peak in her career. Iranian born and India based Maral had a designer label to her name and a Vice-President position in a leading real estate company when she felt something was missing in her life. The passionate motorcycle rider decided to put on her riding boots and set off to travel the world on her BMW GS F650. Sounds cliché, right? But while she thought she would touch the finish line of her 110,000 km adventure trip solo, life had other plans for this 37-year-old. She got pregnant. Now she happens to be the only woman who's ridden around the world with a baby bump.
Maral stands tall as one of the first three women who have traveled to all seven continents including Antarctica on a motorcycle. Somewhere midway on her journey, her boyfriend Alex proposed to her and they got married in the historical Machu Picchu. She continued her trip and was on the way to motherhood while trying to conquer the tough terrains of Africa.
Also Read: Exclusive: Imran Mirza On What It Takes To Be The Father Of A Champion
Her awe-inspiring journey led to BBC listing her as one of the 100 most powerful women in the world. She shares her stories and life lessons from the 18 months on the road, six and a half of which she was pregnant with her daughter.
Your passion gives you positivity:
While every bump and jolt on the road must have given Maral a cause for concern for the baby, she always knew what her priority was as a would-be mother. The biker who's been fighting stereotypes for years believes that every situation has a positive side, only if you choose to find your way towards it. "When you're pregnant, there's something very important which the society keeps forgetting. They keep telling us "don't move, don't do heavy activity, be careful, something's going to happen. We're always surrounded by advices of caution. But when I was on a ride, I was on an 800cc motorbike, I had the speed, off-roads, different places, slept in a tent, cook whatever I could get. And today when I look at my daughter Nafaas I feel she's a proof of the fact that when we're carrying a baby the most important thing for us is to be happy. And I was one of the happiest mothers in the world." Maral's successful ride and her healthy child dispel all myths and fears that have revolved around pregnancy for ages.
Quitting is not an option:
Ask her how she carried on with the pregnancy on a bike and she'll tell you that it was the biggest trial she ever faced. But more than that, this was the life changing experience Maral was looking for. "That decision changed many things in me, it made me open my eyes and be real", she says, "If I wasn't expecting, I wouldn't have been the person I am today. Because I've been pushed over all limits, that made me really strong mentally. It has proven to me that I can achieve anything as long as I really want to do it."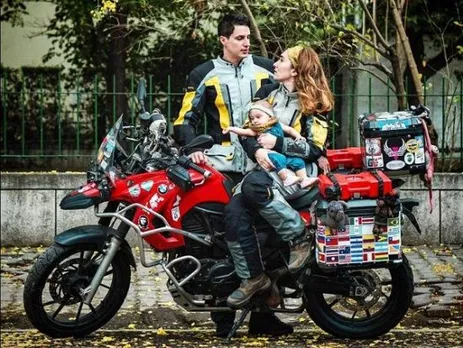 Maral Yazarloo with husband and daughter
Maral spent a year and a half travelling through 64 countries solo. Once every week she would book a room for what she called her 'luxury day' to catch up on all the sleep she needed. She was so caught up in the thrill of the ride, that she never once thought of quitting. With the only pitstops for food, fuel or reading maps, she says she never had the time to think about turning back.
"I was so busy enjoying my ride, finding my route map, deciding which route to take. I didn't even have a minute for being sick or feel unwell. I had nausea for a couple of days. But I never threw up, I didn't do anything to delay my ride."
Inspiring people is an achievement: 
Every country came with a diversity of people and cultures who took inspiration from Maral and inspired her back. "Women used to love me and they would say 'You made our day', 'you've made such a change in us that we're not gonna be the same person from now on'. I could feel that they looked at me as an answer to many things they had in mind, answers to questions they'd always had. I made them go for things they never could have imagined. And that would make me so happy."
Also Read: Hearing Impaired Archana Covers 8,300 km Bike Ride to Ladakh
Maral's world ride was also meant for a bigger cause. Hailing from Iran where women are not allowed to have a driving license for bikes, she always dreamt of bringing about a big change in her birthplace. "As the first Iranian woman world traveler on a bike I got permission and entered Iran and sent my request to the authorities to change the law for women. It wasn't easy but I'm determined to bring the change."
Maral has used her ride to stand in solidarity with all women trying hard to fight stereotypes. That is why she named it 'Ride to be one'.
Happiness is not selective: 
Call her a free spirited, crazy, badass biker woman but the biggest lesson she can share with you is that there are no fixed terms to define happiness. "My world ride taught me one thing, 'take it as it comes, and always accept what happens to you'. Like one day can be rainy, one day can be crazy hot, one extremely cold. One day you don't get enough food, one day something happens to the bike, one day you're stuck on the road." Clearly, for a biker having seen the world it's about being alive, healthy and enjoying whatever comes your way.
Food is a blessing: 
Being in her first trimester, food was a big test for Maral as Africa isn't a place that can cater to your choices of diet. "Wasn't easy, because as you know so many things are changing physically and mentally in you when you become a mother. I wasn't able to eat everything, had to stay away from raw food and fruits I wasn't able to wash properly.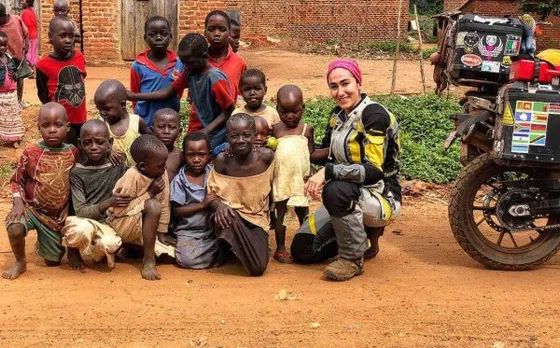 Maral Yazarloo in Africa
Also Read: Kerala: Girl Who Climbed Rooftop To Attend Online Classes Gets High Speed Internet
Everything had to be cooked. And that brought my choices of food really down. Africa wasn't easy to find food on the road, so I ended up having so many boiled eggs and avocados". When you are on the road, finding any food is a blessing.
Motor lullaby:
Maral's daughter Nafaas is now eighteen months old and she loves the sound of bikes, probably used to it from riding in her mommy's belly. So while all other moms might have sung to their babies while they were pregnant, Maral's baby was accustomed to the hum of a machine churning out 800cc of power for six and a half months. "When I got home after the world tour, I would still go and start the bike everyday so that she could hear that familiar sound while she was inside me. I believed that was her understanding of the world at that point and I didn't want to change it."
Also Read: Is motherhood the end of alone time? Asks Rega Jha
Destiny is stronger than any plan:
Maral's story is an inspiration that will make you believe what one can achieve when they have set their minds to it. During the COVID-19 lockdown, she has been in London with her family trying to live every day as it comes and hoping to make memories on the bike in future. Motherhood has changed Maral's plans for the time being though."I'm trying to be the best mom that I can be. When I see the bikes on TV or when someone tags me on Instagram I do remember and miss those moments, I do feel like riding. But I'm sure these days shall pass and we as humans will learn so many lessons out of this."
We hope to see you back on the saddle again soon, Maral!