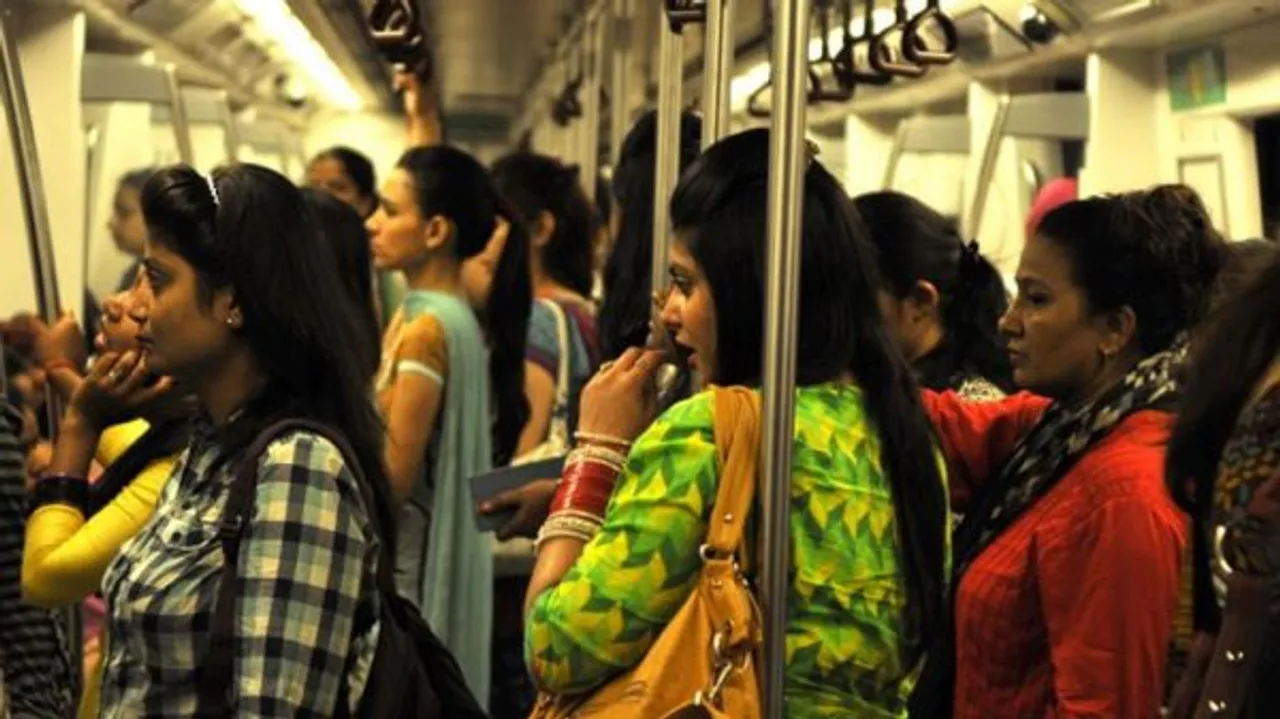 There is a long list of things that I have missed in the last three months. I never expected Delhi Metro to be a part of it. Travelling to college via the Metro would take up almost two hours of my day. The immensely crowded, ultimately sweaty and humid compartments, people pushing each other to get into A section and the skirmishes to lay claim on a seat, this ordeal didn't have much comfort to offer. And yet, despite cussing every day about the problems of commuting by the Metro, I now miss it!
The immensely crowded and ultimately sweaty and humid compartments offered nothing nostalgic.
When you travel alone by the Metro, there are a lot of things you can do. A good book, a curated playlist and completing unfinished assignments- from work to unwinding to fun, you can do everything on a Metro ride. Though when the lady sitting next to you, is loudly talking to her best friend, it is hard not to tune in. Oh, the conversations I have been privy to on commute! I have heard conversations over property disputes, a bunch of friends discussing philosophy and life, and bosses getting angry at lazy employees and the best of all, are the banters in the ladies' coach.
Also Read: Delhi Metro Gets Its First Women's Convenience Lounge
A part of me hated people who squish in between when all the seats are taken. My friends do get to hear me go on about them and then they laugh at my misery. While I relish those rant sessions with my friends as soon as I got to colleges, I must concede that I have experienced kindness and connected with absolute strangers while riding a Metro.
I remember once I was standing in a corner during my ride and I met a lady who was training to become an IAS officer. She saw that I was playing a game on my phone and asked me if she could play with me. While doing so, we bonded over past Metro stories of accidentally falling on people, or not realising that the earphones were not plugged in and playing an embarrassing track from our playlist to the whole compartment.
I think that the thing that I miss the most about travelling by Delhi Metro is that you become a part of someone else's story, even if it is for 30 seconds.
Then there was the time I fainted during a Metro ride (Yup I am that girl). I was having a stabbing pain in my lower abdomen due to my periods and the next thing I know, I simply blacked out. After gaining consciousness, a middle-aged lady made sure I sat somewhere and drank some water, she even called my mother. She made sure I got all my belongings back. In a very gentle tone, she told me not to take too much stress. The softness of her voice reminded me of when my mother takes care of me.
Although what I cherish the most about my rides is observing people and think about their possible life stories. Someone walking while head bobbing to the music, a mother coddling her child, a family carrying a heap of luggage, a man dressed in casuals with an office briefcase, a couple sitting on the benches of the station, or someone in such a rush that they forgot to tuck in their shirt properly.
I think that is the thing that I miss the most about travelling by Delhi Metro, you become a part of someone else's story, even if it is for 30 seconds and this is one of the examples of how every life is connected. It is a pity though that it takes a pandemic for us to realise that. To miss little things, mundane routines that impact our lives on a day to day basis.
Also Read: Five good reasons why free Delhi metro rides will benefit women across society
When all this is over and I get back on the Metro for the first time, I am pretty sure I will fuss about the humidity and sweat, and lack of space to move my limbs or roll my eyes at all the erratic conversations that I overhear, but I will for sure do it with a smile.
Image Credit: NewsX
Bhavya Gupta is an intern with SheThePeople.TV. The views expressed are the authors' own.