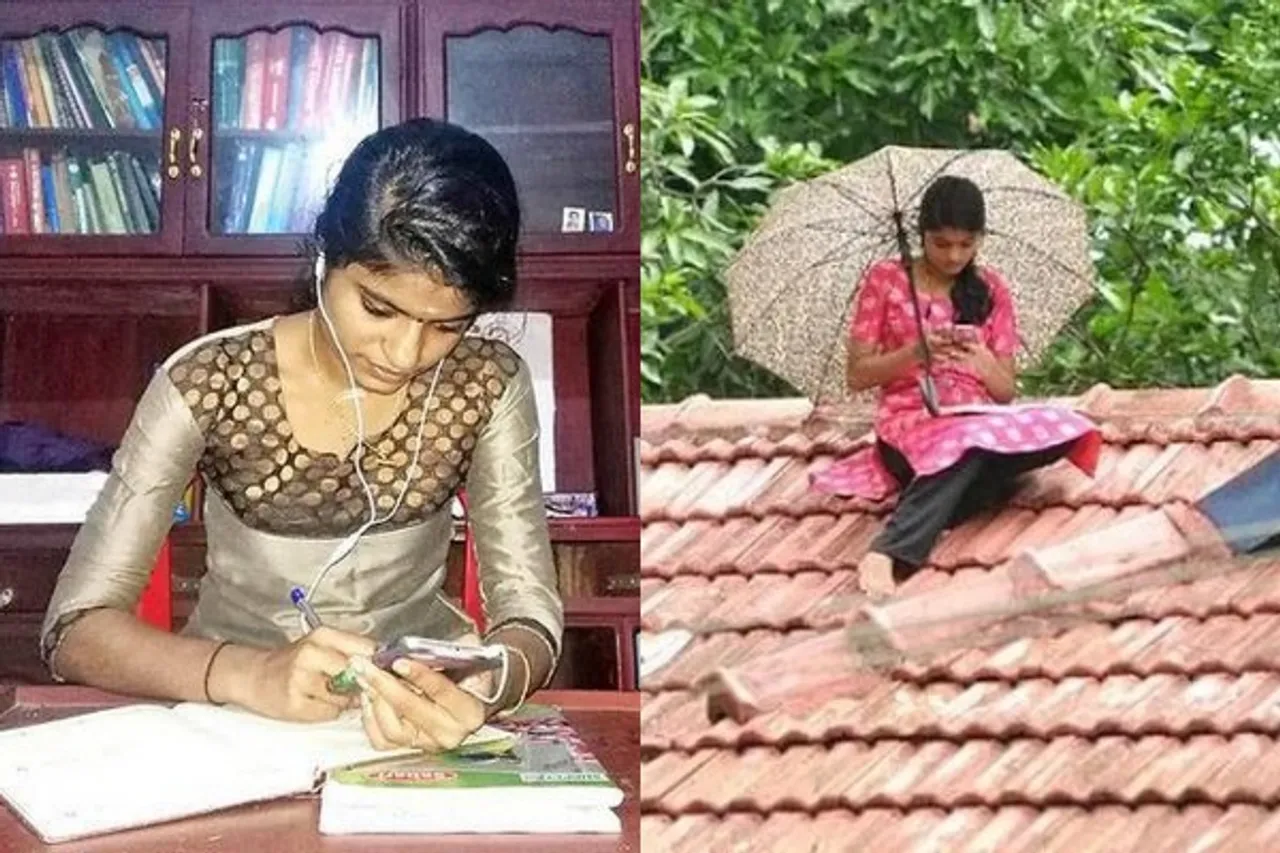 Engrossed in her online studies, fifth semester BA English student Namitha Narayana was seeking better connectivity at her home near Kottakkal, Kerala, to attend online classes, which started from Monday. Having no luck there and due to poor signal in her room, she climbed up and sat on the tiled rooftop of her house – to study without a disturbance. Noticing the dedication showcased by the student, on Thursday, officials of a private service provider came to her house at Areekkal and ensured that the studious girl got high-speed internet.
This Kerala girl broke the internet over the week for her tireless dedication to studies against all odds. Pictures of her sitting on the roof for hours with an umbrella went viral.
As per The Hindu, Namitha could only find manageable signal strength for mobile data on the rooftop. Later, the technical staff of the company came to her home and installed a better internet connection. "I am happy I can now learn from the comforts of my house," said Namitha. Her elder sister Nayana too praised the positive response from the network operators and how quickly they worked it out.
What You Should Know
Namitha Narayanan, a fifth semester BA English student from Kottakkal, Kerala, now can attend online classes with the help of a high-speed connection provided by a private service provider at her house on Thursday.
It was earlier reported that Namitha was unable to find a good signal at her house, except on the roof of the house, so she decided to make it her study space.
A student of KMCT Arts and Science College, Kuttippuram, Namitha had tried different mobile networks but all attempts failed.
A display of positive spirit
Explaining why she chose the rooftop space for study, Namitha had earlier said, "We tried all places in my house, including verandas and roofs. And finally, I got fairly good signal strength on the top of our two-storey house." She is a student of KMCT Arts and Science College, Kuttippuram.
READ: 12-Year-Old Migrant Girl Dies After Walking 150 km To Reach Chhattisgarh
The online classes began on Monday. When the weather was bad on Monday and Tuesday, she used an umbrella. "Rain is not an issue, but thunder and lightning are. Like me, there are many students without good connectivity. Several of them are trying out different alternatives," Namitha said. Her father, K.C. Narayanan Kutty is an employee at Kottakkal Arya Vaidya Sala, and mother, M. Jeeja, works as a teacher at GMLP School, Malappuram. According to them, Namitha used an iron ladder to climb atop the roof from the first-floor terrace.
'A symbol of the perseverance'
After her photos were widely shared online, Syed Abid Husain Thangal, MLA of Kottakkal reached out to the family and said, "Namitha's photo studying from the rooftop has become a symbol of the State's connectivity. She is also a symbol of the perseverance displayed by the State's student community. By setting herself an example, Namitha has become an inspiration for others."
Congratulating her father, MP E.T. Mohammed Basheer too contacted the family and offered help. "Our students should earn strength to overcome the hurdles. I appreciate her for the will," he said.
Also Read: Bilaspur: 72-Year-Old Beggar Woman Donates Rice, Sarees & Cash To Needy