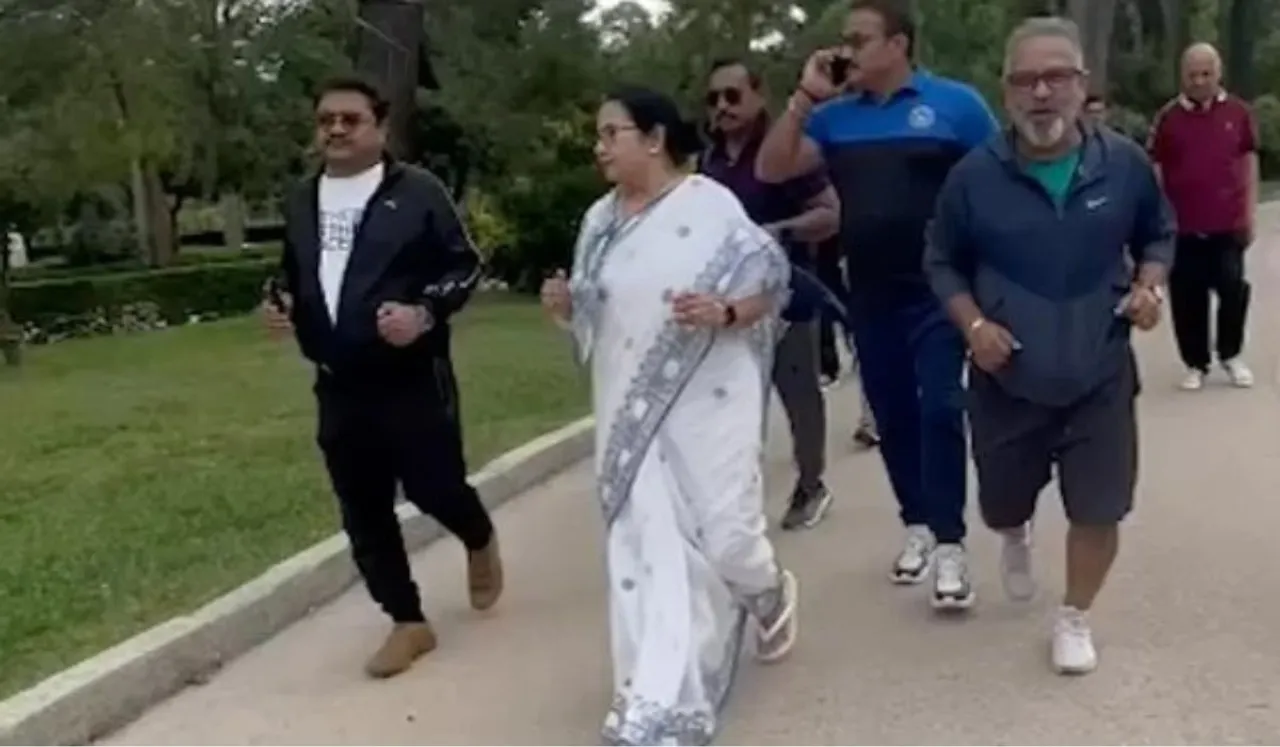 West Bengal Chief Minister Mamata Banerjee went for a refreshing morning jog in Madrid, Spain, in a saree and slippers. The message, "Stay fit, stay healthy!" was loud and clear.
Banerjee went for a jog along with members of her entourage in a park in Madrid. She was seen jogging with a smartwatch on her wrist, clad in a saree and flip-flops.
Mamata Banerjee Jogging In Saree
The West Bengal Chief Minister is known to walk on the treadmill on a daily basis. In 2019, a video of her jogging in the hills of Darjeeling surfaced on the internet. She went on a 10-kilometre jog along with her team members.
The caption read, "Refreshing morning. A nice jog can energise you for the day ahead. Stay fit, stay healthy everyone!"
In another video, Banerjee was seen playing a tune on the accordion, a box-shaped musical instrument, in a park and stated, "Music is forever; music should grow and mature with you, following you right on up until you die."
Reports state the West Bengal Chief Minister will be meeting the President of La Liga, a popular Spanish football league, today. A football agreement is also on the cards. La Liga is one of the most popular sports leagues globally, founded in 1929.
MP Supriya Sule's Inspiring Fitness Goals
Lok Sabha MP and Nationalist Congress Party member Supriya Sule is yet another Indian female politician who passionately follows the fitness-on-the-go mantra for good health. She shared that she carries her sneakers and Crocs all the time and works out whenever she gets time. She follows a pattern alternating between cycling, yoga, and brisk walking every two days.
She can be seen cycling with a helmet while donning a saree and regular footwear. She also makes it a point to walk from Marine Drive to her home on Peddar Road after work. She had also shared that she was a gym person in the past.
Sonia Gandhi On Morning Walk
Former Congress President Sonia Gandhi had earlier shared that a brisk walk is an integral part of her morning routine.
---
Suggested Reading: Mamata Banerjee Reacts To Udhayanidhi Stalin's Remark: 5 Things To Know