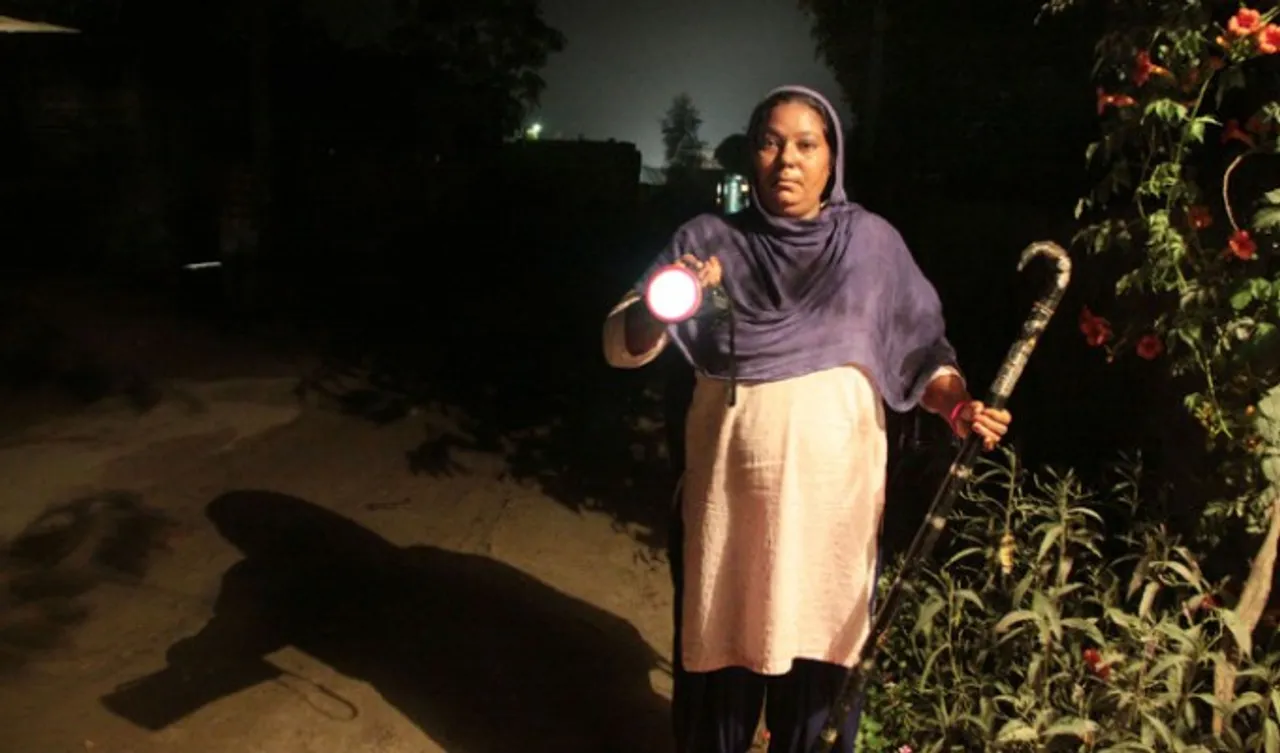 As the sky darkens, Kuldip Kaur equips herself with a khunda or lathi ( long wooden stick) and a torch as she steps out of her house to guard the lanes of her village. Kuldip is a 55-year old woman who has been guarding the alleys of Bangiwal village since 2008. She is the first out of the two women Chowkidars appointed by the government. The other being Razia Begum who guards Bir, a village 15km away from Bangiwal. Razia was appointed a year or two after Kuldip. These braveheart women are shredding gender stereotypes into pieces, they are the only women appointed by the government among 13,500 chowkidars who guard 13,000 villages in Punjab.
Not only is Kuldip Kaur an inspiration for women, she started work as a 55 year old and has proven no work is too difficult for women. The first task she does after stepping out dressed in a simple Salwar Kameez is to take a quick look at the several lanes of the village. As the clock strikes 9:30 she moves towards the main street. "After that, I go and sit for at least 20 minutes at a chabutra (platform) built around an old banyan tree, where the men play cards during the day. I sit there and call out villagers' names and shout 'Jagde raho' (keep awake)," Kuldip says, quoted by The Tribune.
Earlier, she used to work for seven-eight hours and return home at around 4 AM. But now due to her cataract, she works for three to four hours after which her sons take care for the rest of the night. The village has a population of 1500 people and around 500 houses. Kaur, throughout her duty remains vigilant as she knows that a lot is at stake.
Also Read: Meet 55-year-old Mugdali Tirki, Serving As Nurse In A Village Of Chhattisgarh Since 10 Years
How did the Journey start?
Kuldip's husband Avtar Singh died from a heart attack, he was the night guard of the village before her. After this tragic incident, Kuldip was given this job as a relief. Being a single mother to eight children she had no choice but to take this job. She doesn't regret her decision and feels that this job has given her a new identity. However, the pay for this job was Rs 800 and now is Rs 1250 which is still very less to manage a family.
When asked about her fears of guarding the village, Kuldeep says she isn't scared. However, initially, her children were scared for her and used to visit her at midnight to make sure she is fine. Now, with time this fear of her children has vanished and they very proudly call her a 'superwoman'.
Kuldip who never went to school makes sure that she does her work dedicatedly so that her children are educated. Every night after the duty she thanks God for another peaceful night and heads towards her house. Meanwhile, during the pandemic, Kuldip has started sensitising the people by shouting 'ghar vich raho' meaning stay at home.
Also Read: Can We Raise A Kid Who Is Free From Gender Bias?
According to Kuldip, she has done nothing big. But in her village she has set an example for many. "She doesn't know that she is a big inspiration to women, doing what many men would not like to do," says Surinder Pal Singh, the former Sarpanch as reported by the Indian Express. 
Arunima Sharma is an Intern with SheThePeople.TV