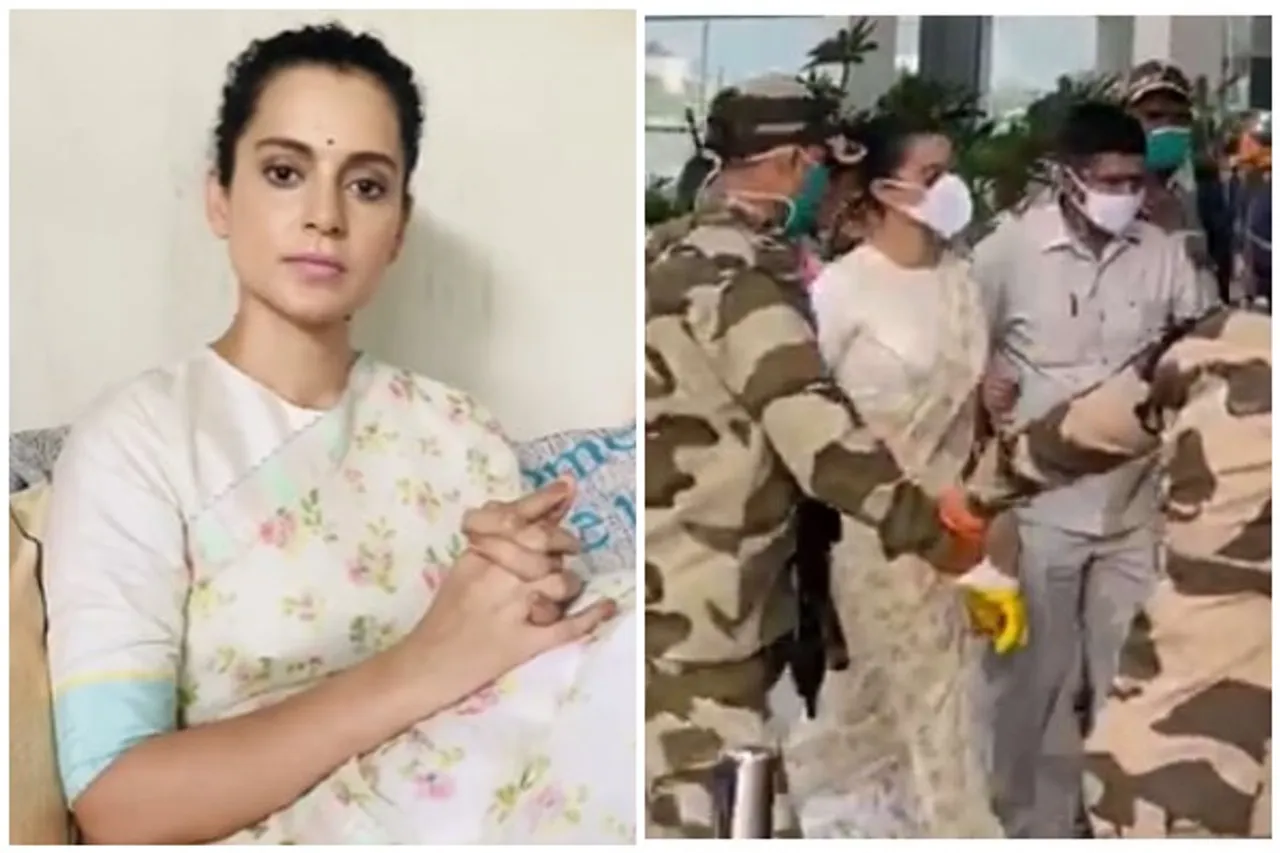 Kangana Ranaut reached her home in Mumbai today and shared a video capturing the demolition work carried out by Brihanmumbai Municipal Corporation (BMC) at her office in the city. She also took to social media, targetting Maharashtra chief minister Uddhav Thackeray and warned him that "his ego will also be destroyed, just as he broke her house."
Tagging the videos as #DeathOfDemocracy, Kangana addressed Thackeray and said, "Uddhav Thackeray, tujhe kya lagta hai? (what do you think?) That you colluded along with the film mafia, demolished my home and took revenge on me? My home was demolished today, your arrogance will crumble tomorrow."
Check out Kangana's tweet here:
तुमने जो किया अच्छा किया 🙂#DeathOfDemocracy pic.twitter.com/TBZiYytSEw

— Kangana Ranaut (@KanganaTeam) September 9, 2020
In the video, Kangana also mentioned about making a movie on Kashmiri Pandits as she claims to understand their emotions now. She also promised to make a movie on Ayodhya. Meanwhile, the Bombay High Court has ordered a stay on BMC's demolition drive at Kangana's office in Mumbai.
Following an escalating war of words with the Shiv Sena leaders, Kangana arrived in Mumbai today from her hometown Manali. Addressing the allegations of illegal construction, Kangana had tweet, "There is no illegal construction in my house, also government has banned any demolitions in Covid till September 30, Bullywood watch now this is what Fascism looks like #DeathOfDemocracy #KanganaRanaut."
Also Read: Shiv Sena IT Cell Files Complaint Against Kangana Ranaut Over PoK-Mumbai Comment
The Queen actress ended the video saying, "I knew this would happen to me. This has some meaning. Uddhav Thackeray, this cruelty, this terror, good that this happened to me. Because it means something." She also shared videos and pictures of a bulldozer at the office building.
#DeathOfDemocracy pic.twitter.com/9jPsCDYYrH

— Kangana Ranaut (@KanganaTeam) September 9, 2020
Earlier, the 33-year-old actor alleged that the Maharashtra government is targeting her because of her fight with the Shiv Sena. "I am never wrong and my enemies prove again and again this is why my Mumbai is POK now #deathofdemocracy," she had tweeted.
#DeathOfDemocracy pic.twitter.com/JVj3VN40x3

— Kangana Ranaut (@KanganaTeam) September 9, 2020
"The first film in Manikarnika films, Ayodhya was announced, it is not a building for me but Ram temple itself, today Babur has come there, today history will repeat itself Ram temple will be broken again but remember Babar this temple will be built again, this temple will be built again," Kangana wrote in a tweet.