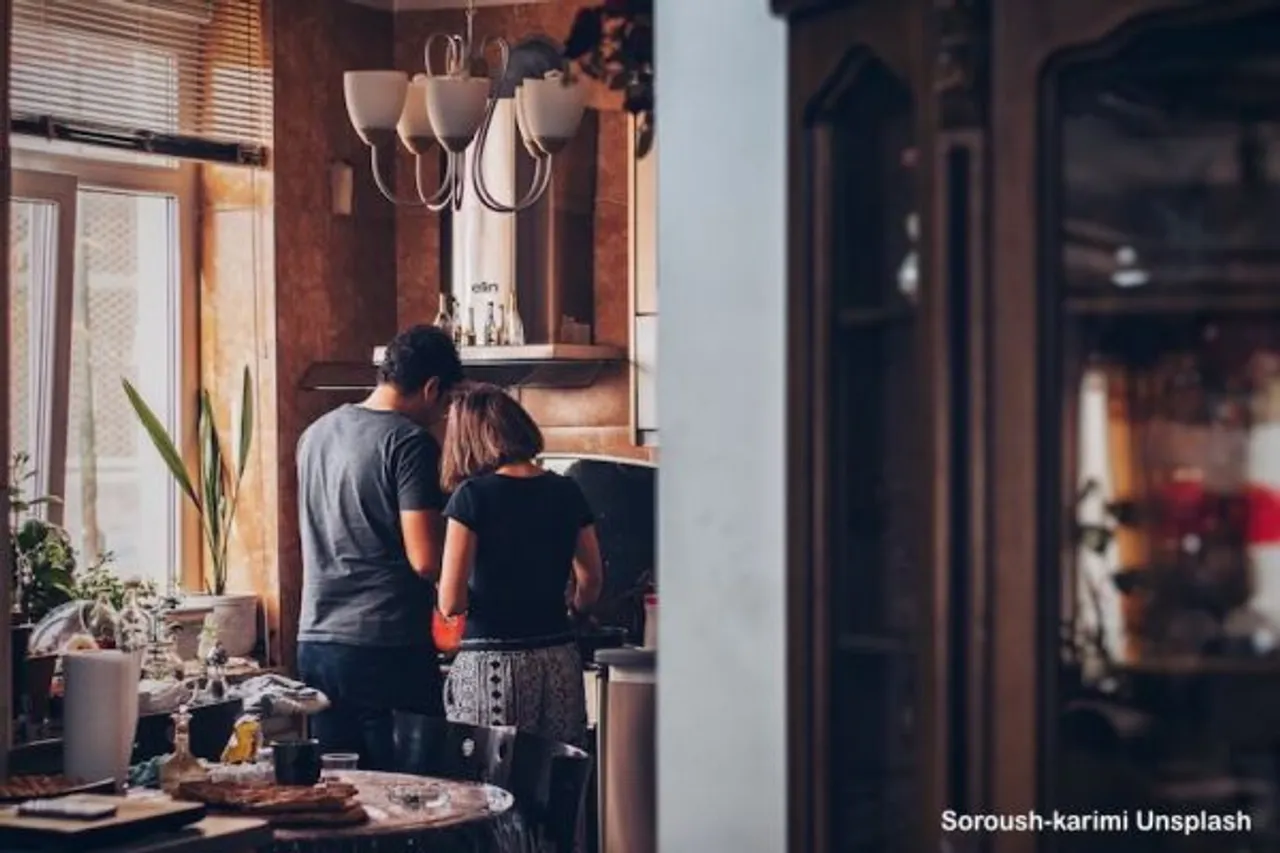 "A father is someone who carries his pictures in his wallets where his money used to be." - Steve Martin
June 17 marks the celebration of Father's Day worldwide. We must not forget that each day gives us the chance of celebrating our fathers. Father's Day gives us a day to remember that we must celebrate it every day. It is all about honouring and celebrating fatherhood and father-child bonding. Speaking of bonds, Bollywood's numerous doting fathers reflect an inspiring bond they share with their children. Let's take a look at some of these hands-on fathers.  
Anil Kapoor
The actor, with his vibrancy,  is still going strong in the film industry. Anil, who is a father to three children -- Sonam, Rhea and Harshvardhan, dotes on them. He is not only a supportive father but also a friend to them. His interviews, social media posts, and life at large reveal a lot about their bonding.
Last month, during his daughter's grand wedding ceremony to businessman Anand Ahuja, the actor stood by his daughter in all capacity. His emotions were heartwarming to see as he rejoiced in all ceremonies. Thanks to his immense energy, he danced away for hours with everyone from the film fraternity.
He holds great pride in his three children and always has their back. Anil, who is an excellent husband too, with his deep love and affection for his kids proves it time and again that he is an incredible father.
Shah Rukh Khan
The Baadshah of Indian Cinema, is a loving and empowering father to his three children - Aryan, Suhana and AbRam. The actor, who's next venture is 'Zero', has been raising his children with most grace and values.  
Recently, he took to Instagram to post an amazing birthday wish for his daughter Suhana's 18th birthday. He posted a picture of Suhana in a mid-air in the pose of a ballerina and he captioned it as, 'Like all daughters, I knew you were always meant for flying...and now u can also legally do what u have been doing since u were 16...!! Love u."
In an interview, he expressed his concern over media and speculations hounding his children,  "He (AbRam) is not meant for flashbulbs. I don'twant him to be a participant in this circus of public life that I am a part of. That is what I do… Public life… The good, bad, ugly, goodness of media, the strangeness… I am part of it, not my children," the 48-year-old actor said.
Shahid Kapoor
Shahid Kapoor is certainly a hands on father in B-town. His daughter, Misha, is the centre of his universe. From being by wife Mira Rajput during her last months of pregnancy to taking care of their baby daughter ever since she was born, Daddy Shahid has been doing his bit for Misha. He often mentions her in his interviews and interactions. The fitness freak actor's social media pages are flooded with baby doll, Misha's photos. Every special and priceless moment of the toddler has been captured and put out on his Instagram account. It's a delight to watch these photos.
https://www.instagram.com/p/BaN9Dx2A3qH/?hl=en&taken-by=shahidkapoor
The 'Udta Punjab', in a beautiful post on Instagram, announced that he is about to become a father again. Well, we're sure he will embrace fatherhood once again with pride and grace. On the professional front, he will be next seen in 'Batti Gul Meter Chalu'.
Abhishek Bachchan
Abhishek continues to be a proud father to daughter Aaradhya who is now six years old. Time to time, we do get to witness the sweetest father-daughter moments that they share. Aaradhya, who is now quite used to the paparazzi and even waves out to them warmly.
Abhishek's love and protection for his daughter is evident from his social media accounts. Last year, a tweet (later deleted) from a woman read, "@juniorbachchan, is ur child not going to school? I do wonder What school gives permission to take a out a kid when u like to go a a trip with mom. Or are u guys going for beauty without brains. Always hand in hand with a arrogant mom. Not having a normal childhood."
Abhishek, who took notice of the tweet, keeping his cool, defended his family's lifestyle. "Ma'am, as far as I know… Most schools are shut for the week-end. She goes to school on the weekdays. Maybe you should try it considering you spelling in your tweet," he tweeted.
Ma'am, as far as I know… Most schools are shut for the week-end. She goes to school on the weekdays. Maybe you should try it considering you spelling in your tweet.

— Abhishek Bachchan (@juniorbachchan) December 4, 2017
Karan Johar
The filmmaker, who became a father to twins via surrogacy, has been a hands on father ever since. Karan adores his children - Roohi and Yash like any other father does. He is both mother and father to them and this, without a doubt, is the most special virtue of their relationship.
In an interview last year, when his children were born, Karan was quoted as saying, "My life has changed since Roohi and Yash arrived. At 44, this is my biggest blockbuster."
Farhan Akhtar
A film-maker, an actor, a singer, Farhan is a doting father to his daughters Shakya and Akira. His Instagram feed is full of their pictures from the quality time they spend together on vacations and otherwise.
Last year, the feminist actor wrote a letter to his daughter talking discussing about sexual abuse, consent and independence.
To mine, to yours, to all daughters out there.. @htTweets @shammybaweja @MardOfficial @unwomenindia @glblctznIN #LetsTalkAboutRape https://t.co/Pn6EoQXpeG

— Farhan Akhtar (@FarOutAkhtar) October 3, 2016
Akshay Kumar
The actor is is a loving and inspiring father to his two beautiful children. In many of his social media posts he mentions how it is the little moments with his kids that define happiness for him. Last year, on his daughter's birthday wrote about how didn't want her to grow up. The caption reads, "My fav part of every day, my daughter shaving me at the sink, precious moments! Happy Birthday My Princess. One request, please don't grow up."
Last year on Father's day, Akshay posted a beautiful picture with his son stating how everyday is father's day for him.  In an interview in 2016, he mentioned how wants to instil the virtue of gratitude in his children.
"Whatever they get, they have to earn it. I want them to be responsible human beings who are also full of gratitude for what they have. Kuch khairat mei nahi milta, whatever they get is achieved by them. They need to understand that luxuries are a result of achievements and hard work." 
Hritik Roshan
Hrithik, with his duties as a father, sets parenting goals for many. His actions have proved him as an ideal father time and again. The actor makes sure that his children - Hrehaan and Hridaan get the best and most of him.
In March, on his son Hrehaan's birthday, he penned down and shared a heartwarming poem on social media. The post, which became viral in no time, signalises a message of defeating the fear within.
To all our sons and daughters and to the child within us all. Sharing something I wrote . ( headphones please) pic.twitter.com/e6eROF770t

— Hrithik Roshan (@iHrithik) March 28, 2018
Riteish Deshmukh
Riteish has two sons and he is one of the happiest dad in town. He shares various candid family photos on occasions time to time. The actor loves to spend time and loves changes their nappies.
Last year, Riteish showed a glimpse of the hands on father that he is by baking a cake for his son Rahyl first birthday today. He called his son a blessing straight from the heaven and revealed that this was the first time he had made a cake.
Today is a Special Day ... Our son turns one... Happy Birthday Rahyl .. you are a blessing straight from heaven. @geneliad pic.twitter.com/95IU1F5IIF

— Riteish Deshmukh (@Riteishd) June 1, 2017
Pic: Soroush Karimi-unsplash
Bhawana is an intern with SheThePeople.TV