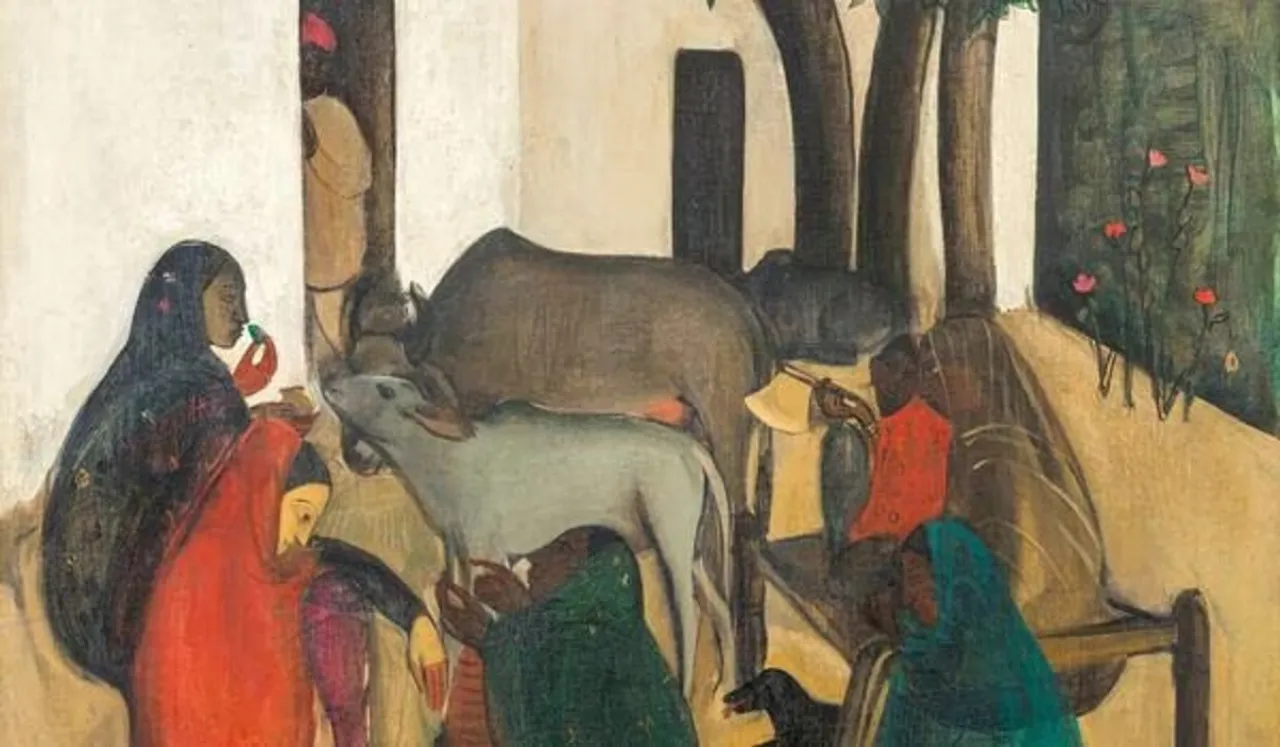 In a remarkable turn of events, the Indian contemporary art scene witnessed a historic moment as Amrita Sher-Gil's masterpiece, "The Story Teller," achieved a staggering sale of Rs 61.8 crore at the SaffronArt auction held at The Oberoi in New Delhi. This extraordinary feat not only shattered previous records but also firmly established Sher-Gil as one of India's most celebrated artists.
"The Story Teller," an exquisite oil on canvas creation by the 20th-century Sikh-Hungarian artist, surpassed all expectations, making it the most expensive artwork from India ever to be auctioned.
This remarkable achievement follows closely on the heels of modernist painter Sayed Haider Raza's "Gestation," which had recently sold for ₹51.75 crore, just ten days prior.
Amrita Sher-Gil, often hailed as the only successful woman artist in India, has long been deserving of this accolade. 
Her contribution to the world of art is nothing short of exceptional, and her remarkable journey has now found its rightful recognition in the record books.
"The sale of this particular work is an important milestone in the market. However, equally important is the work itself—it is an exceptional painting as a cornerstone in Sher-Gil's work as such. 
She is one of India's national art treasures, and this type of work is quite rare to come across for sale," noted an official of the auction house, as quoted by Mint.
Sher-Gil's artistic legacy, spanning over several decades, has left an indelible mark on the art world. Her paintings, which often revolve around women subjects, have consistently showcased her empathy towards their conditions. 
Village Group, one of her earliest and finest works, depicting a group of women, was auctioned in 1992. In contrast, her latest creation, "Untitled," found its new owner in 2023. 
This vast time span of 84 years highlights the enduring appeal of her art.
The Story Teller
"The Story Teller" is a masterpiece that effortlessly combines the influences of both Pahari and Parisian art. 
The painting portrays a group of women relaxing in an open space, each engrossed in their individual pursuits. 
Experts believe that Sher-Gil's unique ability to place women at the forefront of her canvases stems from her deep understanding and empathy for their experiences.
"The work is among her most honest and expressive figurative compositions, from a pivotal time in her brief oeuvre (body of work), and we are honoured to have played a part in curating a new benchmark for Sher-Gil with this auction," added the official.
Amrita Sher-Gil's life journey itself is as remarkable as her art. Born in 1913 to a Sikh father and Hungarian mother, she spent her formative years in Europe before eventually making India her home.
She holds the distinction of being the first Asian artist to win a gold medal in painting at Paris' prestigious Ecole des Beaux Arts.
One of her notable themes in art was the portrayal of nudes, showcasing her confidence and mastery of her craft. 
She often used her sister and even herself as models for these striking and evocative pieces.
As "The Story Teller" takes its place in the annals of art history with its record-breaking sale, Amrita Sher-Gil's enduring legacy as a pioneer in Indian contemporary art is more evident than ever. 
This historic moment not only honours her remarkable talent but also cements her position as an iconic figure in the world of art. 
With each stroke of her brush, Sher-Gil continues to captivate audiences and inspire generations of artists to come.
---
Suggested Reading: Celebrating Amrita Sher-Gil, The Trailblazing Woman of Modern Indian Art
---