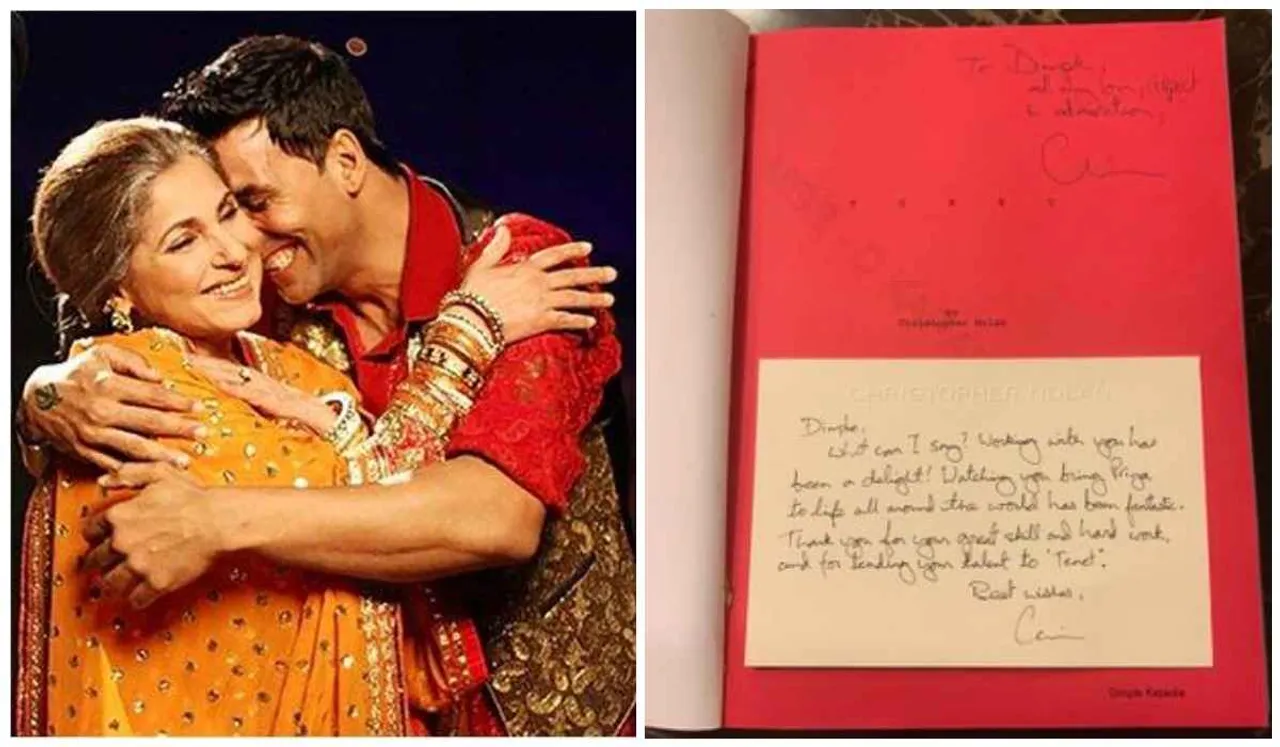 Akshay Kumar, on December 5, took to social media to express the joy of what he called his "proud son-in-law" moment, as he shared a note Tenet director Christopher Nolan had written for Dimple Kapadia, ahead of their film's release. He mentioned that Nolan penned the note on the eve of Tenet's India release on December 4 and that he couldn't be more "happy and proud of Ma," who essays the pivotal role of Priya in the film. Kumar, who is married to Kapadia's daughter Twinkle Khanna, also shared a picture of the 63-year-old actress with Nolan.
Tenet, Nolan's much-awaited eleventh film, had a global release in September, opening to theatres in India only in the first week of December. He has previously spoken of his experience of working with "the great" Kapadia, whose career spans over four decades in the film industry. In the note shared by Kumar, the director has written, "Dimple, What can I say? Working with you has been a delight. Watching you bring Priya to life all around the world has been fantastic. Thank you for your great skill and hard work and for lending your talent to Tenet."
Here's my proud son-in-law moment! #ChristopherNolan pens a heartfelt note to #DimpleKapadia on the eve of their release.Had I been in her place,I wouldn't have been able to move in awe but having watched her working her magic in #Tenet,I couldn't be more happy and proud of Ma ♥️ pic.twitter.com/EgSehxio1I

— Akshay Kumar (@akshaykumar) December 5, 2020
Also Read: Former Indian Cricketer Sudha Shah Made A Member Of TNCA's Cricket Advisory Committee
Dimple Kapadia On Working In Tenet 
The film has been shot in various locations across the world, including Mumbai, India. Kapadia, with her longstanding legacy in Hindi films of 47 years, has also graced the film in a pivotal role. Speaking about the experience of working in a Nolan film, she said in an interview, "It has completely changed my mental make-up. It has made me more confident, wanting to do better roles… It has made me believe in myself finally."
Ahead of Tenet's India release, Nolan had relayed a video message to fans, saying how "amazing" it was to shoot in Mumbai and with Kapadia. According to him, the film is shot for and would best be enjoyed on the IMAX screen.
Christopher Nolan sends out a video message for all his fans in INDIA to watch #Tenet. pic.twitter.com/y8MkzHm3FK

— LetsOTT GLOBAL (@LetsOTT) December 3, 2020
Also Read: Who Is Isabelle Kaif: Here Is Everything You Need To Know About Her
About Tenet
An action-thriller, Tenet is themed around the scientific concept of time-bending. John David Washington, in the lead, plays the role of an unnamed secret agent who embarks on a mission to prevent World War III from breaking out. The film's trailer alone had left viewers mind-boggled, given the non-linear timeline and cinematography.
Since its teaser release in 2019 up until its 2020 premiere, Tenet had managed to create a furore parallel in measure to Nolan's other widely acclaimed films like The Dark Knight, Inception, and Interstellar. Early reviews for Tenet in India, however, have been mixed. Read more here. 
Watch Tenet's official final trailer here: