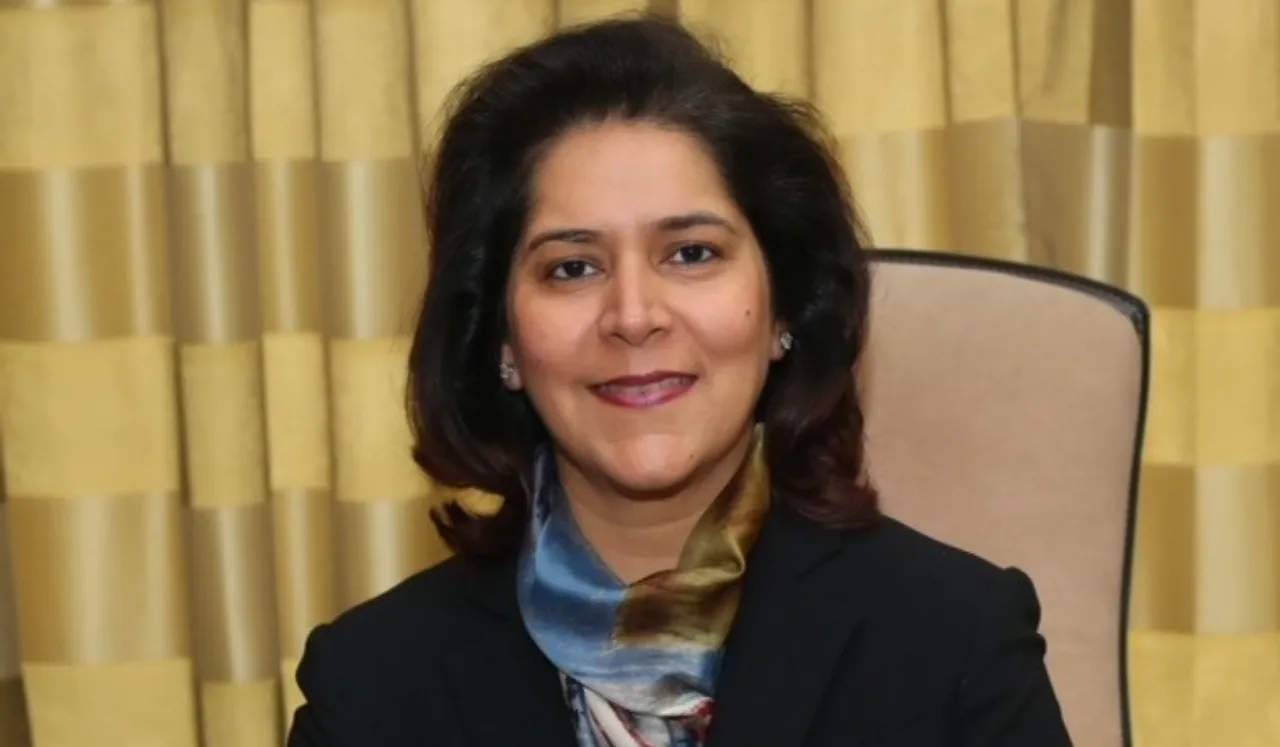 Growing up, Shaifalika Panda had an ambition of making a name for herself in the world of business. After a few years of work experience, she set up a successful entrepreneurial venture. However, her life's course of action drifted to another route when, due to the sudden illness of a family member, she spent months engaging with vulnerable people at the hospital who, despite extreme poverty, had come to Delhi from remote villages to seek medical aid for their family members. 
"Besides dealing with the critical illness of loved ones, they also had to overcome the lack of health facilities, know-how, and financial constraints to access treatment in Delhi. This experience changed my worldview and led me to what I today see as my purpose of bringing about a positive impact on the lives of individuals in remote villages of Odisha," recalls Panda. 
Today, Panda is an empowering name in the social sector. As the Convener of the G20 EMPOWER Working Group for Mentorship, she is working towards enhancing women entrepreneurs' roles in economic structures. Panda is also the Trustee, Founder and CEO of Bansidhar & Ila Panda Foundation (BIPF). and Chief of CSR (Special Initiatives) at Indian Metals and Ferro Alloys (IMFA).
In an interview with SheThePeople, Shaifalika Panda discusses her role as the convener of the G20 EMPOWER working group on mentorship, rural India's progress in women's employment, and how she aids women entrepreneurs in India to access a level playing field. 
Excerpts From The Interview 
How much progress has rural India made regarding women's employment, and what needs to be done?
Socio-cultural barriers, the cascading impact of disproportionate household work, and inequitable access to education and skills are detrimental to rural women's employment. Today through universal enrollment we have 98% of our girls in primary schools. Thanks to behaviour change communication (BCC) initiatives and sanitation facilities in rural government schools –  the dropout rate of girls at the secondary school level has reduced significantly.
Further, the women-centric focus on skill initiatives and financial and livelihood training has also resulted in more women joining the workforce and being self-employed. 
The Economic Survey 2022-2023 finds that rural female labour force participation has risen from 19.7% (2018-19) to 27.7% (2020-21). Despite these gains, more efforts are required to shift mindsets and propel women to leadership roles.
What are your thoughts on India's transition towards women-led development?
India's transition from women's development to women-led development reflects a transformative shift, valuing women as dynamic contributors and leaders. This approach highlighted at the start of India's G20 Presidency by Prime Minister Modi, prioritizes equality and acknowledges women's pivotal role in driving sustainable and inclusive advancement.
Women bring a distinct perspective. As leaders they enrich decision-making processes, promoting innovative solutions that cater to a diverse populace. They are often instrumental in implementing policies that directly support women's rights and improve workplace conditions. Moreover, successful women create a supportive ecosystem by mentoring upcoming female professionals, ensuring their enhanced economic representation in various sectors.
Our Self Help Group models have received worldwide appreciation – the ambition of 10 crore SHG members by 2024 is firmly within our grasp. The team of Chandrayaan 3 with 54 women engineers and scientists who assumed critical responsibilities is a wonderful example of women-led development.
This increasing recognition of women as effective leaders is bound to create inroads to a stage where women will equally participate in the social and economic growth of our country.
As the convener of the G-20 EMPOWER working group on mentorship, can you share some insights about the Mentorship E-platform being launched for women in G-20 nations?
WEPmentor is a global platform enhancing women entrepreneurs' economic roles in startups and established businesses. With four tailored mentorship segments, it aims to empower and foster their growth. The offerings are individualized mentoring, organizational expertise through group sessions, skill-specific workshops, and Peer-to-Peer (P2P) learning within the entrepreneurial community.
A defining feature of WEPmentor is its use of Artificial Intelligence (AI) and Machine Learning (ML) algorithms for mentor-mentee pairings.  As a global aggregator platform accessible across G20 nations, it includes an extensive array of informational resources and best-case practices adding to the portal's capability.
Can you speak about the challenges young women entrepreneurs face in India and how is your organisation working to address those challenges?
Women across geographies face common challenges at different stages of entrepreneurship – from the startup phase to surviving in competitive markets and scaling up. Besides societal norms and gender biases, the lack of information, capital, networks, and market linkages creates barriers to their success.
We work to support the grassroots communities where women are engaged with micro-enterprises. We capacitate them through an integrated approach to financial and social inclusion through training, exposure, networks, linkages, and mentorship. Our Project Unnati initiative for women in rural and tribal areas employs the self-help group (SHG) approach for socio-economic empowerment. The core objective of Unnati is to empower women to participate in the mainstream of development and give them a voice in the decision-making process.
What are the goals of your organisation and what is the impact you wish to see in the communities?
As a company, IMFA has always believed in coexisting with surrounding communities. At the Bansidhar & Ila Panda Foundation, we take forward decades of work done by the founders of IMFA to create an inclusive ecosystem. Our mission revolves around self-sustainability, anchoring atmanirbharta in every project. We are also a firm believer in the cross-sectional approach with a women-centric focus across programs. This is vital for fostering enduring intergenerational change—the very impact we aspire to create. Our vision spreads across education, livelihood, sanitation, and preventive health and engages, educates, and empowers the most vulnerable communities to drive significant socio-economic transformation.
There are two Indias - one where we're progressing the agenda of women empowerment and women-led development, and another, where young girls and women are still struggling to access basic rights. How can we collectively change the conditioning around gender?
Women are symbolized as nurturers, in every role. At the household and workplace, they multi-task and contribute their efficiency for a greater cause. We come across innumerable achievements by young girls and women in their 30-50s; recently exhibited by the women at ISRO. This progress reflects our intention and societal support which rests on government policy framework and initiatives taken up by public-private organisations, civil societies, families, and communities.
To leverage collective growth in rural India, our efforts should be diverted more towards changing the cultural mindset and helping women and society understand that unleashing Nari Shakti has limitless potential which adds value to the socio-economic progress of the Nation. This advocacy has its gestation period but can largely be achieved over time.
How can we have equal representation of women across all walks of life?
Equal representation of women across all walks of life is possible when both young boys and girls understand the notion of parity. While boys need to be taught the sensitivity and the benefits of equal opportunities for girls, girls need encouragement to be ambitious and pursue their aspirations. Concerted communication with gender-sensitive policies at community, institutional and organizational levels will allow for the inclusion of girls and women across segments, creating an environment that unshackles patriarchal barriers.
Women, especially mothers should be empowered for social and financial inclusion. This liberation elevates them as decision-makers and enables them as agents of change for intergenerational transformation. Further, stories of women leaders and role models in STEM fields must be amplified to inspire girls and women to overcome obstacles to pursue their dreams. 
What would you say has had the biggest impact on your growth as a leader?
Experience has the biggest impact on the growth of any leader. Having worked in the social sector for over 16 years, I believe patience and an understanding of issues are topmost priorities for any leader who wants to create positive change. Listening without judgment allows leaders to diversify their horizons and view issues and possible solutions in their entirety.
I have been inspired by my mother-in-law, Mrs Ila Panda who is fondly remembered by the community for her affection and silent practice of charity even 20 years after her death.
Another incident that shaped my growth as a leader was an interaction at a hamlet in the south of Odisha, where the level of inequity was so jarring that it has only strengthened my belief in the concept that every human being must contribute to enabling the life of at least one making this a JanBhagidhari (people's participation)
How can women's entrepreneurship change the game in bridging the gender gap in the economy?
Women's entrepreneurship has the potential to revolutionise economies by closing the gender gap. It promotes economic empowerment by providing women with autonomy and self-sufficiency. Traditional gender standards are challenged by successful companies, resulting in a cultural revolution. These companies contribute considerably to creating employment and promoting inclusion.
Furthermore, women-led enterprises stimulate creativity by addressing concerns unique to women. Their powerful voice influences policies, promoting gender equality at the systemic level. In essence, women's entrepreneurship propels societies towards greater gender equality and wealth.
You don several hats across organisations. What keeps your purposes aligned and helps you further the agenda?
Responsibilities across organisations are opportunities to be a catalyst for the larger social good.  Irrespective of the organization, the connection is about the common goal of finding solutions for accelerating inclusive and sustainable development. 
Having the advantage of analyzing development issues from the perspectives of the private sector, an NGO, and now in an active role at G20 EMPOWER during India's Presidency, allows for integrated learning. Opportunities to work with like-minded people across segments have helped me evolve and contribute effectively to policies and initiatives that create an ecosystem to ensure no one is left behind. 
I found my calling in working to enable vulnerable communities – and as Chair of the G20EMPOWER working group on Mentorship, I am humbled to have delivered tangible outcomes to accelerate gender parity. 
---
Suggested reading: How Lakshmi V. Venkatesan Empowers Grampreneurs With A Unique Mentorship Model