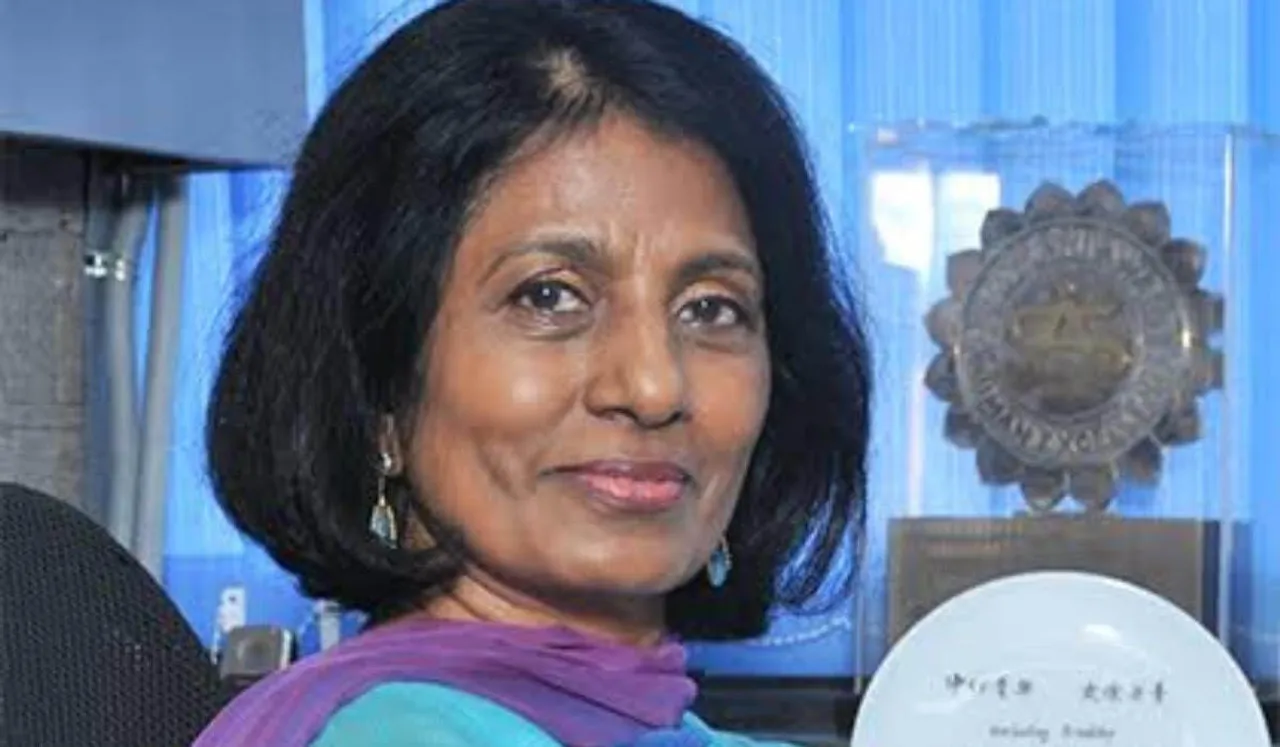 Lakshmi Venkataraman Venkatesan grew up in a household listening to dinner-time discussions around the pressing issues India faced. As the daughter of India's former President R Venkataraman, she was aware of a lot of insights into the country's core issues and how equipped the systems were to solve those.
She tells us that "while it's crucial to pay attention to tech and unicorn businesses, if we really need to become aatmanirbhar and alleviate poverty across the country, we need to provide a supportive ecosystem amidst nooks and corners of India."
A former systems engineer in the United States, Lakshmi V. Venkatesan decided to move back to her homeland, and after a series of experiences and considerable thought about how she could contribute to her country's development, she founded the  Bharatiya Yuva Shakti Trust (BYST) in 1992 under the guidance of Late JRD Tata and with the support of HRH Prince Charles.
With BYST, she drives a Pan India program for grassroots entrepreneurs, Grampreneurs, and aims to empower them to be integral contributors to India's economy. The organisation, which has created a pool of over fifteen thousand trained certified mentors, has supported over eleven thousand entrepreneurs and trained around fifty thousand youth to date. They're now on a mission to create two lakh mentors and one million entrepreneurs who can create direct/indirect fifty million jobs in the next five years.
In an interview with SheThePeople, Lakshmi Venkataraman Venkatesan discusses her trust's workings, her vision to promote grassroots entrepreneurship, the gender gap in the business ecosystem, and why mentorship is the key to bringing change and sustaining it.
Lakshmi V Venkatesan Interview
At a time when most Indians staying in the US decided to settle there, you chose to return to your country. What made you decide this?
It was neither a conscious choice nor a trigger point. I think my subconscious desire or dream was to always return to India. I grew up listening to the issues clouding India's development. To care about these issues was always in my blood and public service was something I grew up with. So, it was my innate desire to do something on my own, too. I wanted to return to India and contribute in my own way.
What led you to start something so impactful as the Bharatiya Yuva Shakti Trust? Where did you drive your influence from?
I did not return to India to start this. It was an organic process. I worked in the US as a systems engineer in the laboratories at a premiere research firm. It was a time when my colleagues and I were working on network planning for cellular phones, which did not exist at that time. It was a very interesting time and we were looking at it from a global perspective.
In the 1980s, India was not open to external influences or technology to a large extent. It was a closed economy. It took a different type of effort to make India aware of so much potential. I already had one foot in India and once I resigned and relocated to the country, I was looking for technology transfer and appropriate technology for women. There were many issues I was involved in at the time. The idea of BYST stemmed from my visit to England. I was in England with my parents on a state visit. We stayed at Buckingham Palace for three days and I interacted with Prince Charles, who is now the King, when I learned how he had started a programme with a Princess trust where he worked with young people, mentored them and helped them with their start-ups. It seemed impactful, and he asked me whether it would work in India. While employment was a global issue, it was a major one in India way back in the 80s. I was fortunate enough to be mentored by JRD Tata at the time, and we decided to replicate the same model here.
"My heart was already in India and then my head followed. With an understanding of what the country's needs were, I wanted to create a change."
What were the primary challenges you faced in starting BYST?
The first challenge was we were the first ones in India and now we're in 45 countries. The challenge was that such kind of a model existed only in one country, England, and it was a developed one. Here we were, trying to develop this in a developing country. We were creating a public-private partnership for the first time. Back then, mentoring did not exist. While entrepreneurship is now considered a badge of honour, it was frowned upon back then, and we had to sort of build from that.
"In a country where everyone aimed for their children to become engineers, doctors or government employees, we were convincing them to think of entrepreneurship as a viable option. Therefore, raising awareness was a challenge."
We raised our own money, we raised a corpus. While the UK had a huge private sector and institutionalised mentoring, it was not the case in India. Here we were taking it to the Tier 2 Tier 3 towns. We picked up a progressive model and straight away took it to the grassroots. It was far from easy but we persisted.
From when you started to now, what are the changes you've encountered when we talk about employment and self-dependency at the grassroots level?
One thing that has changed is the ecosystem and respectability of entrepreneurship as a career. I am proud of the fact BYST and thousands of entrepreneurs have helped create and been part of this change in the ecosystem. I remember going to the rural areas of Haryana in 1994, where most people did not have a job, and it was challenging to explain the concept of entrepreneurship to them, they looked at it as a last report. Today, they're all successfully running businesses.
It's integral to note that entrepreneurship creates employment and opportunities, and that's how an economy grows strongly too. Entrepreneurs supported by us have created a lot of local environments. I recall how King Charles and I had visited Bangladesh to set this system up in the country. We are now in 45 countries. These are stories from the 90s and the 2000s when the idea of nobility in entrepreneurship was still a far-fetched dream.
Mentorship is an initiative, if done right, can be life-altering in more ways than one. With BYST's unique flagship program called Mentoring India (MI), what are the primary concerns you're addressing?
The word mentor has become commonplace now. Mentoring as a concept has to be well-structured. It was integral for us to understand that the people we are dealing with in remote corners of the country, they're not trying to choose a job. It's their necessity. They have a burning desire, a fire in the belly and they need to bring food to the table. Now, just because they're in need doesn't mean they know where to go. That's where a mentor comes in.
A mentor is a teacher, business guru, life coach, or parent, too. A mentor works as a window to the world that was just shut to these rural entrepreneurs. That's what we aim to do in our program. Many of our entrepreneurs are high school graduates, they had the desire to work and do well in life so they could support their needs and their families', and they sought help. We run Mobile Mentor Clinics for rural mentoring in 11 states in the country. Mentorship does not end at showing the path, it begins with showing the path and stays for as long as the person operates the business and deals with the challenges.
India's youth presents a huge potential to contribute to the country's development. How has your experience been in dealing with them at the grassroots?
My experience with the youth has been exceptional. A lot of them started their businesses during the pandemic and generated solid profits. They have immense potential but we're not tapping that enough as a country. What I wish would happen much more is for the ecosystem to recognise what their talents are and give them much more to build on. Believe in them and mentor them. The problem is that the whole ecosystem still thinks of unicorns and tech businesses most of the time, which is great, but that's not the only area we must elevate. We must go deeper and create opportunities in small towns, and in the slums of bigger cities, if we want overall economic progress.
With the world moving towards digitalisation, how has your experience been in terms of outreach at the organisation via digital mediums?
In 2020, our entrepreneurs panicked when there was a shutdown. Some of them who were operating in cities decided to move back to their villages thinking it was the end of their business journey. At that point, our mentors got on to the WhatsApp groups and created a network where one mentor dealt with 5 or 6 entrepreneurs, and we went around all ten thousand plus entrepreneurs to guide them and keep them hopeful. No one closed down their business.
The level of digital learning was immense at this time. I recall how once we organised a once a major international conference, and we brought on two thousand entrepreneurs on Zoom that year. In two years, they graduated from barely using WhatsApp to being able to come on zoom and participate in an international conference, and on several webinars post that. It's amazing to see their overall growth, and digitalisation has enabled that in a lot of ways.
What factor has impacted your growth as a leader? How can women's entrepreneurship change the game regarding gender equality in business?
I grew up in a family where the thought process 'that women can't do a certain thing just because they are women' did not exist. When I went abroad for my master's, I was one of three girls among sixty boys. Even when I started working in the laboratory I was one of five women among 500 men in that network. I was told to do the best I could, and that's something I pay forward. Even at our organisation, we never lower the standards for women, why should we? Just because they need more help does not mean they are less capable. They need more opportunities because the systems were designed in a way where they weren't given an equal platform.
While I grew up having opportunities, a lot of women did not. If we're to talk about creating leaders and establishing gender equality, we must remember statistics that in the past three years, 85 percent of women in India have struggled to get a loan from a bank. There isn't equality in the business world and this survey proves it.
"Women's entrepreneurship will change the game when we believe in women and give them a level playing ground. There's still a big gap in the ecosystem that needs to be addressed."
At the grassroots level, how can we provide equal opportunities to people who are not just unaware but have also not met with the necessary support?
Raising awareness in a way that engages the rural population is a good way to start. We need to comprehend that these are people who are economically depressed and, therefore, there's more effort required than just handing them an opportunity because the real process starts after that.
Promoting rural entrepreneurship requires different tricks as people respond to fun and engagement. We need to make it interesting for them so they're in there for the long haul.
"We need to make people in rural areas aware that entrepreneurship is a possibility."
Our initiatives have been to create a mentorships network where we're also mentoring branch managers, bankers, and bureaucrats, who come in contact with these aspiring entrepreneurs. Our entrepreneurs are surrounded by people who know their job well but don't comprehend networking and mentorship, and the chain of motivation breaks. So, if we create a mentoring movement in the country, where entrepreneurs are not just met with an official but also met with a mentor who knows what it means to start a business and push them in the right direction, we can establish a good ecosystem.
---
Suggested reading: How Odisha's Sangita Majhi Turned Challenge Into Opportunity And Became An Entrepreneur
---
As a leader and mentor in this initiative, how do you suggest the Indian market can empower more women in leadership positions?
We talk about making women leaders in the country, but why aren't we believing in them? Our work all these decades has proved that every time that we support women, they not just do well for themselves but also for the economic growth of the country.
It's crucial to not just create jobs but also spaces that can support women's families as well. Sometimes you have to do for yourself what others will not. Therefore, women must start fending for themselves.
Another factor would be to let the world know true statistics. While there are talks and campaigns to bridge the gender gap in entrepreneurship and leadership, statistics and data show the harsh reality. There's still so much work left to be done in this regard, and starting with showing the on-ground reality and then devising policies accordingly would go a long way.
"We talk about making women leaders in the country, but why aren't we believing in them? Our work all these decades has proved that every time that we support women, they not just do well for themselves but also for the economic growth of the country."
What advice would you give aspiring women entrepreneurs?
I'd say find your voice. Women have a lot they have been endowed with. However, they have to stand up for what they believe in. Whether or not anyone listens, they are entitled to their rights and must avail them. Another important factor is getting some level of cooperation and collaboration from one's family. Without that, it would be challenging for women stepping out to run businesses for the first time, because they have been systemically single-handedly managing everything, and now the onus of performing well at work is also with them.
Another integral factor to tap into would be to find a mentor. It so happens that women often hear contradictory messages from the marketplace. Now, at a time when about 85 percent of women are not getting loans how can they go about establishing a business; having a correct support network that can guide them is necessary. At a time, when the world is still not believing in how important women are to the economy and the ecosystem, women must find their voice, find the right mentors and stand up and &t=1s">claim their space in the ecosystem.
---
Suggested reading: 213 Specially-Abled Staff And Counting: How Alina Alam's Mitti Cafe Pushes For Inclusivity