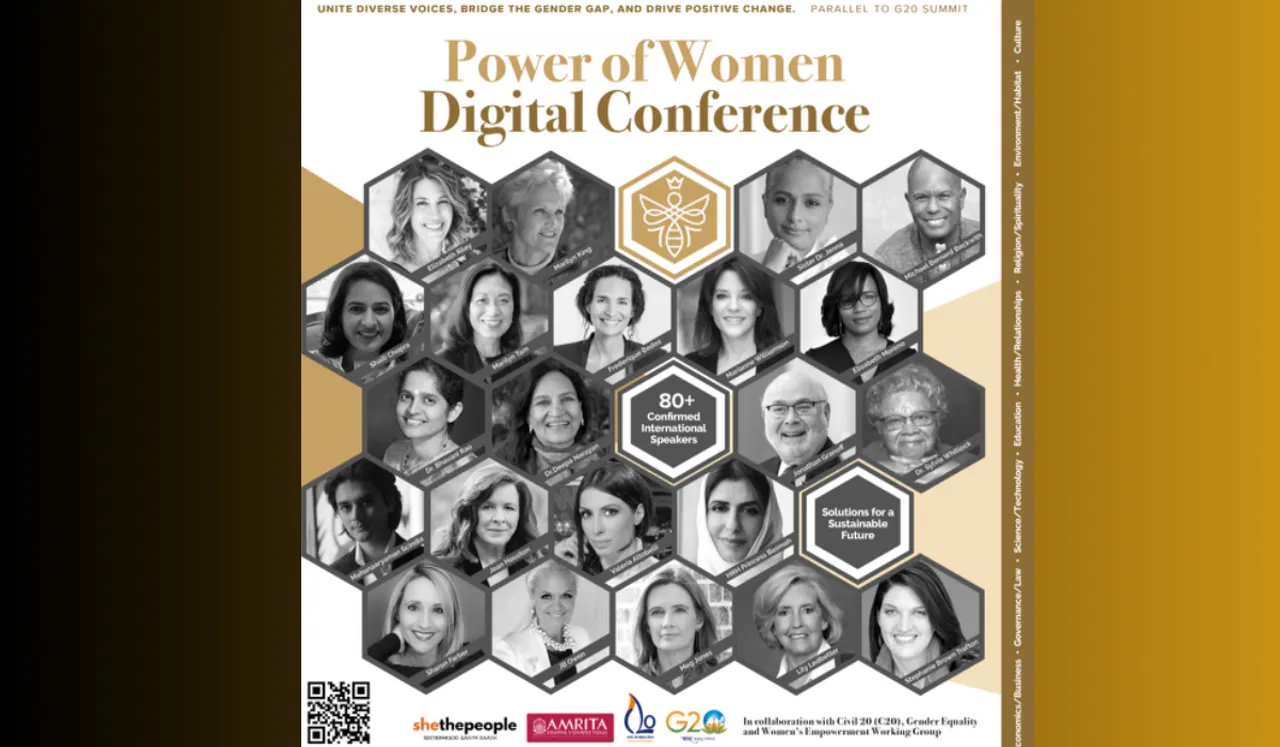 SheThePeople is proud to partner with the Power Of Women Digital Conference 2023. Join us at the conference to amplify women's voices, foster collaboration, and promote gender balance and inclusive solutions. 
This conference provides a platform for individuals of all genders and ages who deeply care about the state of the world recognise the urgent need to implement recommended solutions and actively participate in shaping a more equitable future. Together, we embrace accountability and contribute to collective efforts. 
Power Of Women Conference: What You Can Expect
Through edutainment, we educate and entertain, creating content, events, and experiences that bring women's voices into decision-making processes. Our objective is to unite diverse perspectives and create a harmonious collective, working towards a shared mission for humanity, striving for peace, and nurturing the well-being of self, society, and the environment. 
Conference Highlights:
1. Keynote speeches by renowned global leaders and experts, emphasizing the importance of women's perspectives and collaboration between genders. 
2. Panel discussions exploring critical issues in women's empowerment and gender equality, showcasing the unique contributions of women and the power of diverse voices. 
3. Workshops and interactive sessions fostering knowledge exchange and capacity building, empowering individuals to drive meaningful change. 
4. Cultural performances celebrating women's achievements and promoting gender balance through music, media, and entertainment. 
5. Solution Segments: Fast-paced sessions where women share their biggest ideas and solutions in 10 minutes, inspiring and enlightening the audience. 
6. Audience Engagement: Interactive polling and activities provide a platform for attendees to share their thoughts, perspectives, and insights. 
Be inspired by the lineup of distinguished speakers, including: 
HRH Princess Basmah of Saudi: Award-winning Advocate for Empowerment, Fourth Way Law adopted by EU

Ambassador Chowdhury: Former United Nations Undersecretary General and Champion of Women's Rights UNSCR 1325
Marilyn Tam: Former President of Reebok and Vice President of Nike, Corporate Leadership
Dr Reverend Michael Beckwith: Inspiring Spiritual Leader
Marianne Williamson: Acclaimed Author and Thought Leader
Jean Houston: Author, Human Potential and Activist
Civil 20 (C20): Official Engagement Group of G20
Rotary International: Women of Rotary
Marilyn King: 2-Time Olympian leading a panel with other Olympians/Medalist
Shaili Chopra, Founder of SheThePeople and Gytree.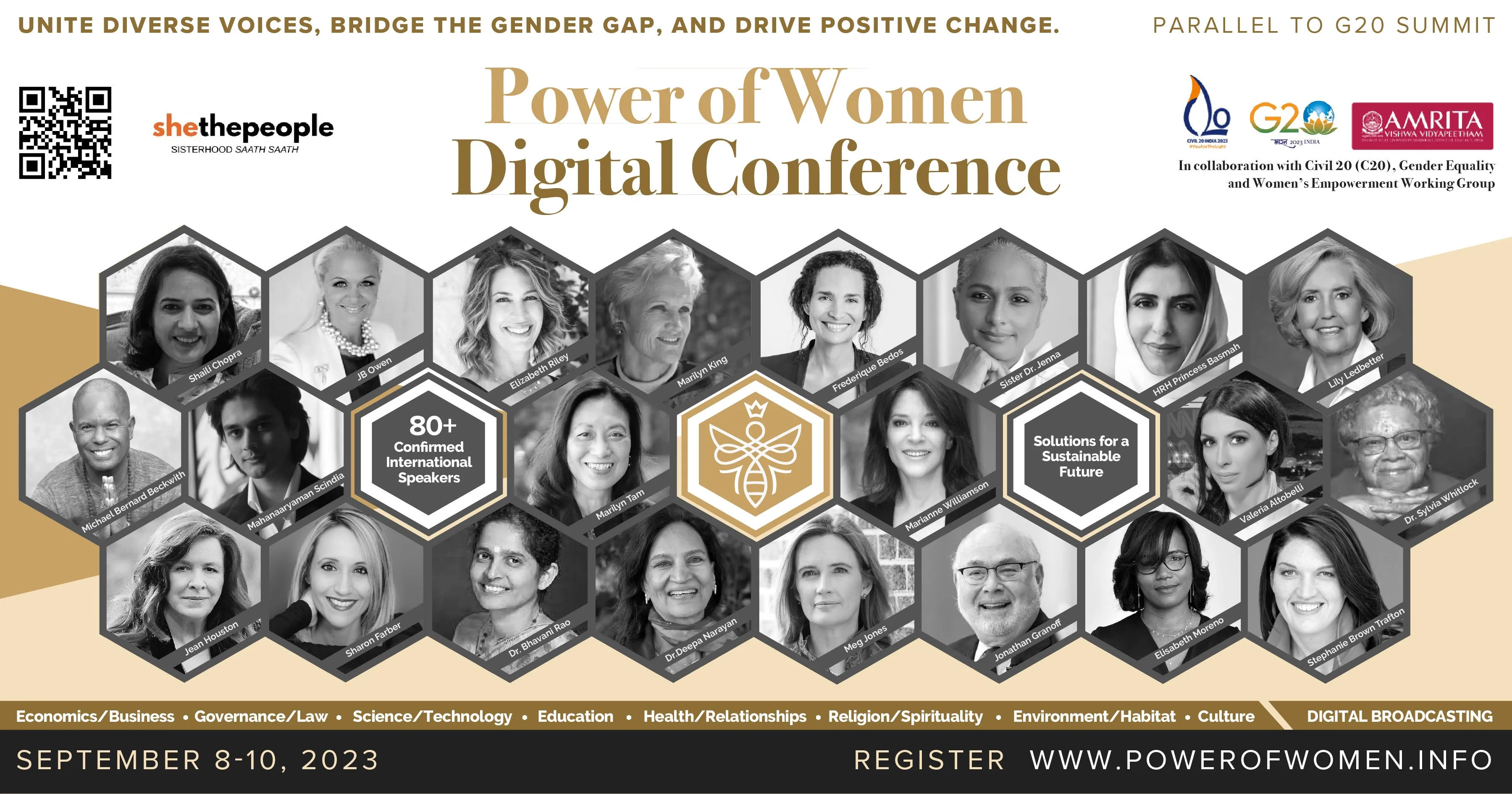 Discover cutting-edge insights during interactive sessions on a range of crucial topics, including: 
• Women in Leadership: Inspiring Change at the Top 
• Gender Balance: Empowering Women and Men Together 
• Partnerships for Social Impact: Driving Sustainable Change 
• Environmental Leadership: Women Driving Climate Action 
• Empowering the Next Generation: Investing in Youth and Education 
• Media and Entertainment: Storytelling for Positive Transformation 
• Shared Mission for Humanity: Women leading peace and well-being for all 
Power Of Women Digital Conference emphasises the importance of being reflective, recognizing challenges, and taking a solution-driven approach. Through insightful discussions, interactive workshops, and thought-provoking sessions, we encourage participants to explore innovative ideas and co-create actionable solutions to implement recommendations and best practices.
Together, we unite diverse voices, bridge the gender gap, and empower individuals to drive positive change. Let's create a world where everyone thrives, irrespective of gender, and where collective action leads to a brighter and more inclusive future.
Register here: https://www.powerofwomen.info/attendee-d-conf23
---