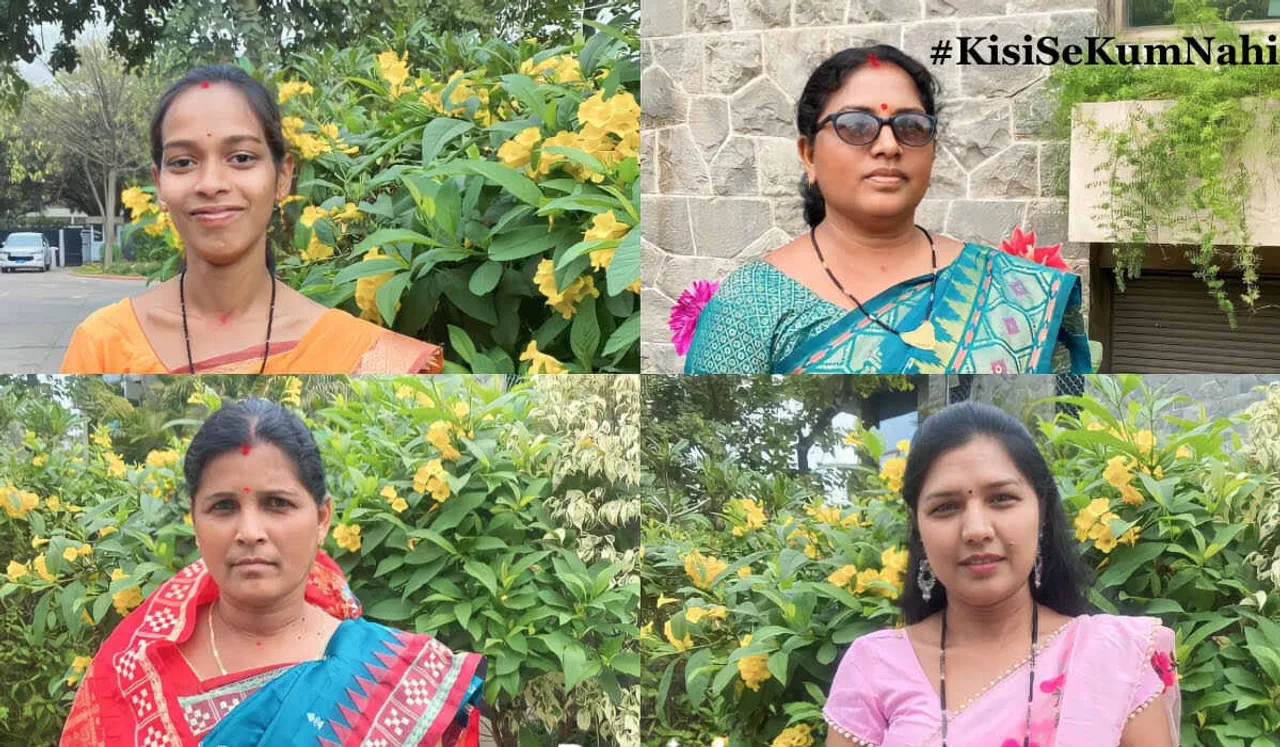 Give women an equal platform and see how they reclaim their spaces and do wonders with the opportunities they are given. At the India Commemoration of International Women's Day 2023, I witnessed an impeccable visual where women from all walks of life arrived in the capital from regions most of them had never left before and when I asked them what they were most grateful for, they unanimously stated - an opportunity.
They were celebrated for their work, their independence, and their drive to transform their lives and their families'. This is another significant reminder of why we must recognise and celebrate women every day and do more to bridge the inequality that's still prevalent in our society.
Grassroots Entrepreneurship Stories
#KisiSeKumNahi isn't merely a hashtag that is used once for an event and it goes into oblivion. It ignites a larger story, rather multiple larger stories of women who are just getting started.
When I asked Chhaya Borse, who runs a tailoring shop, what she gained most from her business she said it was an understanding that she had certain abilities in her, something she never had perspective towards earlier. Chhaya was 14 when she got married, so chances for her to ever imagine she would do anything on her own later in life were bleak.
How often have we heard that someone had to drop out of school owing to a lack of resources and worsening financial conditions? How often have we heard that it's usually women who form a huge percentage of these school dropouts? Well, almost always. Kalpana Sahoo's story is no different from hundreds of thousands of women who have had to leave their studies midway. Sahoo took the first opportunity she got to beat the odds and change her life, which was either dictated by the circumstances or the men in her life.
Under the UN's Second Chance Education and vocational learning Project (SCE), she went back to education and pick up the books she once had to sell off due to fewer resources. "I remember how I had to give away my books, whatever little I had collected, in exchange for money because that was the need of the time. With this project's help, I studied again and I am now a proud secondary educated person," says Sahoo who is currently pursuing her graduation at Kamakhyanagar general college in Dhenkanal, Odisha.
Of Second Chances
I mention 'second chances' time and again because a lot of women I came across grew only after the chances they got much later in life. A story that fascinated me was Madhu Khoiwal's from Rajasthan. Having dropped out of school just in class 5, Khoiwal had never once imagined she would study again. "That's something that I left behind," she says. I ask her did she, even for a bit, have the urge to pursue education again and she responds, "I did eventually when I realised the world actually has started valuing women's education needs."
For decades, women like Madhu Khoiwal were, in her words, "living normally but felt something missing despite a loving family." When I ask her what was it that was missing, she responds, "My identity apart from my family. You see, for years, everyone in my family had a purpose or did something that gave them fulfilment, and I kept wondering what was it that I needed to do." This is what resonates most with Sangita Majhi; having a purpose of her own.
Majhi became a puffed rice entrepreneur when she learned that there is a scope of business in the area. 25-year-old Majhi not just did well for herself but also for the women around her. She became a torchbearer of change and paved the path for many women who dreamed of stepping out of their homes to earn a living.
Making a difference
Forging an identity and earning a livelihood doesn't come easy for most women. For Sasmita Nayak, having to move out of her home at 19 to support her family financially came at a cost. Nayak, one of five siblings, parted ways with her education so she could work. In Sasmita's words, "the journey of becoming 'aatmanirbhar' has been empowering," because she gained an identity through it all. "Yes, I came across a difficult time and faced challenges but I decided to turn them into opportunities and persisted anyway," she says. While Sasmita did not have an option back then but to just pick up the pieces and work hard to sustain herself, she decided to learn along the way too.
Malati Kadraka's journey, though not similar, follows the passion as Nayak's. Kadraka was clear from the very beginning that she wanted to work independently without having to leave her village. Having helmed her own shop, she also started working as an agricultural marketer and assists the farmers in her villages to understand the dos and dont's of the business. She explains, "I try and gain as much knowledge I can to learn about the agricultural economy in our region, and that helps me pay it forward to make farmers aware. Tapping the power of digital media has been a huge part of where I stand today."
Kadraka also wishes to work for the women farmers who often do not get their due as being major contributors to India's agricultural economy. "Women work so hard in the fields without realising that they are integral pillars of the region's agricultural growth. They must know that and they must be given their due," she says. The entrepreneur is now set to install a photocopier in the village and is excited to keep her options open to explore more.
Talking about making a difference, Harshada Kadu did not think she could ever make one. But she did, and how! Having been a homemaker and a mother to two children, she assumed her life was limited to her family and her house. It was a severe phase of financial crunch when she realised that she cannot just sit at home at a time when the expenses were skyrocketing, and her spouse's income wasn't enough for them to sustain. Interestingly, going out to work gave Kadu more than just money; it gave her independence and, more importantly, a purpose. Kadu, who works as a sanitary napkin distributor, not just merely contributes to distribution but also spreads awareness about menstruation and menstrual hygiene in remote areas of Maharashtra.
We see several households where women do not hold any decision-making power even for themselves, leave alone for the family. This is what needs to change if we really want India to rank top when it comes to equality. We cannot merely bridge the gender gap in the economy by writing it on documents; going to the grassroots and lifting women up will go a long way in achieving our goals. Sulochana Hembram's story shows why.
Hembram, who quit her education right before marriage "following the norm" around her, came back to studying four decades later. "40 years later, I was learning again. It wasn't easy but it was important and I persisted." Hembram is not just making decisions on her own for herself, but also for her family members.
It's true, if given a chance women can rise to every occasion but are we giving them enough equal opportunities, if not more?
Stories from the grassroots are important because they paint a real picture of an India that is trying, and progressing, whilst still needing a push to bring forward voices of women who are blurred in the background. Any attempt into doing that is half the battle won. 
These conversations are part of the #KisiSeKumNahi series. UN Women India and SheThePeopleTV come together to celebrate women's leadership with #KisiSeKumNahi, tales of women's empowerment.
---
Suggested reading: Back To School, 30 Years Later: How Chittorgarh's Madhu Redefined Her Timeline