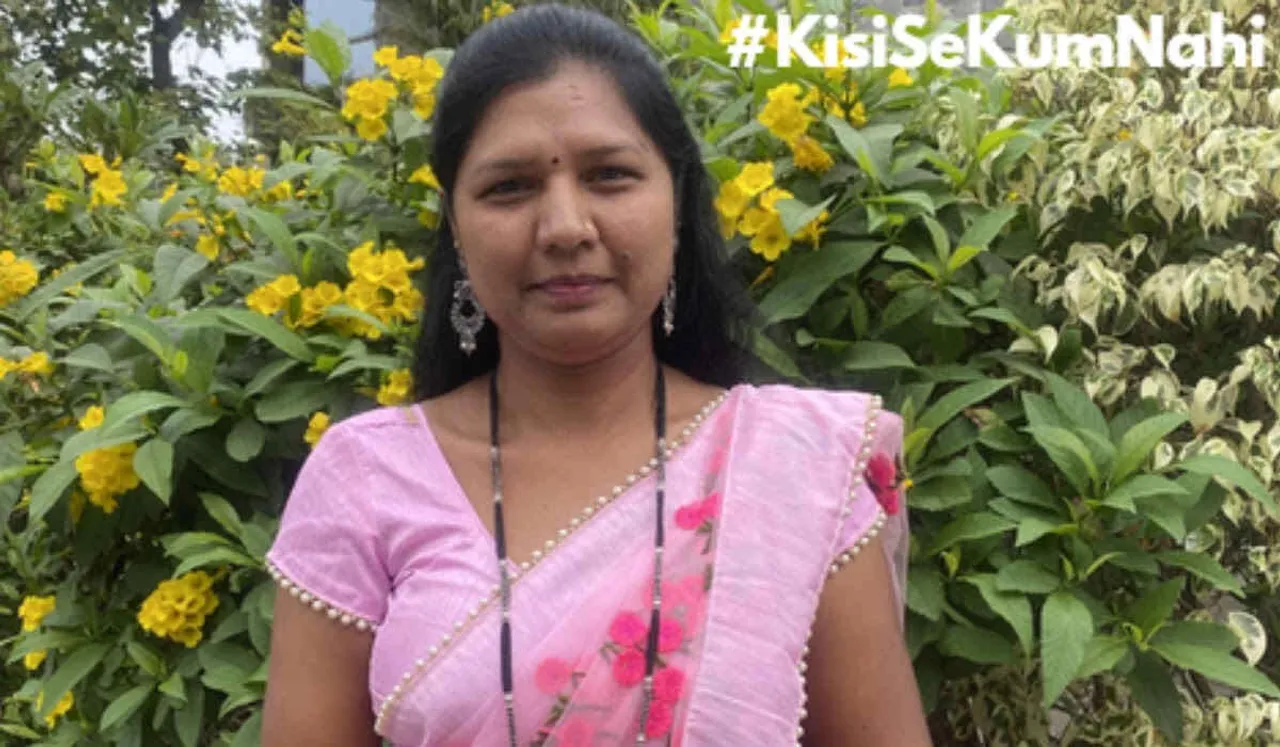 At the India Commemoration of International Women's Day 2023 at the UN Women's Country Office in the capital, we witnessed an impeccable visual where women from all walks of life arrived in the capital from regions most of them had never left before. They were celebrated for their work, their independence, and their drive to transform their lives and their families'.
One of the many women that were honoured here was 40-year-old Chhaya Ramesh Borse, a native of the Nandurbar district of Maharashtra. I'll address her as Chhaya because it's her identity apart from her husband's that she is extremely proud of, something she has consistently worked hard for.
In a candid conversation, Chhaya talks about entrepreneurship, why her identity matters to her most, what financial independence means to her and why it's integral for women to reclaim their spaces.
Chhaya Borse's journey
Chhaya was 14 when she got married. She had her first child at the age of 15 and gave birth to her second one at 17. As someone who knew nothing about going out and working, she has surely come a long way. "Back then, my husband hardly earned twenty rupees, it did not help much and, to top it, he used to stress drink a lot. I had kids to feed, the expenses had increased to an extent that I decided to work from house to house as a cook," she recalls.
Chhaya used her love for cooking as a step to generate income. She went from house to house, cooked and earned some money which helped her sustain her household to some extent, if not more. The problem arose when her husband prohibited her from doing so. Her husband's restriction on her going out to make a living did not stop her this time. She went behind his back and worked anyway.
It was in between one of her cooking stints when she came across a government school where an organisation helped local women learn skills like tailoring after school hours. Chhaya got interested in the line of work and enrolled herself in the project. Ask her how the experience was and she gladly responds, "To be honest, I did not have extra cloth material to learn but I used my mother's old cotton saree, split it into pieces and learned to make blouses out of the cloth."
Chhaya calls herself a fast learner, and that she is. In less than a year, she learned the entire art of tailoring and could comprehend any design after taking a glimpse at it once. "I started my own shop soon after and now I am a proud business owner," she shares.
Why sisterhood matters
In the ten years that Chhaya hustled to make her own identity, she often wondered about the women in her village. With every ounce of confidence she earned for herself, she also wished for other women to have the same too. Through her association with Chaitanya, an organisation that works towards women's economic empowerment in rural India, she helped bring around a hundred women to the forefront. "To see them thrive and have their own identities is wonderful. It shows how far we've come and I couldn't be more proud."
How the digital world empowers her
Chhaya could not pursue her studies but she ensured her kids don't miss out on education. Her children who are currently in their undergraduate studies help her understand social media now, and she proudly shares that. "My girl teaches me everything about it and helps me grasp the latest trends too. I use digital media  for advertising and billing purposes as well and it just makes my work easier."
Financial independence
For someone like Chhaya who feels elated using her own name sans her husband's, being known by her name feels like an achievement. "I have an identity too. There was a time when I felt like I was nothing - I was known by my husband's name. Not anymore. Earning my own money has not just given me decision-making power, and I would not trade it for anything in the world," she reflects.
"I have an identity too. There was a time when I felt like I was nothing - I was known by my husband's name. Not anymore. Earning my own money has not just given me decision-making power, and I would not trade it for anything in the world."
A message to women
Having worked hard across decades, Chhaya knows what it takes to continuously evolve one's skills. Hard work and talent, she says, are the two pillars that will eventually fetch one success. We ask her what she wants to convey to women, and she says, "Please tap on your skills and work further towards building them. Do not depend on anyone and choose your own path. No one has that kind of power like we women do and we can achieve anything if we put our heart and mind into it."
This story is part of the #KisiSeKumNahi series. UN Women India and SheThePeopleTV come together to celebrate women's leadership with #KisiSeKumNahi, tales of women's empowerment.
---
Suggested reading: SheThePeople Collaborates With UN Women India To Strengthen Gender Equality Awareness