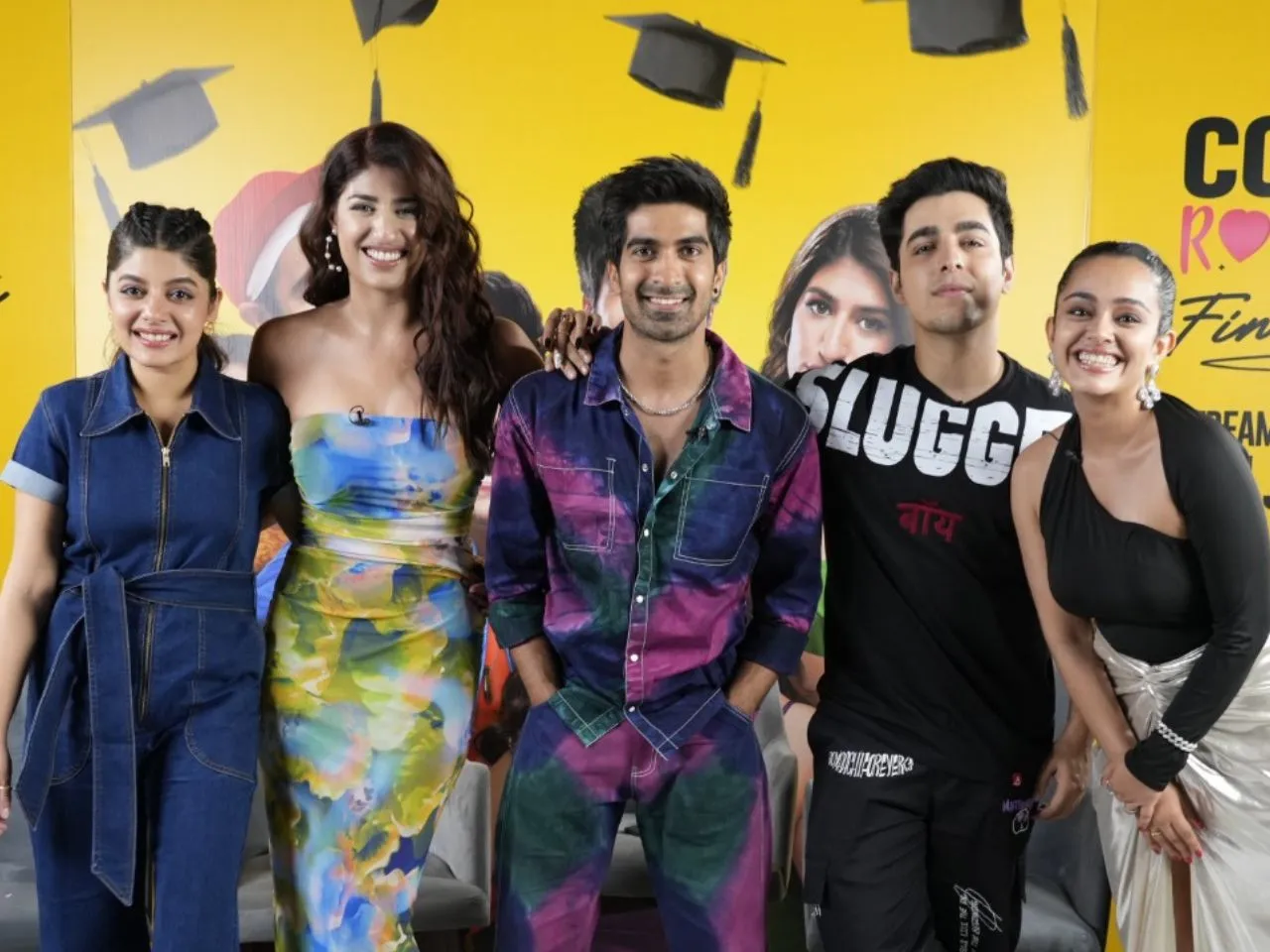 The eagerly anticipated finale season of College Romance has been released today. Season 4 has garnered heightened excitement among its fans thanks to its signature mix of fun, drama, and thought-provoking exploration of themes like friendship, love, and significant social issues.
In conversation with SheThePeople, Apoorva Arora and Shreya Mehta, who portray Naira and Deepika in the series, shared insights into their characters. The characters, Deepika and Naira, are both depicted as confident and outgoing; both the actors shared if these traits are similar to their real-life personalities. Shreya shared that, "I wasn't feeling relatable with this character in 2018 when it came to me. I used to find this girl weird, but I do relate to her now." 
College Romance Cast Interview
The actor explained how her character has had different relationships throughout her college life, and she has been very confused about what she wants in real life, which makes her now connect with this character a lot.
She added, "It's okay to be in different relationships to find the perfect aura, that perfect click. That takes time. This is what I've learned from her. Just be strong and love yourself. It's okay if you don't like the relationship; get out of it and move on. I like that part about Deepika. I kind of relate to that."
Apoorva shared, "I feel like Apoorva and Naira are very different from the beginning itself. Of course, there are overlapping aspects of their personalities."
She explained by giving an example: one similarity between Apoorva and Naira is the habit of tying a group together. Like Naira, to whom everyone will come with their problems. That used to happen to her too, because she has a habit of listening. Meanwhile, a big difference she finds is that Naira is very inclined towards Bagga and that her life revolves so much around her boyfriend. 
"The problem for me is not like that in real life, where not everything is about a man. A part of it could be dedicated to a guy, but my entire life would not revolve around a man."
Arora also shared one of the qualities that she admires in her character's personality and that she too wants to have in her life. She said, "I think she is okay to fail, and that's what stands out for me. She understands that failure is part of the game." The actor went on to say, "Life isn't always smooth sailing or consistently level. It's crucial to understand that failures are a part of life, and often we aren't taught how to handle them effectively. We're taught to focus on winning and achieving first place to gain respect, but that mindset isn't entirely right. Life is also about enjoying the small moments and having fun, regardless of whether we come first, second, or not at all. This quality of Naira that everyone should have."
When asked about how she sees the graph of her character's personality changing, Mehta shared that in Season 1, she observed that the character Deepika seemed confused and focused primarily on herself. However, in the present season, she believes that Deepika has matured and developed the ability to listen to others. While Deepika may not engage in extensive discussions, she genuinely listens and understands people in her unique way. She added. "This growth was challenging for Deepika, as she had to come out of her selfish mindset and comprehend others' perspectives."
Mehta also mentioned that Deepika's understanding of her own desires and her exploration of her sexuality, previously seen in Season 3, will be further explored in Season 4. Overall, She acknowledges the significant layers and maturity added to all the characters in the show.
Talking about the highlight scene in the trailer, where it seems Bagga is just planning to propose to Naira for marriage, but she seems unhappy about it, Apoorva shed some light on their relationship. She said, "It's just because they are kids; they are college kids. Bagga thinks from the heart; Naira thinks from the mind. Bagga wants to get married in the future. So he proposed. Naira is not ready; she thinks too much. She is an overthinker. So I think that any college girl will have 10 questions in her mind. Whether she wants to go with it or not, no matter what feelings she has for the boy So I think it is necessary for anyone to have confusion."
Discussing how this situation reflects the importance of open communication and alignment of goals in a relationship, Apoorva shared, "I think everything comes down to communication, no matter if you want to change the nature of your relationship, the path you are taking, or whatever it may be. I think communication is everything."
As Deepika's strong sense of self is evident throughout the series, Shreya shared how she thinks her character's confidence and self-assuredness can inspire girls and women to embrace their own identities and stand up for themselves. She said, "There are a lot of girls in India who can't speak for themselves, who are thinking, who are living, and who are not living according to themselves. I was one of them. With Deepika, whatever it is in her heart and in her mind, she speaks it out, and I think that makes her very confident."
I feel like even the audience connects with that confidence. I wish we were like that. I also think that as a woman, I wish I was as confident as Deepika, who doesn't care about anything. I think that's a very good quality you should have. But it's very tough to have.
The series, which also stars Keshav Sadhna and Gagan Arora, airs on SonyLIV.
---
Suggested Reading: Made In Heaven: Badass Characters We Love In The Show
---