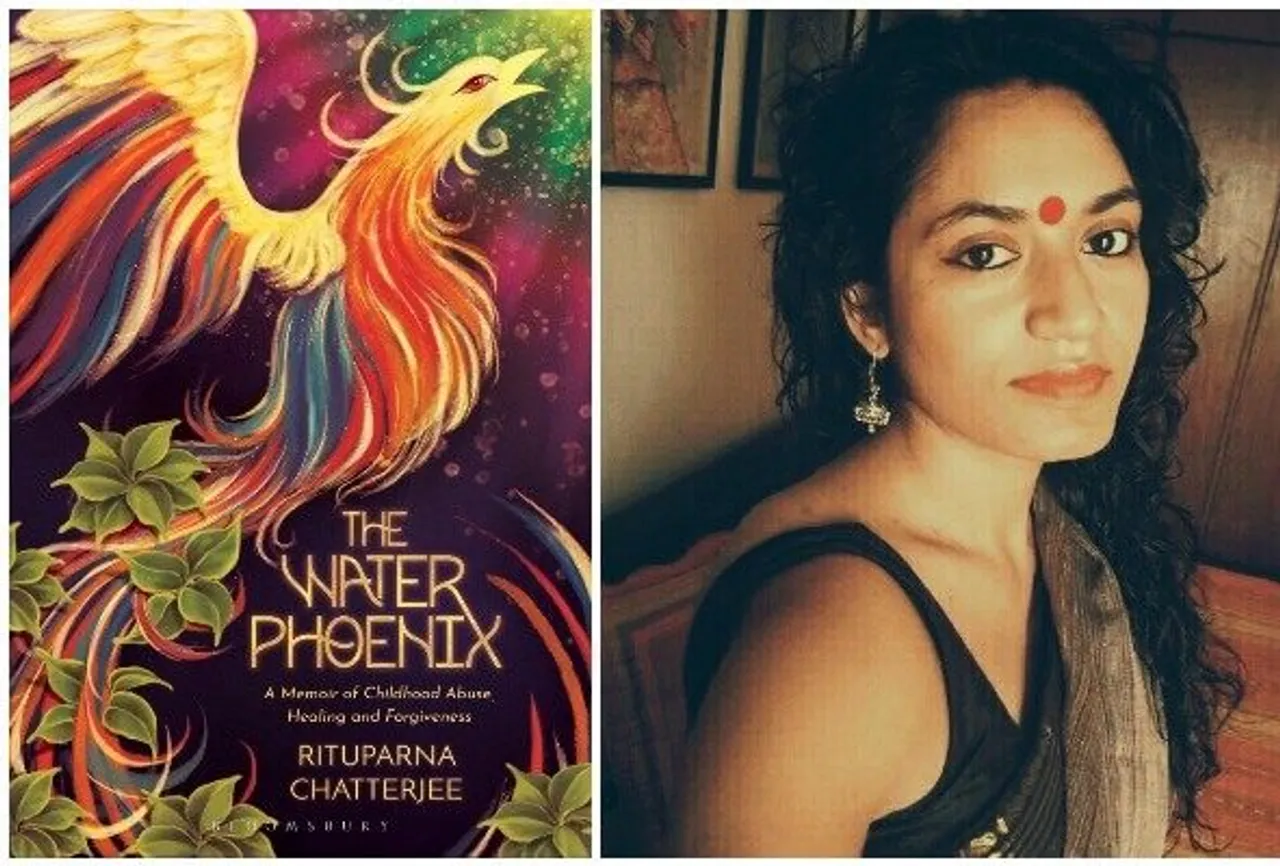 The Water Phoenix by Rituparna Chatterjee is a magic realism memoir which gives voice to the countless victims of abuse who still find it difficult to speak of their trauma in today's India. An excerpt:
My teens were layers upon layers of Shame, which turned into layers upon layers of fat. A 100-layered- birthday cake. A cake without candles. As my armour grew bigger and bigger (a Complan girl's armour) the defences of those around me grew smaller and smaller. Aunties were spilling stories they shouldn't have spilled to a teenager.
One union aunty shared with another aunty, in the presence of my glaring eyes, howusne (that person) had taken her by surprise from behind when she was 'her' (my) age. Even now (when she's in her 40s), when she sees him, she wants to punch him where the sun never shines.
In a bus, fleshy probes had emerged out of nowhere and dug into Mummy Aunty's legs, her behind and what not. Hersindoor, mangal sutra and saree, all signs that she was already a man's amaanat or property and so must be left alone (like a board saying Trespassers will be prosecuted) had done nothing to protect her. Protected by their own superpowers of invisibility, the trespassers were never prosecuted. Since then, Mummy Aunty only travelled in the very front part of the bus where probes were rare and could be seen, prosecuted and shamed. To fight Shame with Shame.
A very old aunty married to a Freedom Fighter who had been with Gandhi in jail complained how her PT sir had dropped a pen between her breasts. I wanted to ask her if this was S Sir in a past life trying to perform a physics experiment. But my good-girl convent manners held me back. Days later, the Freedom Fighter husband/uncle who loved everybody would lightly place his hand on my bottom (perhaps mistaking it for my shoulders?) for a group picture (InPlainSight yet invisible to all) and keep his hand there until the cameraman finally let us go.
Mothers of my classmates from Vapi visited me in dreams, whispering that they had protected their daughters by injecting in them the dread of men while they were still in their wombs. They said they had to perform the operation in the womb itself to avoid the accidents that their own caregivers and parents had failed to prevent.
Another aunty vaguely warned me about a union uncle who was very meek and pleasant-mannered, and liked by all and who had just been appointed as my LLG (Latest Local Guardian). Months later, at my favourite Irani cafe, where he fed me my favourite mawa cake as always, he'd begun to tell me what a blue film was, when I interrupted him quickly with comments on the lack of purple films and a general lack of purple, my favourite colour, in the world. He patiently smiled, then ignoring me, he went on to explain how in certain areas of Fort, blue films ran regularly. Would I do the honour of watching a blue film with him? (A VIP invite. A chief guest at a function.) I looked down with a poker face at the top his wife had given me and the CDs in my hand, which his son had burnt for me. His gentleness gave me the strength to directly say, 'No thank you, uncle!', as if politely refusing a glass of orange squash, like I had done at his house just half an hour ago!
Another aunty had chai with another aunty, telling her about her own abuser during her childhood in Satara. And it seemed she knew many of them. Clearly, an abuser was not a person but a disease, a phenomenon, a virus, a Corona.
Also Read: Book Review: Isher Judge Ahluwalia's Memoir Breaking Through Is Luminous And Inspiring
Stories of abuse would rain on me for life. Way before I had discovered that even my feminist role models, Madonna and Lady Gaga, had both been raped. And years later, married friends would reveal how their bodies were like countries colonized by abuse. How they hated it when their caring husbands touched them gently, lovingly in places where abuse had housed itself lifetimes ago in their childhoods, triggering memories of shame, hate and anger, leaving no space for love. Another told me how her sister was a 'bitter bitch' who hated everyone because she had been raped as a teenager and how she couldn't risk vulnerability to hold on to friendships or any kind of relationships. Why was I a magnet for such stories? Was that which was hidden in me, InPlainSight, visible to others? Was I them and them, me?
The collective's wounds were an iron corset which got tighter and tighter, making breathing impossible. There was no manual for processing this. I got angrier and angrier, living in hate, blaming everyone who should have protected me/us.
Also Read: Book Review: Queeristan Is A Guide To Building Inclusive Workspaces
Excerpted with permission from The Water Phoenix by Rituparna Chatterjee published by Bloomsbury. 
Love books? Follow authors? Join the SheThePeople Book Club On Facebook. Click Here