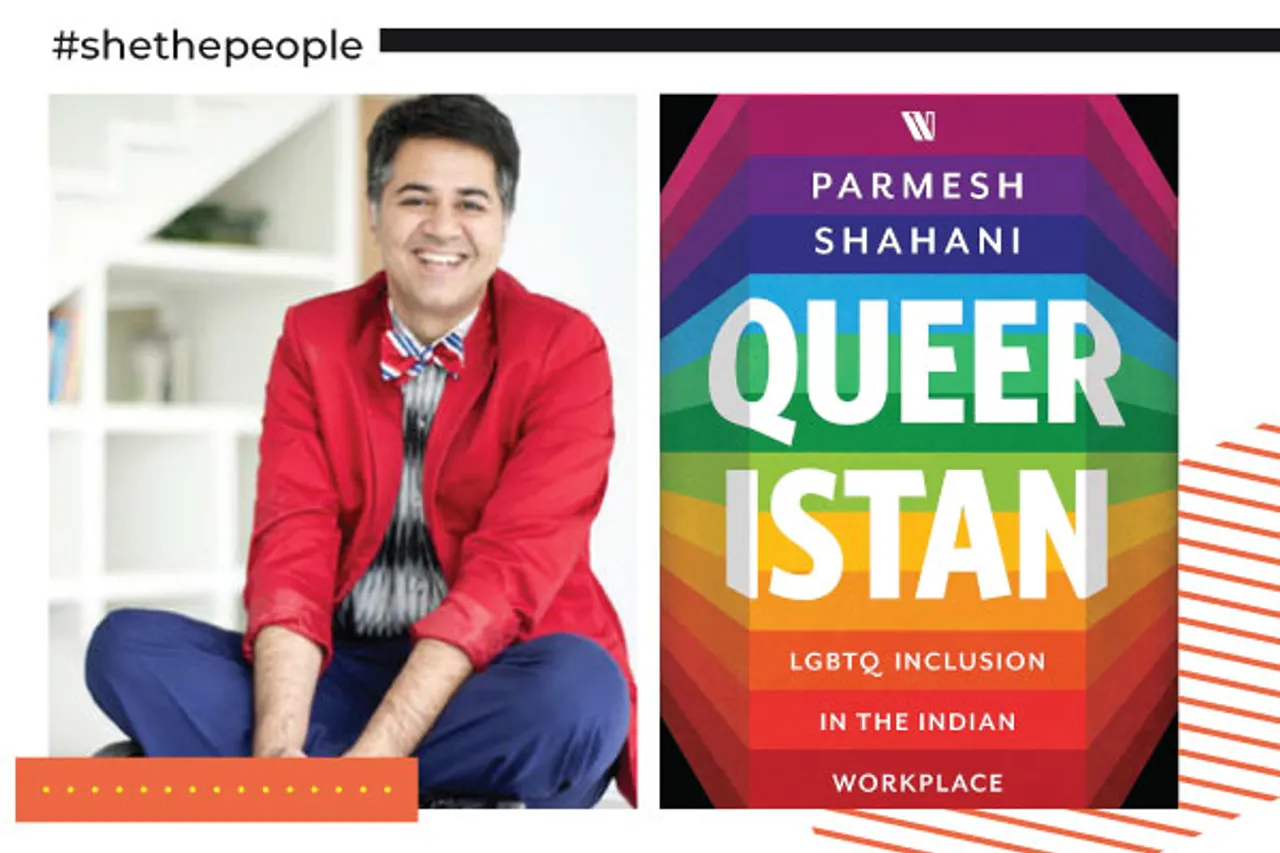 Decriminalisation of homosexuality is a crucial step for the queer community in India. However, unless legal landmarks transform social realities then such pivotal judgments remain tokenistic.  How do we then transform our social realities to make them more inclusive and queer-friendly? Workspaces form a crucial aspect in the dialogue for inclusion because they form an integral part of living and making a living.
Queeristan written by Parmesh Shahani is a book that makes a strong case for the inclusion of members of the LGBTQIA community within workspaces, especially in the corporate sector in India. Written as part memoir, part manifesto, the book has something to offer to a wide range of readers. Whether you are a queer person interested in anecdotes about being queer in a workspace or human resource manager looking to revamp the anti-discrimination policies in your firm, this book has something to offer.
Also Read: Book Review: Mohanaswamy Is A Tale Of Being Gay In Modern India
Tokenism vs Inclusion
LGBTQIA communities have suffered from tokenism in popular culture representations. Tokenism is a practice of making symbolic efforts to include members of under-represented community. This could include, in the context of LGBTQIA inclusion, celebrating pride month or displaying a rainbow flag. Shahani alludes to these practices of tokenism in the book, about how these gestures are empty if changes are not brought about in institutional policies. For example, an organisation could be celebrating pride month every year in June but failing to provide medical benefits for same-sex partners. Shahni maintains reservation for such practices because they are not inclusive.
The idea of inclusion embedded in the book includes employing more queer people, extending benefits to partners by making them gender-neutral, providing leaves to genderqueer and transgender people for their particular medical needs, like hormone therapy or gender affirmative surgery. Policies like these, customised to meet the needs of queer people make work-spaces inclusive. In the book, tokenism has been discussed with a healthy dose of scepticism and the push is towards inclusion.
Also Read: These Five Queer Musicians Should Be on your Playlist
Changing Systems for Within
There are two terms that have been used in the book. The first being "jugaad resistance" which is the idea that changemakers and innovators must locate themselves within the system they wish to change. Instead of envisioning change to be an outsider driven phenomenon, change in organisational structures and policies must be driven by people occupying spaces within the system. The second idea is that of "cultural acupuncture" which is the experiment that has been carried out through the Godrej Cultural Labs. The idea is to create a platform for discussions on ideas and issues from a diverse set of individuals belonging to LGBTQIA communities, and individuals from marginalised and under-represented communities.
The book aims at these two crucial aspects of bringing about change. First is changing the system by being a part of it, Parmesh Shahani being an example of this, as he spoke to his employers at Godrej to introduce anti-discrimination policies to protect and include queer people.  The second being the creation of a platform where changemakers can interact with organisations on common platforms mutually benefiting both entities.
Bridging the Personal and Professional
As a reader, one of the aspects that struck a chord is the deeply personal space this book stems from.In a lot of ways, this book continues from Gay Bombay which was Shahani's first book as a result of being an active member of the queer community in the city. With changing professional roles, he became a part of the corporate sector, this book stems from having worked in that space for decades now. It is a first-hand experience of having impacted policy change at an institutional level. This book creates a handbook of hope that tells its audience such changes can be replicated to create equal and inclusive work-spaces.
Also Read: We Need To Be Represented By Our Own: Harish Iyer On Joining Politics
As we mark the second anniversary of decriminalising homosexuality in India, Shahani is aware of the long-drawn uphill task to equality. The book is cautiously optimistic and is not afraid to take critical stances when required. While he is hopeful that post the judgement there will be a surge of inclusion of queer people within working spaces, he also cautions us of the pitfalls. The book is a labour of love and the result of having experienced change from within systems.
Priyanka Chakrabarty is an intern for SheThePeople.TV. The views expressed are the author's own.