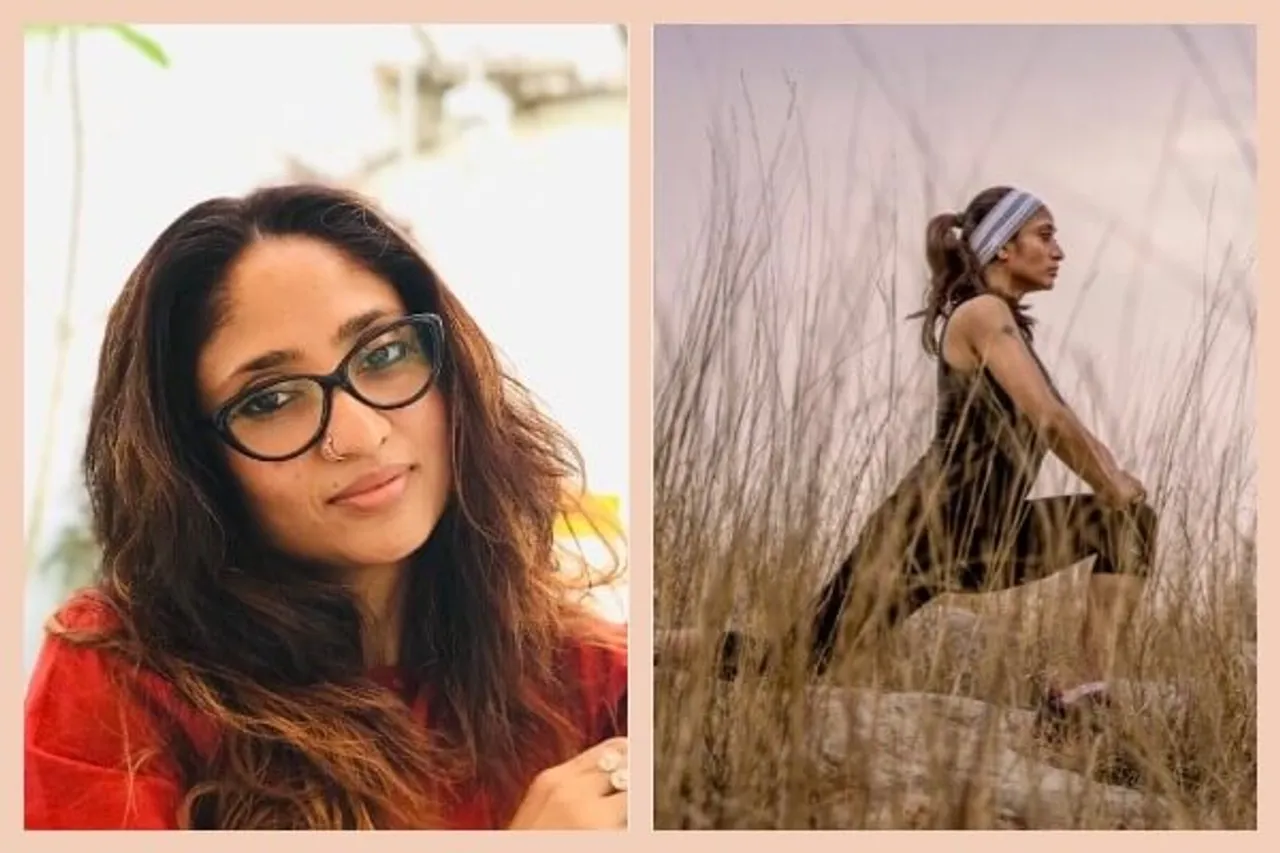 As a  Fauji wife, Priya Agrawal Roongta has led a nomadic life for several years and in the process, juggled between different fields of work including interior design, catering business, personality development instructor and a business development manager, until she found her calling as a Holistic Fitness Professional. Currently based in Gurgaon, Priya started her brand, FIT WITH PRI, about four years ago, after realising that she has always been naturally drawn to fitness and this is the field she would like to grow in. 
In a conversation with SheThePeople.TV, Priya Agrawal Roongta talks about contemplating liposuction, her fitness journey, motherhood and how mothers must prioritise their wellbeing, especially amid the COVID-19 crisis.
Tell us how you started your fitness journey and what inspired you to take this path.
I have been very active since childhood, always up and about and very sporty. After my son was born I had put on a lot of weight, which is okay. However, I started becoming very uncomfortable with the way my body was responding, which then affected my wellbeing. Post trying several things which didn't work for me, my mental frustration came down to a point where I even considered going for liposuction. I didn't go for it as not only was it beyond what I could spend on, but I also realised that my wellbeing was only in my hands. After nearly three years of my delivery, I found stability to be able to follow a routine that I had made for myself. I followed workout videos, used some equipment that was available, but I did not have all the knowledge that I needed. Essentially, I became more active, I cut down on unnecessary diet and eventually got back my fit self. This fitness made me energetic, happier and gave me a lot of self-confidence. 
Post trying several things which didn't work for me, my mental frustration came down to a point where I even considered going for liposuction.
I knew that with a background in science and nutrition and the fact that I enjoy being active, it would be a great idea to step into the world of fitness professionally. It took me eight years to do my first professional fitness certification since I was constantly moving cities. I needed to be in a metro city to be able to pursue my dreams.
This entire journey, post-delivery, made me realise that we women must go easy on ourselves and our bodies, as everything takes its due course of time and it is our mental wellbeing that needs to be prioritised during the pregnancy and post-pregnancy period. 
You're a certified Pilates Instructor. What drew you to Pilates?
I had finished my Reebok Group Instructor Certification and as a part of the module, they had introduced us to three different types of workout, one of which was a Pilates workshop. I immediately fell in love with Pilates and wanted to take it up further. I went on to get certified as a Pilates Mat Teacher. It's a very safe and effective form of exercise that brings a lot of internal changes that I have experienced myself. Today, I teach and practise it as a part of my routine regularly. 
Besides Pilates, I am also a registered yoga instructor which has finally added that missing link to all my learnings so far. Pilates has taken a lot of its inspiration from yoga and having learnt both makes me equipped at a different level.
How has your experience been working as a freelancer and an entrepreneur?
I love my freedom and freelancing helps me achieve my goals. It's not an easy road being an entrepreneur because you have to be disciplined and motivated to keep going. But it's rewarding to be recognised by your brand and your achievement is yours for all to see. 
With FIT WITH PRI, I also intend to collaborate with various organisations and individuals. I believe it's important to create awareness when it comes to holistic wellness.
While self-motivation and self-discipline are the primary factors when it comes to attaining a fitness-inspired lifestyle, it is also very difficult to find the right kind of motivation. What according to you helps in building that? 
Self-motivation is intrinsic to me. To be able to achieve it, one needs to find a purpose in life, once you have a purpose you need to create a space for that purpose in your mind and life. You need to surround yourself with people who will believe in you and keep you going. I also believe in working around hindrances and continue to focus on my goals, taking baby steps and before you realise, you are where you want to be. Also, being accountable is extremely important as nothing can be achieved overnight, hence patience goes a long way in achieving a fitness-inspired lifestyle. I believe that self-discipline is a learned skill. The main key points one needs to keep in mind is to know and acknowledge your weaknesses, overcoming temptations and setting clear goals. It's important to keep it simple and schedule breaks. 
One should also be willing to let go of many things in the process too. Self-confidence is one of the byproducts of being self-disciplined and the results make you that. Also, remember to go easy on yourself and understand the process that suits you.
How important do you think it is to remember how one is going to feel at the end of the fitness regime instead of how one is going to look?
Exercise makes you feel good because it releases chemicals like endorphins and serotonin that improve your mood. It reduces stress and symptoms of depression and anxiety and helps with brain health and memory. The rest of the physical benefits like weight loss and inch loss are just the by-products of a good fitness regime. 
Feeling good is far more important when following a fitness regime while looking good will happen anyway.
Who are the women that have inspired you?
My mother is a very strong and resilient woman and I have inherited that quality from her. I take inspiration from women I meet everyday, common women with normal lives who have made a mark for themselves in their own little way.
How has your experience of motherhood been? How have you dealt with the challenges as a mother?
It's so beautiful to create a life and see that life bloom. It's been a learning experience for me to be a mother. Nobody comes with a perfect motherhood recipe. I believe in being a caring and not a controlling mother. My son who is now in college has always been a source of joy to me and is such a beautiful blend of all the good qualities. He has taught me to be patient and forgiving.
It's so beautiful to create a life and see that life bloom
Fortunately, my son has been pretty much independent from the time I started taking things professionally. And even if I faced a time crunch, I did not shy away from hiring external help to be able to manage home. I have been blessed with a great support system who I could rely on.
Also Read: Please Let's Not Treat Motherhood As A Competition
For centuries now, women have ignored their fitness. If you were to tell women why fitness is important for every woman, what would you say?
The most often repeated advice to women is that, as women, we play a major role as a caregiver, irrespective of how high we rise professionally. Investing in a preventive routine will save a lot more on our medical bills and the trouble of treating ailments that would arise because of our bad health. 
Self Care is not being selfish. Unless we are able to give priority to our own health we can forget about looking after our family, leave aside striving to excel in our jobs with ill health.
Your advice to people who are starting their fitness journey? 
Be patient and consistent. Taking professional help also goes a long way. Remember to never give up as everything takes its own course of time. It's necessary to set realistic goals.
What would you like to advise those who are looking to make a career in the field of fitness?
You must do your certifications from reputed institutions and keep them valid. Keep learning constantly since this field is very dynamic. 
Always have your valid CPR certification and never play with people's health.
In these times of COVID-19, how are you handling your regime during the lockdown?
I wake up at the crack of dawn and meditate for 45 mins followed by an hour of dedicated workout. I do Yoga and Pilates three days a week alongside strength training, TRX and other equipment rest of the week. It gives me peace, focus and a sense of wellbeing. I cook wholesome tasty meals which keep me energised. Cleaning the house and doing other everyday chores does tire me out completely but I make sure I get eight hours of sleep in a day.
Considering the lockdown, what do you suggest can women do more of in order to remain mentally fit and better their immune system?
A stress-free body has a higher immunity level undoubtedly. So counter your stress through regular Pranayama practice in the mornings. Having immunity building food will also go a long way. Haldi with black pepper, ginger, giloy, amla, A2 Cow ghee and chyawanprash are some of the foods that build immunity. Incorporate these in your daily diet. Eat light wholesome meals. Sleep for 7-8 hours at night. Maintain a healthy routine since it's easy to let go of a routine at this point. Stay positive and active.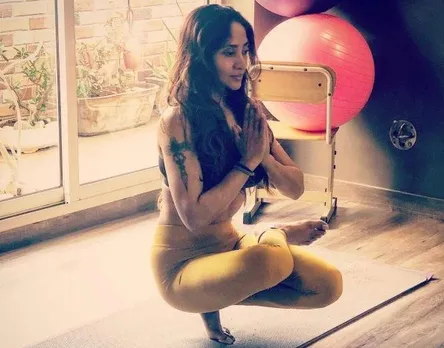 Priya Agrawal Roongta
In these times of panic, what is your advice to mothers when it comes to handling their children and their mental and physical health as well?
Children are like a sponge, they absorb everything from their parents. So, it's imperative for parents to maintain a healthy mental and physical health. Make it a part of the day to be active through house works and indoor activities like dancing or hide and seek, etc. Use the media to create a happy environment. I find playing soothing music very therapeutic. It's vital to talk to the children and make them aware of the present situation, but don't over discuss the pandemic and create panic within the family. Create a family ritual for something everyone enjoys for example cooking or playing a board game. 
Lastly, and most importantly, find some time when you can relax and unwind between all the additional housework to stay calm through the tough times.
Also Read: Meet Geeta Poduval, Who Founded A Platform For Differently-Abled Artists