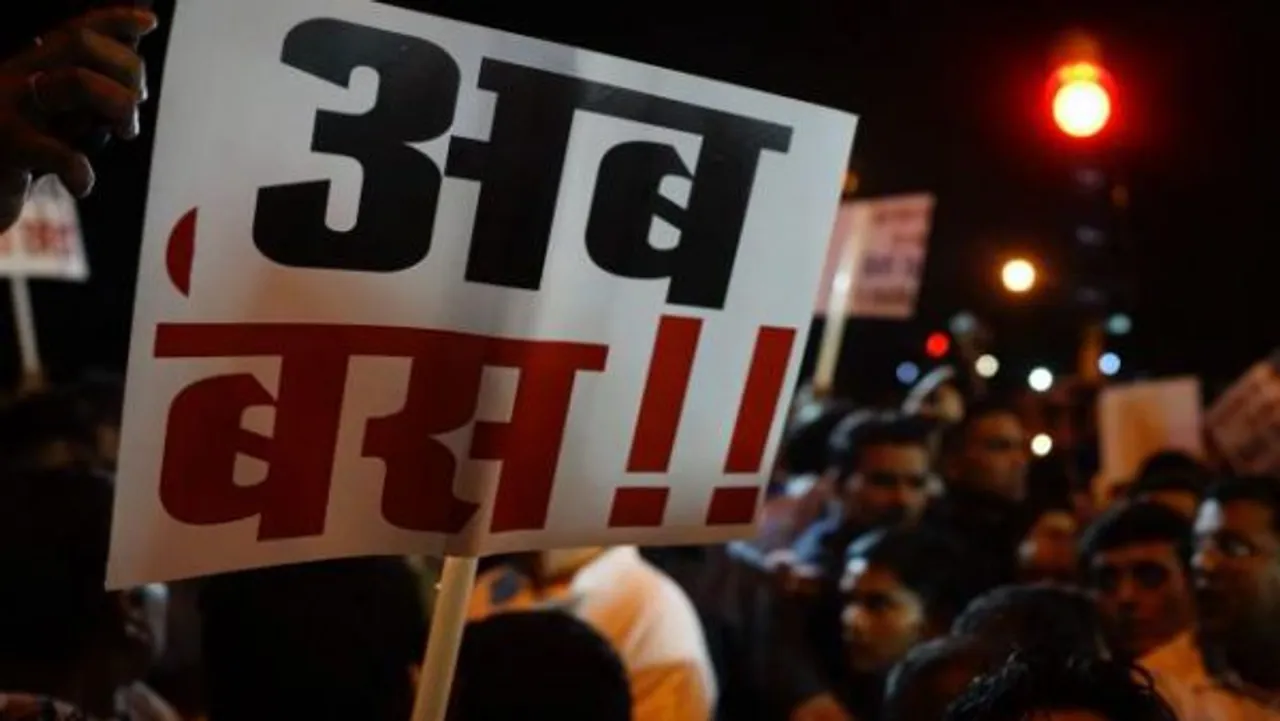 India awoke to tragic news this morning of yet another girl succumbing to death caused by gangrape mutilations. The incident happened in Hathras, Uttar Pradesh, on September 14, where four upper-caste men reportedly raped a 19-year-old Dalit woman. Her tongue was cut, spinal cord damaged, and there were attempts of strangulation among other serious injuries. She died in a Delhi hospital today. Journalists, thinkers, entrepreneurs, netizens are all ablaze with fury at her death, with people rallying for swift justice to be brought to the four perpetrators.
The outrage is similar to the aftermath of the gangrape incidents from Delhi and Hyderabad, which had come under exclusive national spotlights in 2012 and 2019 respectively. Both incidents had ended with their perpetrators dead under different circumstances. The accused men were killed by the state (the former by execution, and the latter in an encounter). There were wide cheers then, claiming these were necessary steps towards curbing the rape problem in India. And yet, Hathras gangrape happened, among the hundred others reported and a thousand others unreported.
The accused in Hathras case have been arrested. But what course should the law take in bringing them to justice? Does the answer to ending rape lie in capital punishment at all? How many more Hathras, Kathua, Unnao, Hyderabad, Delhi incidents have to occur before some serious measures are implemented? Even if they are, will the law be able to overrule mindset?
Also Read: Woman Boxer Suman Kumari Abused, Assaulted On Her Way To Work
Can Capital Punishment Solve The Rape Problem?
A study claims that a woman reports rape every 15 minutes in our country. The lockdown this year too hasn't been much of a blessing. We reported how rapes haven't curbed even as COVID-19 numbers rise. So why is this particular case causing exclusive outrage? Perhaps because it is a layered issue - aside from being gangrape, it was a sexual crime reportedly caused per caste. The four perpetrators had been known to harass Scheduled Castes in the area, which this time, culminated in the rape of a Dalit girl.
The Hathras gangrape points out the two depravities that still plague Indian society at large, without any effective checks to stem them - rapes and caste discrimination. There are seemingly many protections given to women and SC/STs under acts enshrined in the Constitution, as well as the law and order that claims to preside over their safety. Even the death penalty - a concept that rests on questionable ethical grounds - is exercised from time to time in an attempt to stop rapes. Why then are potential rapists out there not scared? What enables them to commit these crimes without fear of death itself?
Talking about the effectiveness of carceral policies, Deepika, Founder of Alternative Justice says, "Increasing jail terms and introducing the death penalty does not curb instances of sexual violence, but rather has many unintended consequences for both the survivor and the perpetrator. Yet, a significant portion of our sexual violence response is still deeply invested in the carceral process."
Also Read: Five Actions You Can Take To End Gender Based Violence
Rape Culture, The Root Of All Evil
The bigger picture in issues of rape pertains to ignorance towards imbalanced gender structures that enable the rape culture. People baying for the blood of rapists in 2019 after the Hyderbad incident saw punishment as an action-reaction event of justice, or at least some restorative measure, that would henceforth deter crimes of the same nature from happening. But amidst the racket of celebration raised after their police encounter, the foundational issue of rape culture and misogyny, that enables such gender-based crimes in the first place, lay wholly forgotten.
Also Read: Kerala: A 14-Year-Old Girl Gangraped, Three UP Migrants Held
Capital punishment is the easier of the two roads in the movement to end rapes in the country, not to mention also an incompetent one. Did the hanging of Nirbhaya's rapists curb rapes at all? No. Did gunning down the Hyderabad rapists prevent similar crimes from happening? No. The Hathras gangrape still happened. As did other rapes in Uttar Pradesh, Rajasthan, Kerala, and most other states. Clearly, the death penalty is not a preventive measure. What then is the solution? Is there even a solution?
The only way we can embark upon finding answers to these questions lies in demanding better and doing better. We must question our administrative governments and elected leaders as to their commitment towards ending gender-based violence. We must object to the power structures that enable discrimination of caste and gender under the guise of keeping the country traditionally together. Public personalities, such as Kangana Ranaut who made a loose allusion to rape when her Mumbai office was demolished, need to be called out for their irresponsibility. All this, and more, is what feeds into the mainstreaming of rape culture. The Hathras gangrape must wake us up to the grim realities of India, and compel us to raise our voices.
Image Credit: Hindustan Times
Views expressed are the author's own.