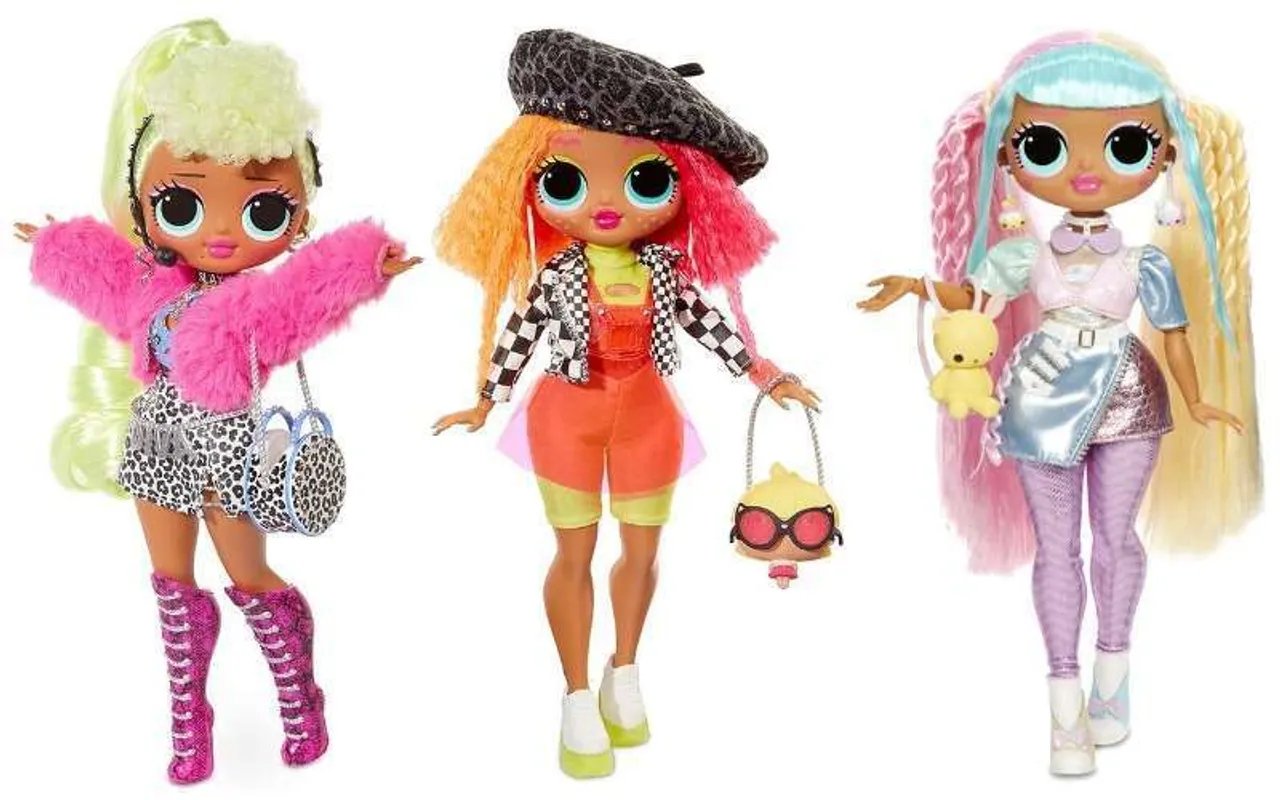 Mega retailer Toys R Us is currently facing the ire of outraged parents who claim to have discovered "hidden sexual messaging" in its wildly popular product, LOL Surprise! Dolls. A mother from Australia pointed out that these dolls, when dunked in ice-water naked, revealed signs of bondage and sexualised underwear. Her video went viral and caused a wildfire, leading to these dolls being taken off the shelves of several stores across the world.
Kate Worlsforld, a woman from Brisbane, posted a video on Facebook earlier this week, where she performed the experiment on camera. She immersed a LOL Doll in water, fished it out, and showed a close-up of how "bandages" and "shackles" began to appear on the toy's body, with the word "caution" written across its private parts. Enraged, she goes on to say, "This is the most disgusting thing I've ever come across."
Also Read: Beyond Pink & Blue: The Rise Of Gender-Neutral Toys
Her video soon went viral with over 20 million views. Reportedly, a store in Australia pulled one range of LOL Dolls off their shelves after Worlsforld's complaint. A similar outcry was raised by Dubai-based Helly O'Brien, blogger and mother to three children, who claimed, "When you put them into a bucket of ice, you'll see that they are not made for children," leading to the dolls' removal from stores in the MENA region.
Parents across social media have been coming out with similar videos like the one below.
MY FRIEND sent me this!!! This is her 5 year old daughters LOL SURPRISE DOLL !!! Not ok!!! 🤬🤬🤬 pic.twitter.com/Eoi2cIU0Kd

— Mariah (@manryuh) August 14, 2020
Also Read: Dressing Up Young Girls As Married Women For #SareeTwitter Is NOT Cool
The LOL Dolls Sexual Messaging Is Not The First Of Its Kind
This particular controversy comes trailing another similar one that happened this August with toy company Hasbro's popular Troll Dolls. Social media users reported that pushing a button on the toy's private parts releases sounds of excitement and pleasure from the toy. While these Troll Dolls were pulled from the shelves, it was later clarified by a Hasbro representative that the placement of the button was "inappropriate" but "not intentional."
While Toys R Us hasn't come out with an official statement regarding their own fiasco with LOL Dolls, it apparently does have a lot riding on it. One of the oldest and most distinguished toy stores in America, Toys R Us had filed for bankruptcy in 2017, and eventually shut down all stores in USA and Britain, leaving a $4 billion worth hole gaping in the toy market. However, it revived in 2019, under a refurbished identity and banner. And one of the products that contributed to the rebuilding of its prestige (and finance) was the infamous LOL Doll.
Also Read: Today I Learnt: The Male Gaze Has Three Perspectives
The Highs And Lows Of LOL Surprise! Dolls
LOL Dolls (short for Lil Outrageous Littles), since their launch in 2016, have fetched Toys R Us many accolades internationally, including a three-time win at the Toy Oscars, or Annual Toy Industry Awards. In November 2018, NYT reported that LOL Surprise! even hosted a fashion show in Los Angeles where celeb kids, including Kim Kardashian's daughter, walked the ramp dressed as the brand's dolls.
The thrill of LOL Dolls is that they have to be unboxed, which is supposed to contribute to the "surprise" factor. It contains sparkly accessories and colourful trinkets inside, accompanying the tiny doll. And owing to the raging success of the original LOL Surprise!, variations like LOL OMG and LOL Bubbly Surprise! have emerged. Kids don't know what lies inside the caboodle before they open it, which is why, Sucharita Kodali, analyst, quotes, "A significant success of these toys is mismatching supply and demand. It fuels the frenzy."
Despite their success, LOL Dolls have always been in the thick of controversy. In 2019, it was reported that parents were left fuming after uncovering the male LOL dolls' clothes only to discover that the genitals on display were... well, disturbingly accurate.
Also Read: Barbie Releases Dolls Based on Feminist Icons
Hyper-Sexualisation Of Dolls Can Negatively Affect Young Minds
The contract for manufacturing of LOL Dolls lies with MGA Entertainment, which is also the name behind the iconic Bratz fashion dolls. Best described as the older, more fashionable sisters of LOL Dolls, the Bratz line first appeared in 2001, instantly achieving frenzied success and clinching close to 40 percent of the worldwide fashion doll market by 2006, with the remaining share belonging to the oldest sister, Barbie.
Bratz and Barbie dolls, during their prime years, had been party to their fair share of criticism for their hyper-sexualised features and clothes, especially when these plastic figurines landed roles in Hollywood movies, where they dressed provocatively, spoke sexily, and made-up heavily. Sharon Lamb, a member of the American Psychological Association (APA), said that exposure to such "sexualisation" in toys can affect gender development in both young girls and boys.
Also Read: Netflix Issues Apology For Inappropriate Artwork That "Sexualises" Young Girls
And not just toys, but overt sexualisation of children themselves is being strongly protested against. Recently, Netflix faced backlash for promoting the poster of its new film Cuties, with an inappropriately provocative poster featuring young girls. Adults everywhere are realising the far-reaching impact of sexual triggers and how they should be avoided as far as kids' markets are concerned. It's time toy companies too become a bit more responsible.
Image Credit: Toys R Us
Views expressed are the author's own.